Conference Realignment: The Best-Case Scenario for Boise State and the Big East
November 5, 2011
Otto Kitsinger III/Getty Images
Boise State may be on its way to the Big East, though there is still some speculation on whether the Broncos will join or not, as well as some contingencies that must be ironed out. However, the Idaho Board of Education has granted the Broncos permission to move to the Big East.
Boise State must be very careful about determining the future of the volatile conference, yet there is potential for this to be a very lucrative move for the Broncos as the Big East may come out of this even stronger.  
After the Big East landed all six of the teams they were after, they're pushing to solidify their BCS AQ status by grabbing up Notre Dame and BYU. The Catholics vs. the Mormons would be a juicy game every year. Then toss in Southern Methodist; we'll just call this the Almighty's Conference.   
Both Notre Dame and BYU are currently independent, and only the Fighting Irish have a deal to get in to a BCS bowl. And that is only if the Irish are in the top eight, which rarely happens.
Meanwhile, BYU has no BCS deal at all, so the Cougars must rely on an at-large bid year in and year out. It's also very unlikely given a ranked Non-AQ team will likely get the bid before BYU due to the BCS rules.
This makes joining the Big East a better deal for both teams, since winning the conference will get them a BCS bowl no matter the rank. They will also get the revenue from another team's BCS berth, which is something neither team benefits from in it's current situation.   
BYU also has a deal to play Boise State every year until 2024, obviously creating a great rivalry situation. So why not bring this rivalry in conference?
Also, it has been reported that Boise State will not join the conference unless a western division is formed. I believe along with BYU, the "other team" Boise State President Bob Kustra is not at liberty to mention, will be San Diego State University, yet another up and coming mid-major school that has much to offer the Big East (the least of which being geography).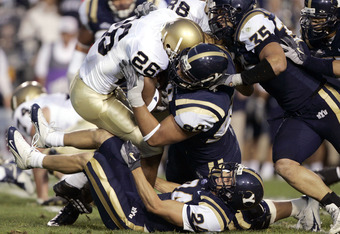 George Frey/Getty Images
So here is how the best case scenario for the Big East:
| | | |
| --- | --- | --- |
| East Division |      | West Division |
| Central Florida |   | Air Force |
| Cincinnati |   | Boise State |
| Connecticut |   | BYU |
| Navy |   | Houston |
| Notre Dame |   | Louisville |
| Rutgers |   | San Diego State |
| South Florida |   | SMU |
Travel for Louisville may be a problem in that setup but, let's face it, Louisville is replaceable. As for scheduling, each team would play its division schedule, as well as two out of division but in-conference games and with four out-of-conference games.
Just look at the rivalry potential there: 
BYU vs BSU
BYU vs Notre Dame
SMU vs Houston
Air Force vs Navy
South Florida vs Central Florida
Cincinnati vs Louisville
UConn vs Rutgers
Notre Dame vs Navy
So let's say Boise State is willing to pay the $5 million Mountain West Conference exit fee to join the Big East next year (they would pay nothing if they waited until 2013, but that may be to late). Here is the potential Boise State 2012 schedule:
| | | |
| --- | --- | --- |
| Opponent |    | Location |
| Michigan State |   | East Lansing, MI |
| Miami (OH) |   | Boise, ID |
| Fresno State |   | Boise, ID |
| Nevada |   | Reno, NV |
| BYU |   | Boise, ID |
| Louisville |   | Louisville, KY |
| Air Force |   | Colorado Springs, CO |
| Houston |   | Boise, ID |
| Notre Dame |   | South Bend, IN |
| San Diego State |   | Boise, ID |
| SMU |   | Dallas, TX |
| Cincinnati |   | Boise, ID |
| Conference Championship |   |   |
| BCS Bowl Game |   |   |
Obviously, Fresno State and Nevada can be replaced with other teams, but there are small rivalries between the two, and if the Broncos were in the Big East, strength of schedule would not be a factor. 
Call me an optimist, but I think the Big East could pull this off. I have to say, that is one sweet conference if they do.