EPL Preview: Van Persie, Dzeko, Rooney and More Goals Coming This Weekend
November 5, 2011
Jamie McDonald/Getty Images
This weekend could provide some blockbuster finishes as we see the Big Six taking on somewhat lesser opposition. While we don't count that as massive margin victories in the Premier League, some in-form strikers might just take advantage.
Unlike any other season, the scorers charts are as competitive as the league table, currently led by the no-nonsense Dutchman Robin van Persie with 10 goals to his name.
Previewing a number of matches taking place, we can see a good number of balls finding their way to the back of the net.
Newcastle United vs Everton - St James' Park
It's been a long time since we have seen Newcastle in the top three. It seems they have found their feet once again in top flight with an excellent cast.
Still unbeaten this season with six wins and four draws, while they have not scored as many goals as the Manchester Clubs, they have conceded very few—seven to be exact.
This makes them the team with the strongest defense, currently edging City in that department.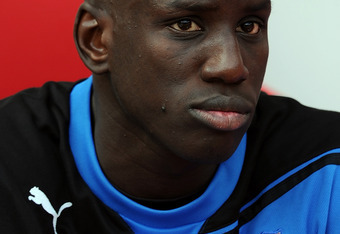 Chris Brunskill/Getty Images
The man to look out for is Demba Ba at No. 5 on the scorers' list with eight goals to his name.
Playing an Everton side struggling for form and consistency, who have lost five games out of 10. Not a particularly good start for the toffees, could it get worst today?
Liverpool FC vs Swansea - Anfield
Another team that has sorted their off-field issues to ensure a rise back to the top, Liverpool's resurgence has been inevitable.
Once the most dominant team in all of Europe, they have had to peg their way back to be competitive on all levels. It seems King Kenny is slowly but surely getting the team back to where it's expected to be.
Swansea has had a good enough start being one of the smallest teams in the league, currently at 10th on the log.  Although they will find a match at Anfield against an in-form Liverpool a daunting tasking.
It could be the day Luis Suarez turns heads completely after a number of already decent performances—the Uruguayan could really make his mark on the scorers' list.
Manchester United vs Sunderland - Old Trafford
This game may go either way. Following the form of United in recent weeks, it won't be surprising if they draw the match. 
United find themselves in second position, five points behind log leaders and rivals Manchester City. Some poor results and lack of form have pegged them back.
The biggest problem for the champions has been conceding too many goals—12 to be exact. But with a Sunderland team that has had similar trouble, it could be a chance for Rooney and Co. to get some much-needed goals.
Rooney has scored nine goals this season. Most of them have come early on when United looked most dangerous, but a couple of injuries and a reshuffle in the lineup meant the team has lost its momentum.
But there isn't a better opportunity than this—a home game against a team in the bottom half of the table.
Blackburn vs Chelsea - Ewood Park
Usually looking at current performances, I wouldn't have included Chelsea into the mix, following some really awful displays both domestically and in Europe.
But this match might just offer the London boys the perfect stepping stone.
Blackburn plunged to the bottom three after six defeats in their 10 matches and conceding 23 goals.
Chelsea might be lucky to still be in fourth, but with so much quality within the squad, you can count on them to hit back and hit hard.
Frank Lampard, the most criticized player just a few weeks ago, is currently their top scorer with five goals. It could be a few more after this weekend's encounter.
Arsenal vs West Brom - Emirates Stadium
Many wrote them off, many lost hope, but the youngsters from London have fought back with real passion and determination to find themselves back in the mix and in contention for the League title.
The biggest dilemma for Wenger is how to strengthen the defense and avoid conceding so many goals. If you're wondering how many is too many, Arsenal have seen the ball in the back of their net 21 times this season in just 10 matches. 
West Brom have managed to maintain an average defense, conceding 13 goals thus far. But with Arsenal looking mighty strong on the attack, it could be a bloodbath as Robin van Persie could look to continue his surge at the top of the scorers' charts.
Queens Park Rangers vs Manchester City - Loftus Road Stadium
After an excellent away victory mid-week, Roberto Mancini has said he will look to make a number of changes to the starting 11 in a bid to give some fringe players game time.
But knowing the Italian, he will be wary of giving any chance to City.
City have the ability to change their lineup but still ensure a strong, formidable team.
No doubt there will be some key players in the mix.
City find three of their million dollar babies in the top 10 scorers: Eden Dzeko and Sergio Aguero both on nine goals in second (shared with Wayne Rooney) and the crazy Mario Balotelli with five goals.
Another player who could most definitely find himself on the starting 11 is Adam Johnson with three goals.
No matter who lines up for City, it will be a very tough match for the opponent and perhaps a full-on goal extravaganza.
Fulham vs Tottenham Hotspurs - Craven Cottage
The last match we preview is that of the Spurs, who seem to be thereabouts in the mix. They still hope for a top-four finish bearing the might of Liverpool, Arsenal, and Newcastle.
The Spurs have managed a decent start with their current position on the log at five, ahead of Liverpool and Arsenal.
As for Fulham, it could be an opportunity to get some much-needed points as they try to move upwards from 15th position.
Importantly, Fulham need to keep out the likes of Rafael van der Vaart, who could cause havoc if given any chance at goal. Another Dutchman in good goal-scoring form with six goals in the first couple matches of the season is always a good sign.
So will it be goals galore this weekend, or could we find real upsets with the gaps getting tighter at the top?
Highly unlikely, in my own opinion. I think all of the top teams will take full advantage of this weekend, Arsenal and United will look to solidify their defenses and ensure three points with many goals.
Hope you all had a good thought about who to include in your fantasy team as there could be a lot of points on offer this weekend...