Kyle Orton: Denver Broncos Need to Start or Trade Quarterback
November 5, 2011
Doug Pensinger/Getty Images
We all know the story by now when it comes to the Denver Broncos.
Tim Tebow this, Tim Tebow that. However the man performs, he will always be the media's favorite target.
The much-maligned Broncos, for whom Tebow starts, seem to have been surrounded by controversy at the quarterback position for the past few years. In the eyes of many, the Broncos possess three quarterbacks who would have a chance to start: Tim Tebow, Kyle Orton and Brady Quinn.
Quinn, the former Notre Dame star, never had a fair chance at displaying what he has to offer. The Cleveland Browns drafted him and immediately underwent changes in the coaching staff and of coordinators that possibly stunted the growth of the young quarterback.
Tim Tebow... well, we've been through his story more times than anyone would've liked to hear. The bottom line is that Tebow needed more time to learn under a veteran quarterback who can read defenses decently. 
I'm sure that changing throwing motions and mechanics that have been habits for the 23-year-old's entire life, which contained an insane amount of college success, was a bit difficult as well.
So, that's strike two for Denver.
That brings us to Kyle Orton.
Orton, a former Chicago Bear starter, has had a roller-coaster ride of a career. 
When the Bears threw Orton into the fire as a rookie from Purdue in 2005, he won 10 games as a starter. However, the young Orton had the worst passer rating in the league that year.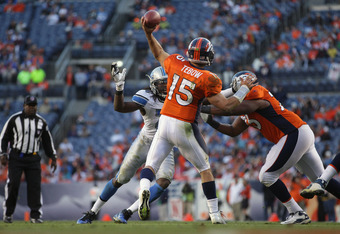 Doug Pensinger/Getty Images
Granted, coming from a smaller school and unexpectedly starting at the professional level was a challenge of a stature not many have to face.
The 6'4", 225-pound quarterback from Altoona, Iowa, did not play in 2006 and appeared in only three game in 2007. He was given a second chance in 2008 when the Bears resigned both Rex Grossman and Orton to start a quarterback battle. Orton prevailed and had a decent year under center. Coach Lovie Smith expressed confidence in Orton, and teammates' respect had been earned.
But after the 2008 season, the Bears sent Orton to the Broncos in a package for Jay Cutler.
A year later, the Broncos started with comfortable 6-0 record with Orton at the helm. 
As I'm sure Broncos faithful hate to remember, the Broncos lost 8 of their next 10 games to finish 8-8. Orton had a good year, throwing for 3,802 yards with 21 touchdowns and only 12 picks en route to an 86.8 passer rating.
The following year, Orton improved his numbers: His passer rating jumped to 87.5 before he was injured, and Tebow filled in the final three games of the season.
Okay, with another life story out of the way, let's get to the point.
The bottom line is that Kyle Orton has earned the right to start in this league. Regardless of whether or not you look at it from a business aspect, Orton should start. Tim Tebow is too raw of a talent to be thrown into the flames as Orton was.
I guess the Broncos and Jacksonville Jaguars have something in common when it comes to throwing consistent veterans under the bus. Now look where they're at.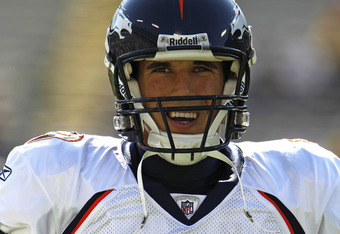 Matt Ludtke/Getty Images
Not to say that Tebow couldn't become great some day—he absolutely can—but the Broncos have dug themselves into a hole too deep to survive easily.
Unfortunately, John Fox, Denver's head coach, isn't sitting too comfortably in his position at this point. This is undoubtedly a tough situation for everyone in Denver. The fans breathe Tebow, and to start Orton in the previous games would have been a travesty.
Optimism has to prevail, however, and here are some options to reach and sustain success in the future:
Do what's right for the franchise's win-loss column; start Orton and convince him to become a mentor for the young Tebow for the rest of this year and the next. Orton is just as upbeat a guy as Tebow and would definitely handle things the right way, as he has been.
Trade Kyle Orton to a team like the Washington Redskins in dire need of a quarterback and willing to pay extra value of some sort. Whether it is through picks or prospects, if you're not going to put faith on the only veteran on your team, don't waste your money or time. 
"Plan C," as it should be labeled. The last option. Continue fighting through the dirt and grime in Tebow's game until it washes away (if it will), and go into complete rebuilding mode. This is a last resort, as the chances of Tebow panning out can be slim if his play continues. 
Just remember, Kyle Orton is the key to any of the future pieces to the puzzle.