Patriots vs. Giants: 3 Keys for New England's Offense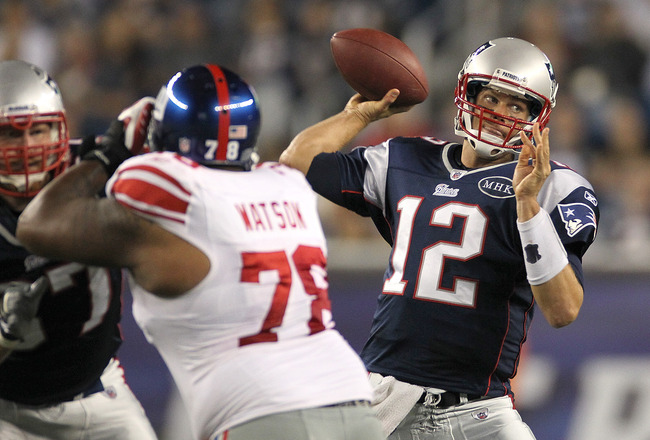 Jim Rogash/Getty Images
It's a slightly smaller stage than it was the last time these two teams met, but make no mistake: This Patriots-Giants matchup is pretty big.
It's a non-conference game, but considering the current state of the Patriots, it's a biggie. Not a must-win, but it's a sure-would-be-nice-to-win.
After all, since New England last won three weeks ago, look at what's transpired. The Patriots lost two of the better players in their secondary, replaced them with the reincarnations of Earthwind Moreland and Hank Poteat, got trounced in Pittsburgh and saw top returner Julian Edelman get arrested.
At 5-2, the Patriots are still in control of everything they were hoping to be in control of. But with the Jets coming in next week, it's important to resume those winning ways, pronto.
We could go over things the 32nd-ranked defense needs to do to beat the New York Football Giants, but that would take forever and, frankly, would be more than a little depressing. So let's stick with the top three things for the offense to focus on, shall we?
Convert on 3rd Down
Pretty basic, right? To score points, you want to get first downs. Not exactly rocket science.
But third-down conversions really tell the story for how this Patriots team performs as a whole. In their five wins, New England converted 56.7 percent of its third downs. Meanwhile, in their two losses, the Patriots converted a measly 31.6 percent.
When teams don't convert on third down, everything goes out of whack. They have to punt more, so they lose the time of possession battle as well as scoring opportunities. Meanwhile, the more lopsided the time of possession battle, the longer your defense is on the field. For the Patriots, that's a total nightmare.
Last week against Pittsburgh, New England converted 30 percent of their third downs. The Patriots were consequently blown out of the water in time of possession, and their vaunted offense was barely given a chance to compete.
Almost every week, the pundits say that the key to beating New England is keeping Tom Brady off the field. The opposite is true, and two-fold. Converting third downs increases the chance of winning because it puts Brady on the field and keeps the defense off it.
Convert third downs, let the offense build momentum for itself and this game will resemble the victories from earlier this year.
Utilize More Draws and Quick Passes
The Patriots won't stop New York's pass rush. They can slow it, but not stop it. With Jason Pierre-Paul, Osi Umenyiora and Justin Tuck on that defensive line, there's just too much to shut down, especially with the Patriots' offensive line having its problems lately.
The Giants will have their victories in the pass rush. But New England can limit them.
The Patriots need to come in with a plan to use New York's aggressiveness against them. Run draws with Danny Woodhead and Kevin Faulk. Put in screens to take the rush out of the equation. If the Giants blitz, have the receivers and tight ends run more slants and crossing patterns to take advantage of the space left open.
In other words, don't bring the Super Bowl XLII game plan, the one that involved Brady sitting back in the pocket looking for open receivers downfield while the Giants' stacked front four shredded the Patriots' offensive line.
The Giants aren't the same team that they were then, but they're pretty similar. Learn the lesson.
Be Patient
As was said earlier, this is not going to be a great day for New England's offensive line. If Brady goes the whole day without getting sacked, line coach Dante Scarnecchia gets a game ball.
Brady needs to go in expecting some bruises. He's got to make peace with that and remain focused.
He's already shown he can do that this year. He was hit often by DeMarcus Ware and Co. against Dallas but was able to bounce back and put together an impressive, game-winning drive. He was sacked four times against the Jets but was at his best toward the end when the game was in doubt.
He and the offense seemed frustrated against the Steelers, who hit him and his receivers and were physical all game. In the playoffs last year, the Jets' combination of zone coverage and a four-man rush had him looking confused most of the night.
This game won't be easy, either. The Patriots will have to work. Brady and the offense need to be ready for the opportunities that come along.
If the Patriots stay focused and don't get frustrated, this offense will click. And these disappointing last two weeks will have a happy ending.
This article is
What is the duplicate article?
Why is this article offensive?
Where is this article plagiarized from?
Why is this article poorly edited?

New England Patriots: Like this team?