WWE's Rendezvous with the Real Deal: John Cena and Other Pro Wrestling Gimmicks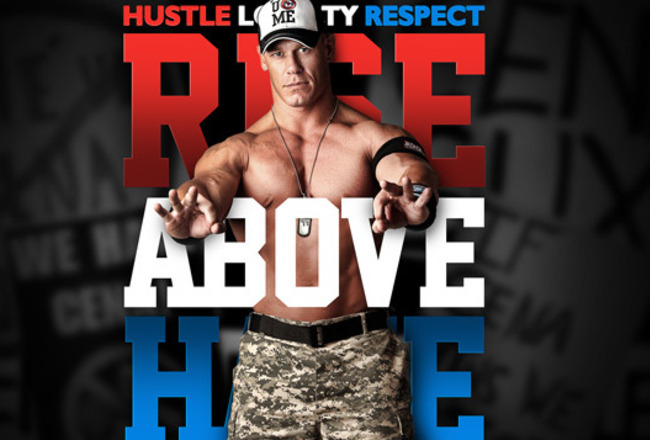 Pro wrestlers, as we all know, are incomplete without a particular personality or trait that helps them stand out amongst the rest, something that presents them both as wrestlers and entertainers to the audience.
The importance of a wrestler having a gimmick is just as important as the entertainment factor is in the world of pro wrestling.
Having been a part of this site for a long time, I often see people talk about the various wild and crazy gimmicks which made the spectacle of wrestling more fun to watch (e.g., George the Animal Steele).
But if certain gimmicks or acts were bound to work then why wouldn't the WWE exploit them since they have already been tried and tested?
There is a good chance that gimmicks from the past won't work as successfully as they did, and hence the reason for my thought process.
So without further ado, I will now describe to you, my thoughts on gimmicks in wrestling, particularly the WWE.
What Makes a Gimmick a Success?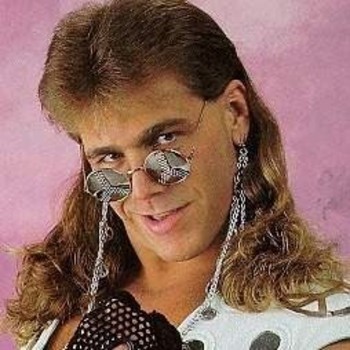 Many might wonder as to why exactly the tried and tested acts or wrestler personalities are not brought back in the present day.
According to me, it is due to one simple reason, and it's that what worked in the past might not work in the future.
The statement I made above rests on the logic that society in general keeps changing from time to time. People's thinking, their thought process, their perception and judgment of things keeps changing.
For instance many of the wrestling fans on this website who saw Shawn Michaels during his early years say that Shawn Michaels had it all.
In that sense that, women wanted him and men wanted to be him.
Such statements would make one think of Shawn Michaels as a happening personality at that point in time.
But what if we were to judge Shawn Michaels's look back in the day based on what people have been saying about him.
Would we still agree to the claims made? I doubt it. Go back and look at how Michaels looked during his early years. There is a very good chance that his style statement/his fashion sense would not be highly popular today.
That is simply because people's opinions have evolved these days.
So maybe much like John Cena's jean shorts, which are considered stale and out of fashion, even Shawn Michaels's whole cocky attitude might have been mocked by wrestling fans for lack of dynamic-ism.
This brings me to the most important aspect of making a gimmick work: dynamic-ism.
What Is Dyanamic-Ism in Gimmicks?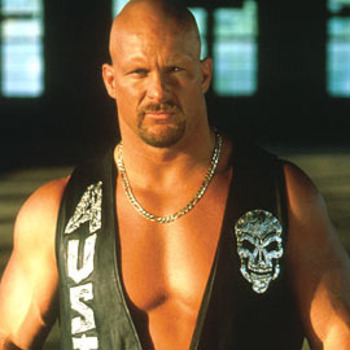 By talking about dynamic-ism in gimmicks, what I am actually implying is that the particular personality trait possessed by a wrestler should be such that it is well within the boundaries of a society.
Simply stated, a gimmick should be able to blend with the environment around and not look out of date.
To prove my claim I would like to shower some light on the career of George the Animal Steele.
According to what I have read on this site, George was a crazy person whose body was covered with hair, and he pulled crazy acts like tearing up the turnbuckle and eating the stuffing.
But the people loved him for what he did.
Now try putting the same guy in today's world. Would people actually be able to fully relate to such a guy without critiquing him for a lot of things?
Such a gimmick would be dismissed on grounds of a maniac with too much body hair who tries to entertain people with childish and immature activities like eating up the stuffing of the turnbuckle, etc.
You can compare Eugene—a guy who kind of had the same persona as George—with him. But even Eugene was not a reincarnation of George. He was more of a pampered kid who got excited over the simplest things.
It is pretty simple, things which were considered cool and happening in the past will not necessarily be considered cool and happening in the present day as well.
This is why the gimmicks need to be dynamic.
Just try comparing your definition of entertaining with your parents or elder brothers/sisters when they were your age—there will be a marked difference in your definitions.
But a dynamic and easily relatable gimmick alone is not enough. There is one more thing that a gimmick should have: depth.
Character Depth Adds Meaning to the Gimmick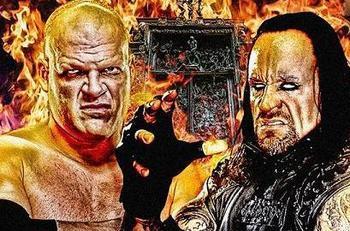 Cody Rhodes is a person obsessed with his looks. But isn't like 50 percent of the world obsessed with theirs? Does that make Cody Rhodes relatable? Not quite!
The Undertaker is just a guy pretending to be a person who rises from his grave. Makeup, entrance music and fog are his best friends that made him a legend right? Absolutely not!
You see, what made The Undertaker a successful gimmick, or what has made Cody Rhodes a gimmick with some stage presence, is perhaps the depth of the character their gimmicks possess.
When a new character is launched, the hype surrounding it will keep it afloat for some time. But what happens once the hype dies down and the wrestler has to dwell further into his character to manage to command stage presence from the audience?
He has to make his gimmick all the more interesting and display all the more traits and characteristics that a particular person would show.
Cody Rhodes's gimmick started off as a person who was voted as the best looking wrestler by the divas.
This lead to his cocky attitude, and over time, he became a psychopath who is obsessed with looks. His act has gotten to the point where his handing out of paper bags to people has started to seem genuine.
That is all because, over time, his character has evolved and kind of grown up along with the circumstances at hand.
The same can be said about someone like Kane, when he debuted with his mask.
Of course a man standing at seven feet tall having a mask and proper attire on and having the capacity to manhandle The Undertaker would give him a lot of hype. But would his hype have stayed had they not dived further into his character?
The Great Khali answers the question asked. He got a good amount of hype when he debuted and took out The Undertaker. But over time, when his character did not get any development and his act became stale, he was no longer a hyped-up performer.
The WWE, after debuting Kane, slowly and steadily started adding new things to his character. From the revelations of his childhood to why he acts in a certain way right up to The Undertaker's promo about how the house got burnt and "little Kane" burned his face, etc.
The depth keeps a gimmick alive and keeps the hype surrounding a wrestler.
Hence why having a gimmick which is dynamic and adds depth to it is perhaps the best way to go about gimmicks in professional wrestling and not just copy-pasting the tried and tested gimmicks of the past.
Now that I have talked about how gimmicks can be successful, I will discuss a few cases which have always lingered on in my mind.
Case 1: Cody Rhodes's Gimmick Is the Best Gimmick in WWE Today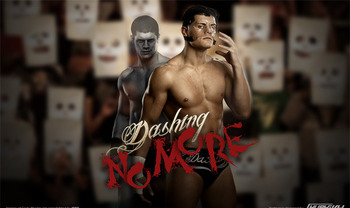 I already brought Cody Rhodes up in the previous slide but wanted to let my opinion be known about his gimmick as compared to the others.
And I have come to the conclusion that Cody Rhodes's current gimmick is the best functioning gimmick amongst the current crop of wrestlers.
First of all, his gimmick is pretty dynamic and relatable. People being conscious and obsessed with their looks is a common happening in the present day world.
The number of cosmetic and plastic surgeries that take place these days is proof of my statement. Hence Cody Rhodes's rage is kind of understandable, to a certain degree.
Secondly, as I mentioned in the previous slide, his character has a lot of depth as well. His promos, his thoughts which are conveyed during his promos, etc., do carry the amount of conviction to make us take his case as genuine.
So according to me, Cody Rhodes is the most efficient working gimmick in the WWE today, if not the most popular amongst the fans.
Case 2: Is John "SUPER" Cena a Fit for the Present Generation?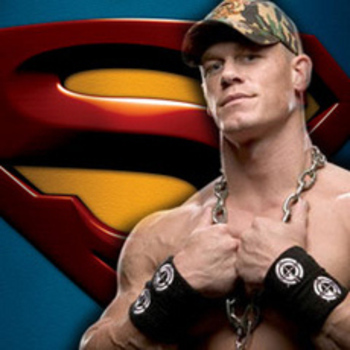 Well people, it's clobbering time!
The Cena fans and his critics will always engage in debates and will continue to do so every time his name is brought him.
Some call him the modern day Hulk Hogan, which I think is partially correct. One thing about Cena is that most of his audience is split into kids and women and mature men.
The kids and women being a core part of his fans and the mature men being the core part of his critics.
Since gimmicks have to be dynamic, Cena's gimmicks being sort of the same as Hogan's would make his gimmick out of fashion.
However the WWE continues to use that gimmick of his and has been for a long time. But I ask myself, why? How is my thought process being proven wrong here?
Well, I have the answer as well!
Many of you might know that I am a HUGE (yes, I capitalized that on purpose) John Cena fan. Regardless of how good or bad a wrestler he is, he carried me as a wrestling fan throughout my life and still continues to do so.
Now I have been a fan of Cena since he turned in 2003 and have been a Cena-mark since Survivor Series 2004. I was a 10-year-old back then, and I am 18 now. And here I am going to share with you a story.
Up until last year, I was pretty much your Cena fan next door who would believe in everything Cena said, and I idolized him for what he said.
The truth is, I did have a lot of confidence issues, got bullied at times and could not rise up and be myself in front of others.
John Cena was pretty much put in similar situations where the odds would not favor him, and yet he would come out on top. Similarly, I could see myself having the same issues and hence idolized him for he provided me with hope.
Now, my thought process has changed. I have gained the confidence and have matured, and now when I look at it, some of the stuff that John Cena says sounds too horribly-good which makes him sound like the second coming of Mahatma Gandhi.
The level of goody-goodness he has achieved is such that it has now started to sound impractical— people are starting to see him as a corny and cheesy individual who isn't relatable.
I mean, The Miz makes fun of him and insults him, and John Cena appreciates The Miz via Twitter for standing up. Does anyone ever do that?
Simply said, any person not named John Cena could come up with a better response to any insult hurled at him.
(I will say that his level of goody-goodness has gone down a bit, but it still exists.)
So there are two opinions I have formed of him. One of him being a savior who kids are going to look up to for inspiration and idolize, and the other being that of a person who is too horribly-good to be true.
But what you as the mature audience don't realize is that, children and women still continue to love him for many reasons. John Cena is one of those rare wrestlers who fans and critics are not split across opinion, but across age and maturity.
I personally don't see him as corny, but I can see where this line of thought originated from.
So if 50 percent of you do realize that Cena is too good to be real, then there is another 50 percent who think the opposite.
Hence why, in spite of all those things, Cena's superman persona continues to get a push.
And once again, Cena is still my favorite and always will be, but as an adult, it's too tough to digest what he does.
To sum it up, whether you like it or not, John Cena might just be fit for the current times as well. Although, it will be in WWE's best interest to keep him as edgy as possible.
Case 3: Why So Much Love for the Heels?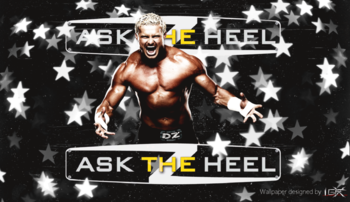 P.S. Great Wallpaper
The last case which I am going to discuss is the case of the preference given to the heels instead of the faces.
In my opinion, and this is not generalizing in particular, it has something to do with the fact that the current generation is more practical in nature.
Now how does practicality allow us to appreciate heels more?
I think being practical allows us to see things with an open mind and enables us to see things from others perspective as well.
I feel that back in the day, people were not practical enough to think from the perspective of the bad guys. The bad guys wanted to win, either by hook or by crook. And people did not think of it that way.
These days, in an environment where competition is at an all-time high, the economy is troubled, etc., students like me are coached and brought up in an environment where succeeding is a necessity.
And that hunger for success has made us realize that a heel or a bad guy too possesses the same huger as we do. It is just that the method is different.
Again, just my opinion, but this is exactly what explains the reason why CM Punk's shoot promo worked so well when he was apparently a heel and was supposed to be jeered.
This also explains why the heels get standing applause at times if they say things that reveal their inborn nature to succeed by hook or by crook as compared to the heels of yesteryear whose such confessions took heat from the crowd.
That's all I have to say about these topics which always occupied my mind. Thank you for being my audience.
Keep Reading