"Ms. TapouT" Jennifer Swift Talks Pro Elite and Business with Dana White
November 5, 2011
Some girls are made from sugar, spice and everything nice, but the sexy Gods added a bonus ingredient when they created MMA bombshell Jennifer Swift—awesome sauce.
For those unfamiliar with this secret ingredient, awesome sauce is an exponentially rare condiment that contains the tears of a unicorn and the blood of a tiger that is hyped up on Frosted Flakes.
Simply put, Swift can party harder than any gorgeous woman walking God's green earth, but she also has a sweet side.
Swift, who is known by fight fans as "Ms. TapouT," is rapidly becoming one of the most beloved females in the MMA community.
A well-known model, featured writer for TapouT magazine and ring girl for the recently revived Pro Elite promotion, Swift may have a gig with the Ultimate Fighting Championship on the horizon in the near future.
In an exclusive interview with Bleacher Report, Swift alluded to a business discussion with UFC President Dana White at a club in Las Vegas following UFC 137.
"Well, I was partying at XS in Las Vegas after UFC 137. When I arrived, they gave me a table and loaded it with bottles of Gray Goose. I got some drinks in and that is when Bruce Buffer showed up," Swift told incredibly good looking columnist Mitch Ciccarelli.
"I went and spoke with Bruce for awhile, and then Dominick Cruz saw me and had me come over to his table. Then a bunch of guys started to show up including Tito Ortiz, Matt Mitrione and Chris Lytle.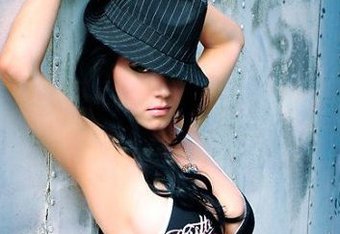 "I went back to my table after hanging out with the guys, and as I was walking, I ran into Dana White. We talked for about an hour and spoke about business."
Swift wouldn't yet reveal what the topic of conversation was with the UFC's head honcho, but with her impressive resume, they could have discussed anything from a ring girl position to a backstage interviewing role.
"I cannot speak much about it, but I can tell you that if what we talked about happens, I am going to be one happy girl," Swift said.
Swift's stardom is undoubtedly growing faster than Justin Bieber on prom night with Selena Gomez and a pack of Capri Suns. Many fans follow Swift on social media sites such as Twitter and Facebook, but few know where Swift's journey began.
Here is her story:
"Well, I was going to school at Orange County College and I ended up meeting Brandt Stebbins—he is a manager in the entertainment business. He said he thought I had a great look and I should try out modeling," Swift said.
"I always wanted to try modeling but never went after it. He convinced me to shoot with one of the top photographers in L.A, and her name was Justice Howard. It was my first shoot ever, and I was so scared."
"I had no idea what I was doing, so I just tried to remember everything I learned from watching  modeling shows like America's Next Top Model. The shot ended up in a Magazine called Rebel Rodz. My first shoot ever and I ended up in a magazine, it was pretty cool."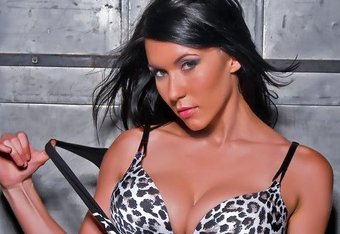 From that point on, Swift realized she could make a run in the modeling industry. With the help of her manager, she set out on a mission to conquer the world.
Little did she know she was about to fall in love with the fastest growing sport in the world. Swift became roommates with one of the most famous veterans from the early days of the UFC.
"Soon after, Mr. Stebbins told me he knew that I had what it takes, and he wanted to manage me. At the time I was living with my sister and she was about to move. My new manager told me not to worry because he had a house that he uses for his clients to use if they need. When I went to the house I was introduced to Kimo Leopoldo."
"At first I was a little intimidated that I was about to live with this big scary guy, but then my manager explained to me who he was. He told me I would not have a safer roommate than Kimo. Turns out he was right, and Kimo and I became friends."
The MMA community can thank Leopaldo for bringing Swift into MMA. Without Kimo, there would be no "Ms. TapouT."
Admittedly, Swift says she didn't understand the sport initially, but it didn't take long for her to grasp a passion for fighting.
"I was shocked, actually. I thought these guys were nuts—why would they want to do this?"
"Kimo started to explain it all to me and all of the different variables of striking and grappling and how it all relates to each other," Swift said.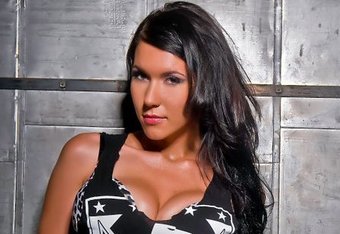 "I started to like the sport more and more. Then Kimo did a play by play with me for his fight with Royce Gracie. I became hooked instantly after that."
Swift has modeled for various MMA clothing brands and has also served as a ring girl for a number of promotions, but she also has become involved in the journalistic aspect of the sport.
Don't misinterpret that, I'm still the sexiest columnist in the MMA media, but Swift is a close second.
She is a featured writer for TapouT magazine, specializing in celebrity interviews. Swift has interviewed the likes of Steve-O, B-Real, Ice-T, Fred Durst and many other mainstream celebs.
"Well it started just modeling for TapouT Magazine. Then I met Skyscrape and he told me I should give writing a shot. I don't know where he came up with the idea of me writing, but I figured I would at least try it. So I did my first interview and it was with B-Real from Cypress Hill. After that interview I was hooked on writing and interviewing. I am actually better at giving interviews than doing interviews."
Swift's next interview will be with the hottest celebrity in all of MMA. I cannot tell you the individuals name, but I can tell you that he really did a phenomenal job writing this article. I will have my people call her people. We'll do lunch.
As previously mentioned, Swift is currently working as a ring girl for Pro Elite.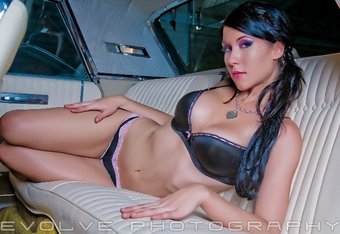 She is actually in Moline, Illinois, for tonight's Pro Elite 2: Big Guns fight card. The event features the opening round of a heavyweight tournament including two former UFC champs, Tim Sylvia and Andrei Arlovski.
Many fans still have a sour taste in their mouth with Pro Elite for the Elite XC debacle, but Swift is confident in Pro Elite's future.
"I'm very excited to be working for Pro Elite. T.J Thompson and Rich Chou are such great guys," Swift said.
"Let's put it this way, if it was not for Elite XC, Strikeforce may not have expanded as big as it did. They also helped pave the way for women's MMA. People also seem to forget that Elite XC was the first American promotion to give the UFC any real competition."
"Fans can expect Pro Elite to do what they have always done. They will start new trends in the MMA world and continue to become the No. 2 spot in American MMA promotions."
Despite all of the increased fame and popularity that Swift has earned as of late, she is still extremely down to earth and humble.
Swift's answer to the question of how she spent her Halloween shows me that even if she does become a mega celebrity someday, she's going to be a fantastic mother someday regardless.
"I work with kids, mostly little girls. So I went out with them trick or treating and spent time with them. Working with kids means the world to me," Swift said.
"I had a rough childhood and life was hard. So I try to spend as much time as I can with other kids who are going through the same thing. Working with kids gives me the best feeling out of anything I have done or do."
Mitch Ciccarelli is the sexiest columnist in MMA. He's so sexy, that even top ranked welterweight contenders get pissed when Ciccarelli flirts with their girlfriends. When Chuck Norris goes to sleep at night, he looks under his bed…not for the boogey man, but for Ciccarelli. Follow this Godlike writer on Twitter @mitchciccarelli