The 50 Biggest WAGs of 2011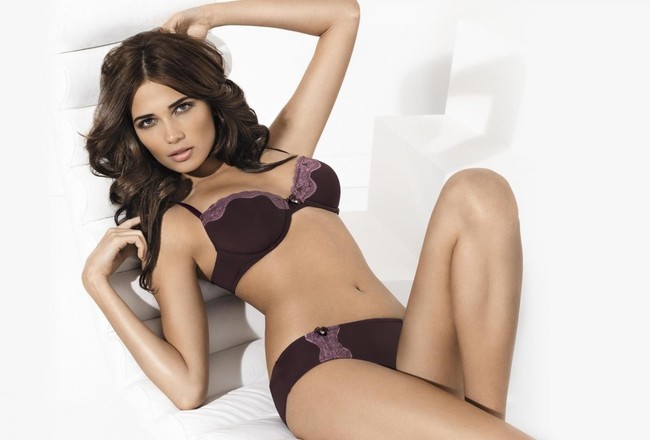 A WAG, wife or girlfriend to a male athlete, is a wonderful thing. They can raise eyebrows, turn heads and even cause fights between teammates. But it is fine, they are the WAGs of sports.
They can also distract a player from being an athlete. A good example would be Kim Kardashian. She has single-handedly turned the focus of the media's attention away from her man and completely on her. That is not an easy task when dating men like Reggie Bush.
But the most important thing about a WAG is her importance to the athlete. How much does she matter in his everyday plans? Does she matter at all or is she another Tiger Woods mistress?
Here is my list of the 50 biggest WAGs of 2011. Enjoy.
50. Minka Kelly: Derek Jeter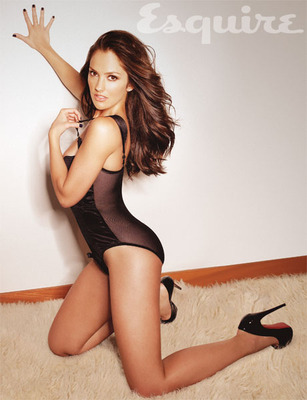 She came, she saw, she conquered. Although it was said to be a "mutual split" between Minka Kelly and Derek Jeter, everyone knows what that means.
It just is not a good year for Minka, as her ABC television was cancelled after only a couple episodes. I cannot say we did not see that coming, but no one was rushing to buy the new shirts just yet.
49. Natalian Carr: Cam Newton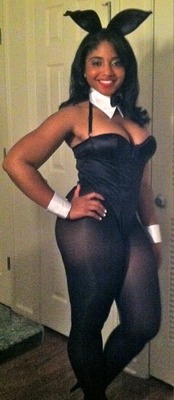 What happens when your boyfriend, Cam Newton, is selected No. 1 overall in the NFL draft?
Not only does Ms. Carr have to deal with the pressure of being on top, once again, but she also has to figure out why rumors are swirling about Newton dating Ciara. Not that I would blame him.
48. Kim Sears: Andy Murray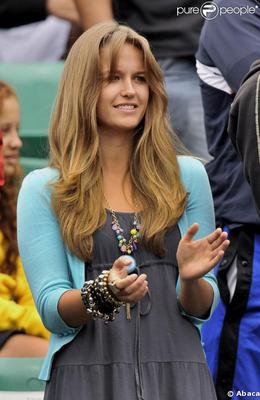 Kim Sears, no relation to Sears, Roebuck and Co., has been dating professional tennis star Andy Murray for a few years now but does not like to talk about it.
After seeing pictures of Andy Murray, I realized why she is reluctant to discuss it.
47. Stacy Gardner: Mardy Fish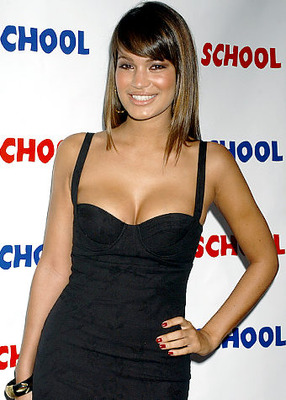 I have always wondered what the women behind the briefcases of the game show Deal or No Deal did in real life. Stacey Gardner, married to tennis pro Mardy Fish, was a former model on the show and had the honor of holding the No. 2 case.
What you might not know is that she is also a lawyer. Boom!
46. Hayden Panettiere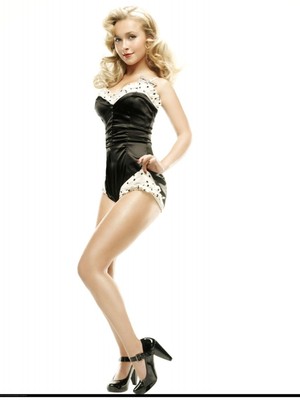 Hayden Panettiere has dated many different men, but she is most known for her relationship with Wladimir Klitschko. The guy is easily double her size and one can only imagine how that works.
There was even a rumor she dated Mark Sanchez. If that were true and I was her, I might want to see a doctor soon. They don't call him "The Dirty Sanchez" for nothing.
45. Jinkee Pacquiao: Manny Pacquiao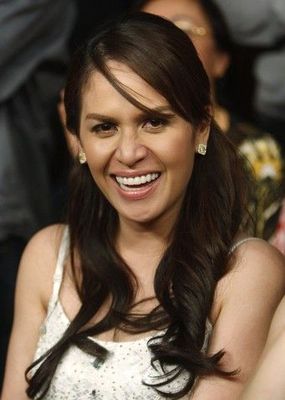 Will Manny Pacquiao and Floyd Mayweather finally fight in 2012? Is it possible?
As of right now, it could happen if both men agree to put their egos aside and give the rest of the world the fight we have been waiting to watch for almost four years now.
Just do it!
44. Lucie Jones: Leigh Halfpenny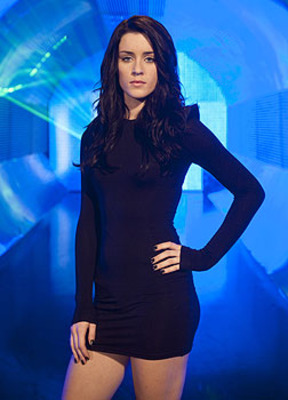 Former X-Factor finalist, Lucie Jones, is apparently dating Rugby star Leigh Halfpenny, two years her elder.
She was also involved with Nick Jonas before Leigh. The only thing those two dudes have in common is her.
43. Kate Edwards: Carl Edwards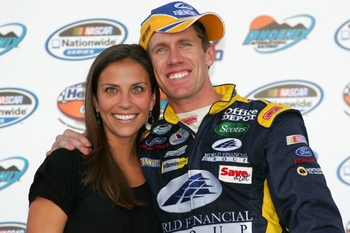 How does a man survive a year-long NASCAR season? There are so many ups and downs, it can be very hard on a wife, especially Carl Edwards' wife Kate.
Kate Edwards is not your ordinary NASCAR wife, however. She is a big supporter of her husband, who is well on his way to winning his first-ever Sprint Cup Title. Good Luck, Carl.
42. Maria Francisca Perello: Rafael Nadal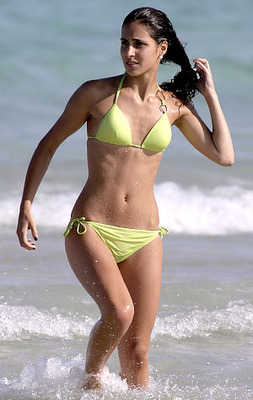 Maria Francisca Perello is dating Rafael Nadal but has no plans on becoming a normal celebrity WAG to one of the best tennis players in our time.
"For me to have gone would have meant stepping into that celebrity world," she said. "It's not a world I want to be part of, nor do I think Rafa would have chosen to be with a woman who looked for that in life."
A normal WAG? Now there's is a new twist.
41. Jessica Olsson: Dirk Nowitzki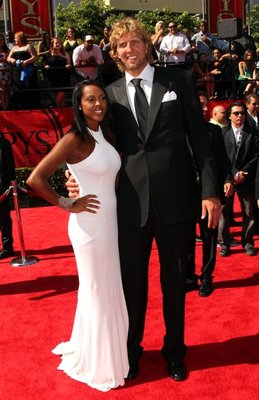 Dirk Nowitzki is already a champion. He has finally won the NBA title that has eluded him for his entire career but now is sitting at home waiting to see if there will ever be a 2011 NBA season.
His girlfriend, Jessica Olsson, probably does not mind having him around the house. He can dust the high ceilings on his tip toes.
40. Elizabeth Huberdeau: John Cena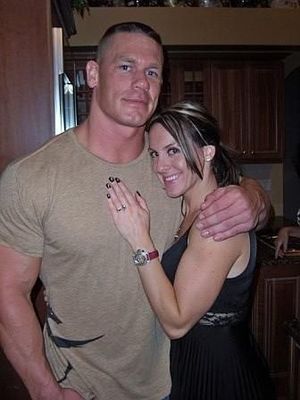 I do not watch wrestling. It is fake and worse than a soap opera. All they do is continue to repeat storylines every four years. If they would bring back the creativity that once permeated the sport, I might be intrigued.
Jon Cena, however, is a great entertainer and has brought back many of those fans that feel the same way I do. His wife, Elizabeth Huberdeau, is easier on the eyes than Lasik.
39. Whitney Wonnacott: Jimmer Fredette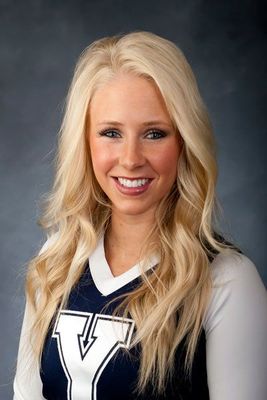 Whitney Wonnacott has a Twitter account—first mistake. Unless you carefully plan out your tweets, Twitter can turn out to be a bad PR move. It has caused many problems in the past among WAGs.
That being said, I found this tweet very interesting from a @Reggie_Sloan13 about Whitney Wonnacott's boyfriend, Jimmer Fredette, "#ThingsLongerThanKimsMarriage @jimmerfredette 's shooting range.."
38. Victoria Beckham: David Beckham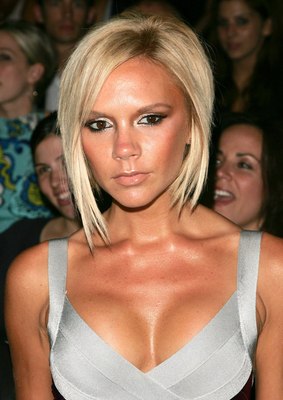 The marriage between David Beckham and Victoria Beckham has gone on longer than almost anyone, myself included, predicted.
But I guess being the sexiest Spice Girl (sorry, Mel B.) has its benefits.
37. Yvette Prieto: Michael Jordan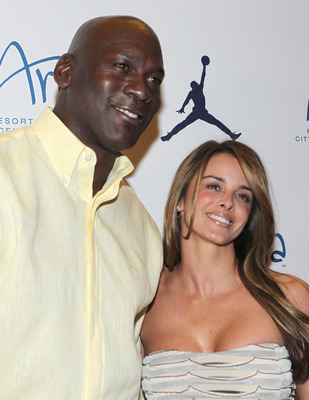 Anytime a famous athlete retires, people start to care less about their personal lives. Michael Jordan is not just an ordinary athlete. In fact, his personal life became more public once he retired, as evident with his very public relationship with Yvette Prieto.
But that is what happens when you retire from the NBA and buy the Charlotte Bobcats. You run out of things to do.
36. Emily Maynard: Jeremy Shockey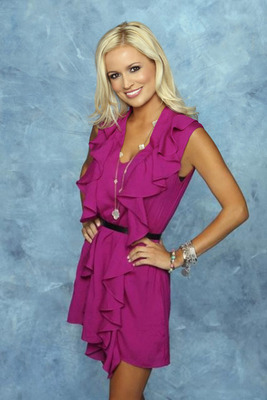 Emily Maynard and Jeremy Shockey? Who knew?
It looks like Jeremy Shockey is upgrading the women he dates these days, going after a former contestant and eventual winner on The Bachelor. She might not be a porn star, but she is good enough to increase Shockey's reputation level nowadays.
35. Kim Kardashian: Athletes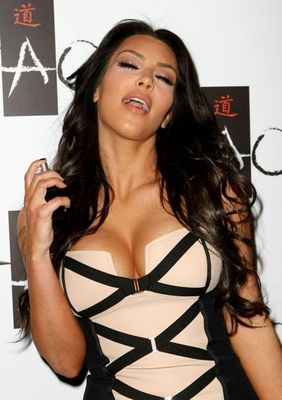 What should I say about Kim Kardashian that has not already been said? Do I need to make a bunch of jokes that land three inches shy of funny? Or do I just let her actions do the talking?
What is longer than Kim Kardashian's marriage? Neckties from the 1920s.
34. Rachel McCoy: Colt McCoy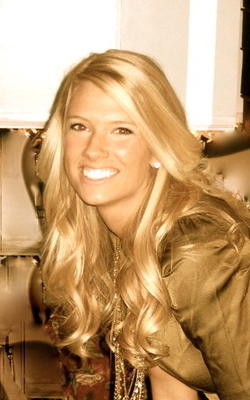 Colt McCoy is the winningest quarterback in NCAA football history with 45 career wins. He owns more records than a police station, and he is married to one of the sexiest women from the great state of Texas, Rachel McCoy.
How does he do it? By being just plain awesome.
33. Christine Vest: Dwight Howard
Christine Vest is a singer and a former collegiate basketball star at California State in Chico, CA. She is a better singer than she is player, but do not take my word for it. Go check out her Youtube videos and judge for yourself.
Dwight Howard must feel comfortable being around her; she stands a whooping 5'11".
32. Jamie Lee Darley: Sacha Kljestan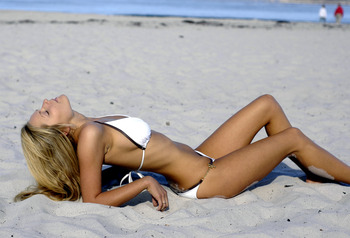 Sacha Kljestan is an American professional soccer player and fiancée to Jamie Lee Darley.
I have always wondered what it is about these pro soccer stars and the women they pull down. How do they do it? It seems that the pro soccer players have no trouble getting the hottest women in the world.
Maybe I should learn to play soccer.
31. Alexandra Rosenfeld: Sergio Parisse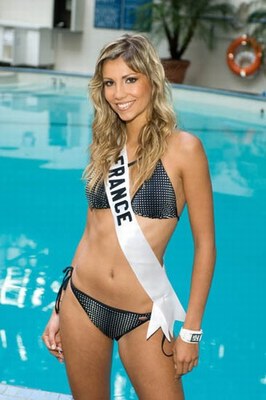 Sergio Parisse, better known to the rest of the world as professional Rugby star No. 8 of Italy, is married to the beautiful Alexandra Rosenfeld. I am not a big fan of Rugby, but I will watch it when I catch it on television.
I find it hard to watch the games, however, when most of these guys have women like Alexandra at all their games. She could distract a lion from attacking his prey she is so hot.
30. Elizabeth Smith: Alex Smith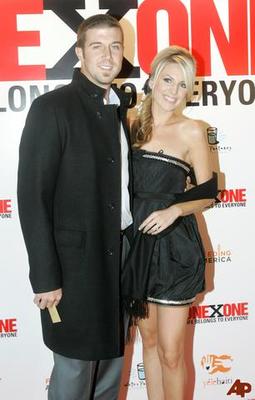 In San Francisco, the 49ers fans that stuck around over the past few years are finally starting to get theirs. The 49ers, led by Elizabeth Smith's husband Alex Smith, are under first-year head coach Jim Harbaugh and are 6-1 with a four-game lead in their division.
The transformation from what we saw last season and this year is ridiculous. If Elizabeth Smith is serving her husband something different, keep it coming, because it is working.
29. Samantha Sarcinella: Kyle Busch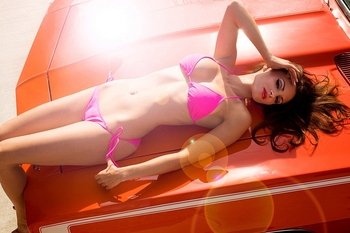 Kyle Busch is a punk. He is the most hated NASCAR driver in the sport over the past 10 years and that is including the time everyone hated on Jeff Gordon. He is married to Samantha Sarcinella—not sure what she sees in him, but at least she is happy with all the money he brings in.
He recently was banned from Sprint Cup races for the weekend because of intentionally crashing a fellow driver, Ron Hornaday. See! He is a punk.
28. Sable: Brock Lesnar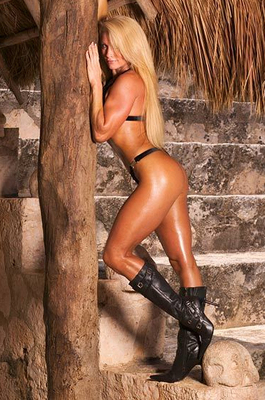 From one of the most hated guys in NASCAR to one of the most hated guys in UFC, Brock Lesnar.
Brock Lesnar has been married to Sable since 2003. Why is he the most hated man in UFC? I have no idea; I am a big fan of his. I can appreciate the hate towards him because of how quickly he rose to the top, but it is a bit out of control these days. Just go hate on Kyle Busch some more.
27. Jordan Fish: Denny Hamlin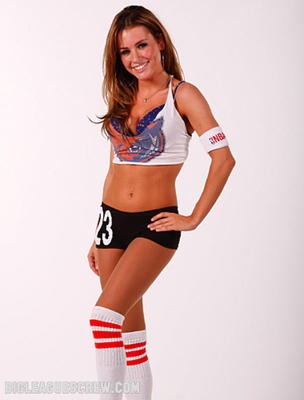 If you were not already impressed with Denny Hamlin, just check out his girlfriend, Jordan Fish. Not only is she beautiful, but she is a Charlotte Bobcats dancer that spends her free time in the pits rooting on her boy toy.
Now if only Denny could get a little more luck on the race track, he might be in contention for a Sprint Cup title, maybe next year.
26. Izabel Goulart: Diniyar Bilyaletdinov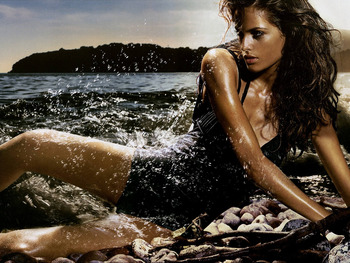 There are only a few men in the world named Diniyar Bilyaletdinov. I would venture to say there is only one person with a name longer than the Mississippi River and that guy is dating Izabel Goulart.
If this relationship continues, I wonder what they will name the children?
25. Brittany Richardson: Steve Nash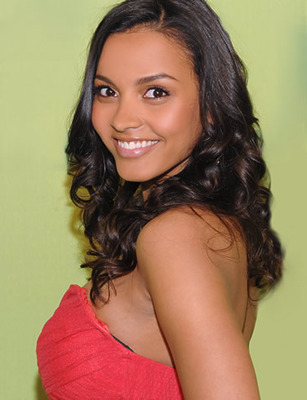 What does Steve Nash do with all his free time? He spends it very wisely with the sexy Brittany Richardson. He has never been too flashy with his love life until now. He and Brittany are no strangers to public media, using Twitter to advertise their relationship.
I try to be interesting about my love life, but using Myspace seems to be outdated.
24. Claudine Keane: Robbie Keane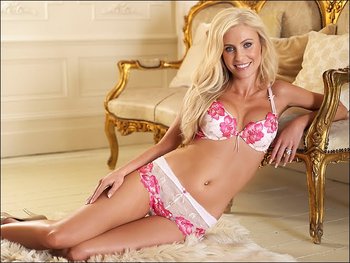 Claudine Keane, married to LA Galaxy striker Robbie Keane, lives in Los Angeles. She moved there from England to be with her family while her husband played soccer.
Of all the towns in America, that is the best place for a woman of her stature to move. The jobs will practically be lining up for her if she stays there.
23. Miss Jackson: Floyd Mayweather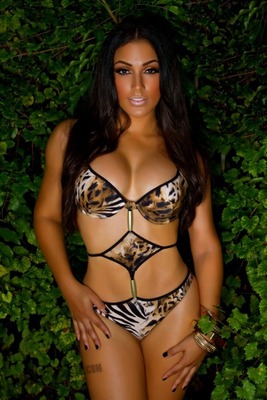 The fight between Floyd Mayweather and Manny Pacquiao will not happen. There was hope earlier this month about a fight but, like always, things will fall apart at the last minute.
Miss Jackson, Floyd Mayweather's woman, would love to see her man fight in the biggest boxing match of the past 20 years; the payout alone would put a smile on her face.
22. Susie Amy: Rob Kearney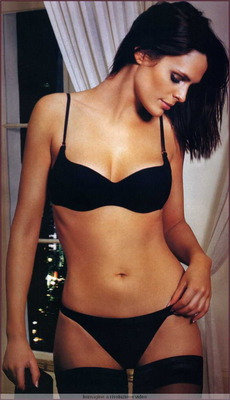 Susie Amy is a very popular WAG. She has been dating Rob Kearney for almost three years now and is well known throughout England as an actress.
In fact, she was in a show about WAGs called Footballers Wives. She was destined to be a WAG.
21. Candace Crawford: Tony Romo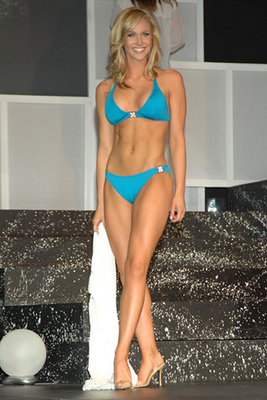 Why do so many people hate Tony Romo? What has he done to deserve that much disrespect? He married a beautiful model, Candace Crawford. He does all kinds of charity work and he even plays professional football in his spare time. The man is as close to a saint as can...
Sorry about that, I stepped away from my computer for a minute only to find out Jerry Jones was typing on it.
20. Amber Leigh Hartman: Jarred Cosart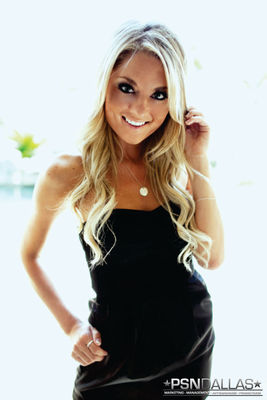 If you are going to dump someone in this technological age, please do it via Twitter before he knows.
Amber Leigh Hartman dumped Jarred Cosart over a tweet earlier this year without his knowledge. That is a mention I would rather not check out.
19. Jelena Ristic: Novak Djokovic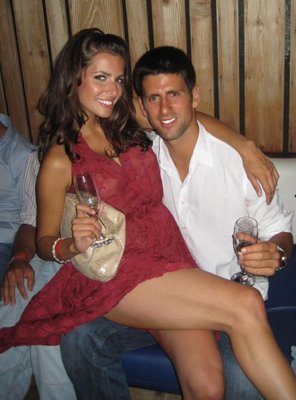 When you see the name Novak Djokovic and Jelena Ristic, you immediately think, "Oh, they must be from Ohio."
Not so sure that joke made much sense, but when you have a sexy girlfriend and your name rhymes with no other word in the English language, you are bound to get harassed.
18. Shakira: Gerard Pique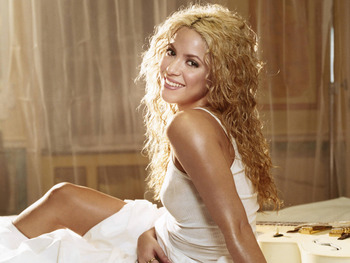 From the time on my watch, it must be haters hour. So here it goes, straight from me to you. I do not like Shakira or her music. She has one of the most spectacular bodies in the world, but it ends right there.
Good news for Gerard Pique—he does not have to listen to the music.
17. Kacie McDonnell: Christian Ponder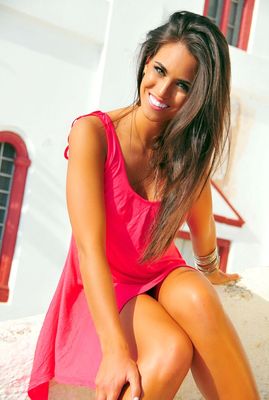 An NFL quarterback has to have a few different things in order to be considered a true NFL QB. One of those things is a beautiful woman by his side.
Christian Ponder has Kacie McDonnell, and that is a great start for him. Now all he needs is a good team around him and he will be rocking it.
16. Jenni Mostrom: Robin Soderling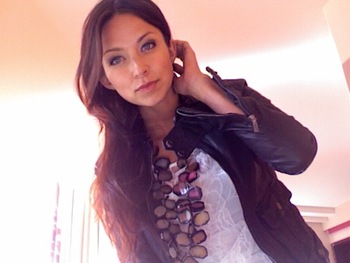 Jenni Mostrom is dating Robin Soderling. She is as cute as she is beautiful.
On her Twitter she writes, "Just got back from yoga class. I love how it makes me feel grounded and how it connects my body and mind."
The translation for men is that she looks sexy in spandex bending her body in all different ways.
15. Danielle Lloyd: Jamie O'Hara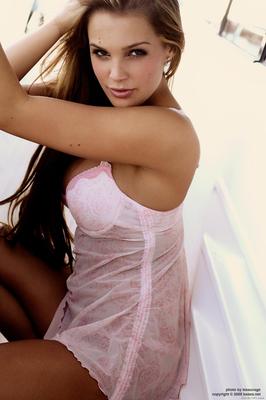 I have said for quite some time that any man that ends up with Danielle Llyod is the luckiest man in England. Well, that man is Jamie O'Hara. He is currently engaged to the beautiful English goddess and this time it looks like forever, as the two of them have two children together.
That is one good way to keep her from partying too much. The other? Marriage.
14. Nicole Johnson: Michael Phelps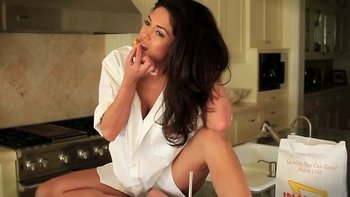 Do you recall the time Michael Phelps was suspended for drugs? The world made such a big deal over nothing. He even lost many sponsors and fans because of it.
If I won 3,423 gold medals in any sport, I would be doing the same thing without caring. His girlfriend, Nicole Johnson, would be a great person to hang out with during my suspension time.
13. Abbey Crouch: Peter Crouch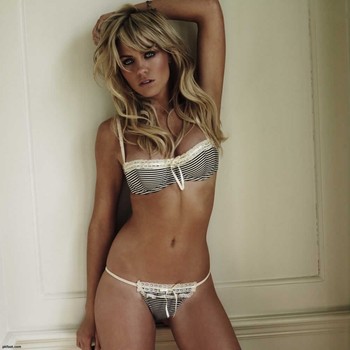 I could post all of my articles that include Abbey Crouch and you could see that I do not like her husband, Peter Crouch, at all. He is a tool amongst men, but she loves him.
He once cheated on her with a hooker. I was surprised that she let that one slide and stayed with him but what do I know. I am just a fan. He is still a tool.
12. Nicole Scherzinger: Lewis Hamilton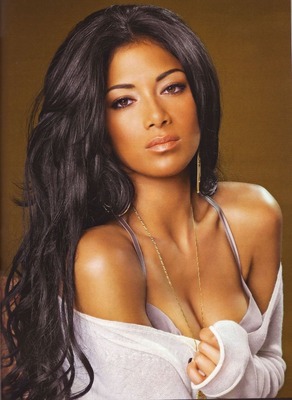 Lewis Hamilton is a dog. Whether the reports are true or not, if Lewis Hamilton and Nicole Scherzinger broke up because she wanted kids and he did not, that is crazy.
Take one for the team, my man.
11. Destiny Newton: Aaron Rogers
Aaron Rogers is better than Tom Brady.
Why?
Because he takes his dates, makes them fall in love with him, brings them to a game up in the suites and does not care one iota what anyone thinks about it. He is a pimp master general. Keep on rocking it, AR, and you might have more Destiny Newton's in the future.
10. Melissa Molinaro: Reggie Bush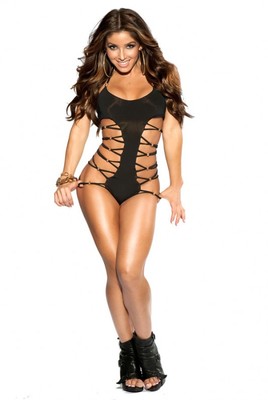 How long before Reggie Bush decides to take a gamble on Kim Kardashian again? He would have to drop Melissa Molinaro, a Kim K. clone, first, and I am not too sure he is ready to do that.
Think about it. She looks closer to Kim K. than any of her sisters do, so he has the visual, and he will not have to worry about the spotlight being taken away from him like when he appeared in public with Kim.
Either way, he still wins.
9. Adriana Lima: Marko Jaric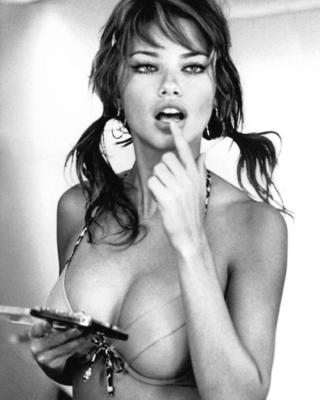 We can go back and forth about this relationship all day long, but the argument will always end with, really?
Marko Jaric, a true inspiration for all odd-looking men, is married to the second most beautiful Victoria's Secret Angel ever, Adriana Lima. Why not the first? She married him, she automatically loses style points and drops in the VSA power rankings.
8. Kristin Cavallari: Jay Cutler
Jay Cutler and Kristin Cavallari are a modern day Brad Pitt and Jennifer Aniston. Everyone loves to hate them so much that we actually want them to be happy together.
No offense to either of them, but do they really think the world loves them? She sure is hot, though.
7. Gisele Brady: Tom Brady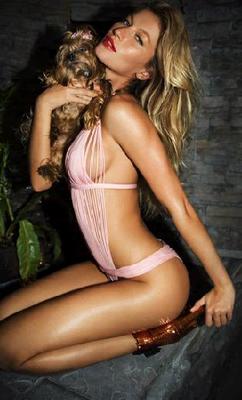 I have an inbox full of emails explaining to me why Tom Brady is dumber than he looks. The sender of the emails, Rexielovesfeet, broke it down for me:
If Tom Brady were an ocean, it would be Perfectia.
If he were a mountain range, it would be called The Brady's.
If he were a boat, it would be called Little Tom.
But he just settled for Gisele, three Super Bowl rings and two NFL MVP awards, that stupid kid.
6. Gabrielle Velasquez: Jonathan Toews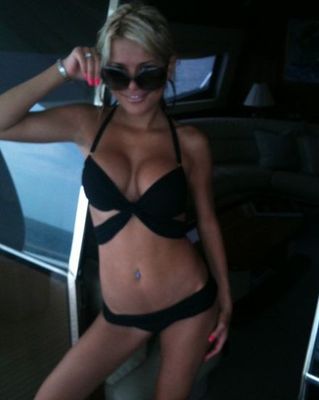 Well, Jonathan Toews is an NHL player for the Chicago Blackhawks. Wait, you meant the chick, right?
Oh, well, she is his girlfriend, which became public during a Chicago Cubs baseball game he was attending with her. The cameraman caught the two love birds for a brief moment and now we get to see all of her. Thanks, camera guy No. 2 and Busted Coverage.
5. Bibi Jones: Rob Gronkowski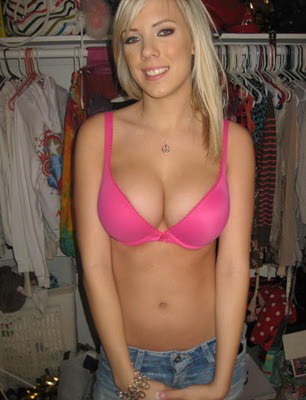 Whether or not Rod Gronkowski hooked up with Bibi Jones or not, it is still interesting for a professional athlete to spend the weekend with a porn star that has claimed that she has slept with married players such as Dan Uggla.
Why on this list? Because, as a guy, I can tell you that the weekend with Rob Gronkowski was not spent picking out lawn furniture, regardless of what he says.
4. Brooklyn Decker: Andy Roddick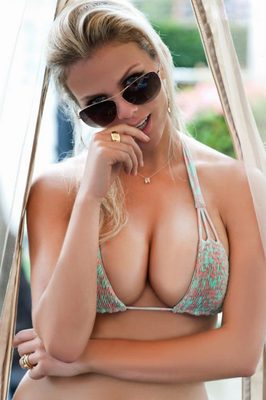 It is over. Andy Roddick was once a dominate professional tennis player. Brooklyn Decker married a man on the end of his playing rope. Not to say he is terrible, he is still good, but he is not close to what he was a few years ago.
He has been on the decline for quite some time now and is only a few more losses away from throwing his racket in the stands and claiming it was to deflect a bee from stinging a baby.
3. Irina Shayk: Cristiano Ronaldo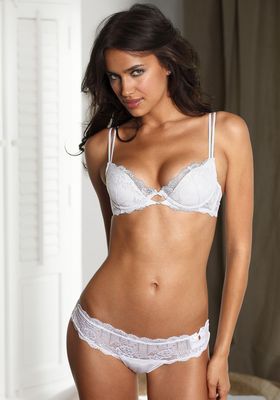 Don't call it a comeback—she has been here all year. Irina Shayk is a dominating WAG, not just an important one. She is dating the biggest playboy in all the land, Cristiano Ronaldo.
As of the release of the slideshow, he has still not faded away from her loving, so I am thinking she is doing something behind the scenes that is keeping him from straying.
2. Larisa Fraser: Ryan Braun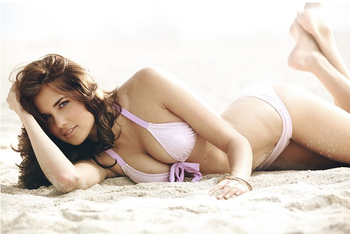 Beautiful female models do not just fall out of the tree, especially in Canada.
Larisa Fraser, Ryan Braun's old lady, was born in Toronto and moved to Utah. She has a love for snow, apparently, and kind people. Why anyone would move from Canada to Utah is beyond me. The only difference is that Utah uses American dollars.
1. Melissa Satta: Christian Vieri
In Italy, being sexy is a part of life. The women are born that way. Case in point, Melissa Satta, former girlfriend of Christian Vieri.
If the women in Italy are as visually stunning as Melissa Satta is, I will grab my Ferrari and eat some pizza because I am moving to Italy!
Keep Reading