Miami Dolphins vs. Kansas City Chiefs: Live Score, Video and Analysis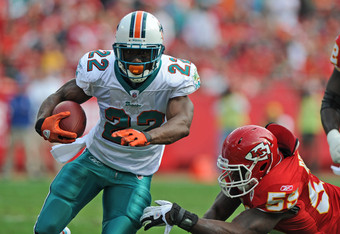 Peter Aiken/Getty Images
The Miami Dolphins finally got their first victory of the season, against the AFC West-leading Kansas City Chiefs.
Just one month ago, the Chiefs were winless just like the Dolphins. They were 0-3 and had been outscored 109-27 in those first three games. It was even thought that Kansas City was worse than Miami.
Today the Chiefs managed to revert to their September performance, losing to the Dolphins by the score of 31-3.
For the Chiefs, it was the prototypical let down game. On Monday night they took the lead in the AFC West by defeating the San Diego Chargers in an overtime thriller. What a let down this game.
To some Dolphins fans this game was a let down, however for the Dolphins themselves as well as most other 'Phins fans, this was a great game.
Miami won thanks in part to a great performance by Matt Moore and the Dolphins offense. The 'Phins gained a total of 351 yards and had great balance, rushing for 107 yards and passing for another 244.
Meanwhile Kansas City had a Miami Dolphins type game plan, despite gaining a total of 343 yards, they managed to only score three points and even went scoreless when they got into the red zone.
How did we get here? Take a look at my thoughts in real time. I'll tell you my stars of the game, and you'll get to see me both crave, then eat a McRib for the first time ever.
That way a Dolphins victory isn't the only first you'll see.
Final Score: Miami Dolphins 31 Kansas City Chiefs 3.
I'm having some problems posting the video, so yes, one more update...here it is, me eating a McRib.
http://www.youtube.com/watch?v=CS5DnaYJXv0&hd=1
Just ate my first ever McRib. The day of firsts continues.
I figured if the Dolphins won their first game I'd eat my first McRib, so I ordered one, then filmed it as I was on the phone with my girlfriend (herself 27 years old and also a McRib virgin).
What does this have to do with the Miami Dolphins vs. the Kansas City Chiefs? I'd love to say nothing, but everything, but in reality, it means nothing. There's no correlation between the two events what so ever.
But now I've connected the two on the same date: November 6th, 2011. The Miami Dolphins win their first and possibly only game of the 2011 season, then Thomas Galicia eats his first ever McRib.
Both of them are the same in this aspect: they were both objects of great instant gratification that down the road will wind up hurting (possibly losing Luck for the Dolphins, and who knows what the McRib will do to me).
Thanks for reading everybody, be sure to check out the video of my initial McRib experience with special guest and girlfriend Sara Hernandez.
Also be sure to like me on Facebook, follow me on Twitter (@thomasgalicia), and check out www.thomasgalicia.com for my archive.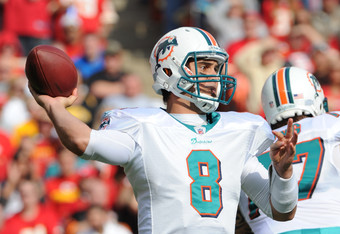 Highlight's from this afternoon's game.
My three Dolphins stars of the game (I only do this for Dolphins victories) are:
Reggie Bush: Bush rushed the ball 13 times for 92 yards and a touchdown. He also had three catches for 50 yards.
Brandon Marshall: in his best game of the year, Marshall had eight catches for 106 yards and a touchdown. He did have some drops, however in the end he wound up getting a touchdown in the red zone, only his second of the season.
Matt Moore: Moore was the conductor of an offense that played like a well-oiled machine. Moore was 17 of 23 for 244 yards, three touchdowns and zero interceptions.
Honorable mention goes to Anthony Fasano, who only caught the ball twice for 38 yards. However those two catches were Miami Dolphins touchdowns.
Miami played their best game of the last two years and possibly their best one game performance of the Tony Sparano era. Now at 1-7, they're not quite out of the Andrew Luck sweepstakes, but I will say this:
Now no one can accuse Miami of intentionally tanking to get Andrew Luck.
However Indianapolis definitely is. Here's the Andrew Luck sweepstakes update: Colts lose 31-7 against the Falcons. Seattle, also a possible Luck contender, lost to Dallas 23-13.
Denver vs. Oakland as well as St. Louis vs. Arizona are currently underway.
One more update, which will likely come in about an hour or two, and you'll see me eat a McRib for the first time in my life.
I just felt I had to share that with all of you.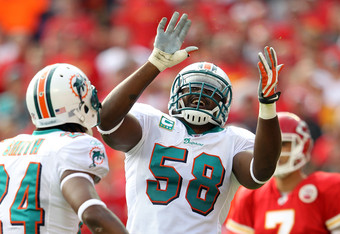 After a Dolphins three and out, Kansas City attempts to make the score look respectable.
But what a game this has been, if you're a non-Suck For Luck Dolphins fan that is.
I'm personally happy with the victory today. It shows me that this Dolphins team has fight in them, as they played their best game in two years.
Great on offense, great on defense. What an effort on both sides of the ball, what a-
I thought for a second on that touchdown pass from Cassel to Baldwin they were going to call another poppycock pass interference penalty on Jimmy Wilson. It was on Baldwin though.
Anyways, this is a feeling I'm not used to with Miami.
When they win, well, at least from what I remember from last season, but when they win it's usually a close field goal-fest.
Not a 28 point blow out.
No surprise that it's on the road though. Great effort, and I commend Tony Sparano on a great coaching job.
I can't believe I just said that.
I'll be back at the end of the game with a wrap up and my player of the game award picks.
Bleacher Report analyst Derek Horner, you are an effing genius!
I just saw your article now, and so far so good.
Except for the whole "dogfight" thing, it's nowhere near that. This is more like putting the dog to sleep.
But with that being said, I do think it's a bit too early to count Miami out of the "Suck For Luck" sweepstakes.
I only see one more winnable game on their schedule, and that's next week at home against Washington.
Indianapolis meanwhile still has two games against the Jaguars, and one game against Tennessee.
On top of that, Miami will be the Colts most likely trading partner if they were to choose to deal the pick for more pieces to surround Peyton Manning, which I still think they will do.
But so far, you look very close to being correct.
However, Kansas City is driving and could get a touchdown here.
All that really might effect is the over/under though.
Let's see how this game plays out, but for now guys, take a look at Horner's article where he predicted a Dolphins victory.
Kansas City fails to score despite being in the red zone, which makes me sure more than ever that some kind of "Freaky Friday" incident must have happened with that Oklahoma Earthquake yesterday that switched Haley's brain with Sparano's.
Miami has had yet to kick a field goal, but probably will on this drive, which they've been using to chew up the field and the clock.
This game is as good as done, meaning it looks like I will eat my first McRib today. Tell me readers, what should I expect from this sandwich? Why does everyone make a big deal about it?
Back to the game, third down and eight now, pass deflected. Now Carpenter will come out for, and you'll never believe this, his first field goal attempt of the game.
It's up, and it's good. 31-3 Miami with 8:08 left in the game.
Incredible. Unbelievable.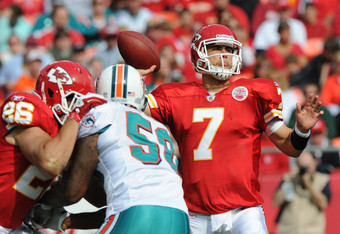 Chiefs with another unremarkable three and out, and now it's looking more and more like Miami will leave Kansas City with a victory.
Miami is driving down the field again, but face 3rd and 3 at midfield, where Thomas is stopped, and now there's shoving between the two teams.
I hate football fights by the way, it's just a bunch of shoves and pushes, nothing really happens.
But you can see the frustration with the Chiefs. A team I thought was great at keeping it together. Sorry but going 4-0 after starting 0-3 makes me think that you're somewhat good at keeping it together.
As the Chiefs get back on offense, a great pass and catch from Cassel to Bowe, followed by a great hit by Yeremiah Bell.
It's a penalty on Bell because it's 2011, I can't argue it even though I loved the hit.
However, I hate that the Chiefs penalty gets waived off because of it. There wasn't anything malicious about the hit, Bell lead with his shoulder. I know Bowe was defenseless, and again, in 2011 that is a penalty, but it shouldn't cancel out the Chiefs penalty.
Kansas City still driving though, they gained but 15 yards instead of the 22 they would've gained had they not had the illegal formation.
The next pass play to Bowe by the way, great coverage by both Bell and Smith.
But on the next play, a great pitch and catch from Cassel to Breaston that gets Kansas City to the Dolphins 24, this is followed by a Cassel scramble for five yards.
The Chiefs can not settle for a field goal here, they need a touchdown. They're down 25 and have but 16 and a half minutes left.
The Chiefs now face fourth and one and I'll see you in the fourth quarter.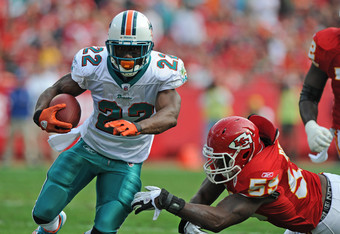 I didn't write about the last Chiefs drive because, well what is there to say?
Meanwhile Miami's drive starts with Reggie Bush again doing well running between the tackles.
Miami could very well score here.
Wait, they just did, Reggie Bush on a 28 yard end around.
Miami now leads 28-3 with 6:41 left in the third quarter.
I mean, wow.
If Miami holds on, I will not only eat a McRib, I'll make a video of me eating it.
Because it looks like today is a day of firsts.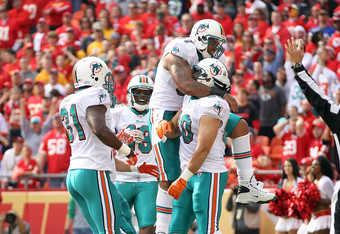 For one day, the Miami Dolphins look like a playoff team.
Either that or the Kansas City Chiefs really were as bad as they were when the season began.
Either way, wow, look at how the Dolphins are tearing apart the Chiefs defense.
Then comes a miracle! Brandon Marshall caught a pass in the end zone!
Brandon Marshall caught a pass in the end zone.
Brandon Marshall atrapó un pase en la zona de anotación!
布兰登 - 马歇尔在端区抓住了一通!
Sorry I have to see it in at least two other languages to believe it.
Miami leads 21-3 with 8:38 left in the third quarter.
So I was wrong on my prediction that the Chiefs would score a touchdown.
What the hell is this?
Did the Dolphins and Chiefs switch coaches prior to the game? That fake field goal was very Sparano-esque.
I guess Miami is pulling off the upset after all.
Shocking developments in Kansas City so far.
Another BS Pass Interference call on Jimmy Wilson?

Why can't I see it? What are the officials seeing that I can't?
I'm calling it now (11:47 left in the third quarter at 2:42pm ET), Kansas City will score a touchdown on this drive.
What can't Brandon Fields do?
He just knocked McCluster out of bounds after a 22 yard return.
Kansas City now has their best starting field position of the game, they will begin working from the Miami 45.
Is this where the Dolphins 2nd half meltdown begins, or will their defense continue their stellar first half play?
This of course is followed by another McRib commercial. It's practically taunting me right now.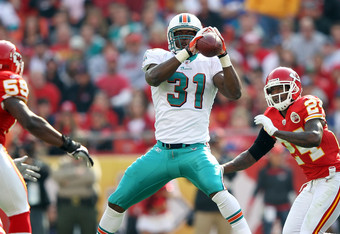 Heading into halftime the Miami Dolphins lead the Kansas City Chiefs 14-3 in a game that's looking a lot like their game against the Broncos two weeks ago, only with no field goals, more fire works.
Matt Moore has been great thus far going 11 of 14 for 167 yards two touchdowns and no interceptions. Both of those touchdown passes were to Anthony Fasano, as those are his only receptions thus far.
Meanwhile Miami not really running the ball too much as they only have 14 rushing yards.
Matt Cassel has been sacked four times today, however he's gone 9 of 15 for 103 yards.
The Chiefs have rushed the ball so far for 78 yards and have held onto the ball for 20 minutes 16 seconds, and have only three points to show for it.
The Dolphins though have 14 points despite only having the ball for 9:44.
Meanwhile in the "Suck For Luck" update, Indianapolis trails Atlanta 21-6, Seattle and Dallas are tied at 6-6 at halftime, while St. Louis-Arizona and Denver-Oakland kicks off later this afternoon.
Finally for my McRib update, still haven't had any takers to get me one.
I'll see you guys in the second half, Miami again leads 14-3.
Raise your hand if you thought that was a pass interference penalty.
Chiefs fans put your hands down.
Stupid call, good coverage by Wilson on that play. No bueno.
Two sacks on that Chiefs drive and now Miami has the ball back on their own 33 after a Chiefs drive that included two sacks on Matt Cassel.
The Chiefs though seem to be very undisciplined though. Already that's three penalties on them for 15 yards.
This leads to a quick pass to Charles Clay for the first down.
Moore added six yards and now the Dolphins are facing third down and one, and already they're at mid-field.
Excuse me, third and two, even though he looked closer.
Either way, the Dolphins failed to convert, fourth and two and here comes their 2011 MVP Brandon Fields.
Once again, the Chiefs are backed up behind their own 10 yard line.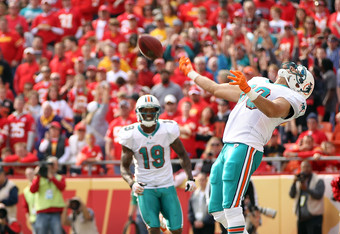 Who the hell are these guys?
Three straight plays to both of their tight ends?
First it's 21 yards to Charles Clay, followed by another 22 yards to Charles Clay.
Then a perfect 35 yard pass to Anthony Fasano, which he caught like a Can of Corn fly ball before running it into the end zone for the touchdown.
Now Miami leads 14-3, and for some reason I'm craving a McRib.
But I can't leave because I'm live blogging this game, so if anyone lives in South Florida (preferably Miami-Dade County) and would like to get me a McRib, post your e-mail address in the comments or write me a message here on Bleacher Report.
Believe it or not, I've never had a McRib. Ever, nor have I ever wanted one, yet today I'm craving it, not for taste purposes, but to see what all the hype is about.
So let's see if there will be two firsts today: my first McRib, and the Dolphins first victory of the 2011 season.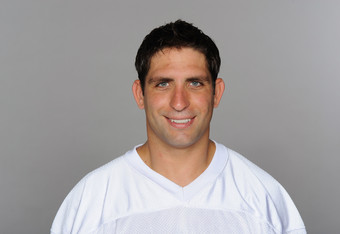 Great pass from Moore to Marshall on third and eight, my question though is where's the facemask penalty on Travis Daniels though? Did he not touch Marshall's facemask on that play? It wasn't a terrible one but was at least worth five yards.
Two plays later an 18 yard catch and run by Reggie Bush. Good play call, and that's also how you use Reggie.
Only problem is now the Dolphins are on the KC three yard line, where they have problems scoring.
But not this time as Moore hits Fasano in the back of the end zone. Great play-action call by offensive coordinator Brian Daboll, Dan Henning would've never called that, he would've gone Wildcat there (and failed).
Great drive on a short field for Miami, who now leads 7-3 with 46 seconds left.
This is where Brandon Marshall's great punt helps the offense: now Miami should get great field position for this drive.
On their last drive the 'Phins faltered as their wont to do, only they didn't wait to get to the red zone to do it.
Now Miami will start in Kansas City territory.
Dolphins continuing to stuff the Chiefs running game, Dansby had that read well. Chiefs now face 3rd and 11 from their own five yard line and are forced to call a time out.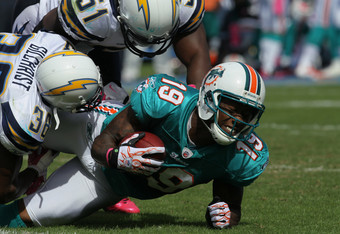 Touchback, Miami will start their first drive from their own 20.
How does Miami attack Kansas City's defense?
Their first offensive play of the game shows one way: use Brandon Marshall. Often.
Meanwhile Daniel Thomas is back, will he continue the pace he's been on?
Back to the game, great throw by Matt Moore and great catch by Brandon Marshall. First two plays, both to Marshall, successes.
Of course, we're not in the red zone yet.
And already Marshall has dropped a pass, on the third straight play to him.
This play will mean nothing thanks to an illegal motion by Davone Bess before the play along with an illegal hands to the face penalty on Kansas City. Penalties off-set.
Moore almost threw a interception by Kendrick Lewis, however Davone Bess plays secondary and breaks the play up. If the Dolphins were the Patriots, Bess would've gotten a shot to play defensive back based off of that, and would be better than Nolan Carroll too.
Fields again proves why he's the Dolphins MVP thus far with a beautiful punt inside KC's 10.
The Chiefs will have a long drive to go now.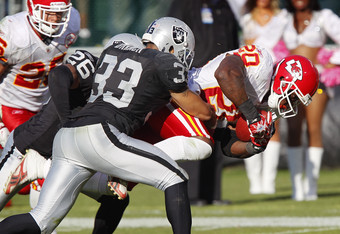 Wow, what a way to start the game for Kansas City. Great throw by Cassel, I thought that Sean Smith was going to deflect that pass but it wound up being caught by Dwayne Bowe for a seven yard gain. It's just been one of those years for the 'Phins hasn't it.
Kansas City is using a mixture of run and pass, and like I thought, the passing game is tearing up Miami while they're able to contain the Chiefs running game.
That is the 'Phins best chance against the Chiefs: stopping the run and turning the Chiefs into a one dimensional offense. Cassel can at times be very turnover prone, so they'll want the ball in his hands as much as possible. He might burn the 'Phins a few times, especially passing it to Bowe against a Vontae-less secondary, but he will also be sacked a few times and possibly throw a game-changing pick or two.
Meanwhile speaking of the Chiefs running game, why does it seem like Thomas Jones has been in the NFL forever? It feels like he's having a Jerome Bettis-type career. Running backs don't last forever but Jones is the exception.
Miami winds up getting the stop and forces KC to kick the field goal. Succop's 43 yard kick is up and good.
Kansas City now leads 3-0.
And we're ready to kick it off from Arrowhead!
Chiefs fans are clad in all red awaiting what might seem to them like an inevitable Kansas City Chiefs victory.
The Chiefs will also be wearing their usual red while Miami is in white.
The Dolphins have won the toss and decided to defer until the second half, which means Kansas City will receive to start the game.
And away we go.
Should I talk about the reported confrontation between Vontae Davis and Brandon Marshall.
Sure, I'll work it into the injury report.
Based off of the reports I've heard about it, I doubt there's anything to see. This is a bad team going through a bad season, and tensions will arise.
But Vontae Davis isn't in Kansas City with the rest of the team, but this is due to an unrelated disciplinary issue. He would've been out today anyways with his hamstring injury.
Enough about that, here's the injury report:
CB Vontae Davis, Hamstring, QUESTIONABLE
RB Daniel Thomas, Hamstring, QUESTIONABLE
WR Clyde Gates, Groin, QUESTIONABLE
S Yeremiah Bell, Toe, PROBABLE
T Marc Colombo, Knee, PROBABLE
G Richie Incognito, Ankle, PROBABLE
DE Kendall Langford, Hips, PROBABLE
QB Matt Moore, Ribs, PROBABLE
C Mike Pouncey, Neck, PROBABLE
LB Jason Taylor, Hip, PROBABLE
KANSAS CITY CHIEFS
S Jon McGraw, Shoulder, DOUBTFUL
CB Javier Arenas, Ankle, QUESTIONABLE
This article is
What is the duplicate article?
Why is this article offensive?
Where is this article plagiarized from?
Why is this article poorly edited?

Miami Dolphins: Like this team?