Fantasy Baseball 2012: Grading the Top 15 Left Fielders
November 4, 2011
Jonathan Daniel/Getty Images
Different fantasy baseball sites treat outfielders differently. Most include specific positions as a part of their basic packages. In other words, you will need someone that qualifies in left field, right field, and center field. Others only force you to start three generic outfielders. Most include a kind of hybrid of the two.
I've gotten some comments on my rankings. Some disagree with where some players are ranked. Hey, it's a free country. Others wonder why certain players aren't listed at certain positions. To put it simply, different leagues have different rules about who is eligible at what spot. Honestly, I'm paid for commentary. If and when someone decides to throw a full-time salary at me simply to do fantasy analysis then I will study all of the intricacies of who is eligible for what. Until then, I list the player at the position they spend the most time at.
As usual, we are looking at three statistics for the top 15 left fielders. We are looking at real offensive value (ROV), runs created (RC), and batting average on balls in play (BABIP). ROV is the combination of secondary average and batting average. Runs created is a complicated formula that incorporates everything an offensive player does and spits into a statistic that looks like runs or RBI. BABIP is basically what it sounds like.
15. Alfonso Soriano, Chicago Cubs
ROV= .264
RC= 60
BABIP= .266
Oh how time flies. I remember a time when Soriano was easily one of the top three or four guys here. His speed is gone and he struggles to be healthy. If he is healthy he will hit somewhere in the neighborhood of 30 home runs. At this point, we don't know who is going to be there for him to drive in.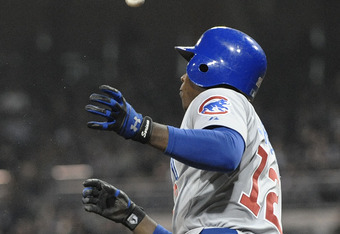 Denis Poroy/Getty Images
14. Johnny Damon, Free Agent
ROV= .264
RC= 84
BABIP= .284
It makes sense for him to stay in Tampa, but a few spots might like to have him as their designated hitter. Damon is still a solid fantasy player because he will score runs and swipe about 20 bags. He doesn't have as much power or speed as he once had, but who does when they near 40?
13. Brennan Boesch, Detroit Tigers
ROV= .273
RC= 67
BABIP= .315
It says here that Boesch will eventually land in right field with the Tigers, but he is eligible in both spots. He played more here last year, so he is listed here. He is a decent performer and will get a lot of opportunities in a deep Tiger lineup.
12. Gerardo Parra, Arizona Diamondbacks
ROV= .278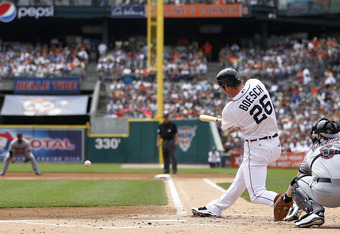 Leon Halip/Getty Images
RC= 70
BABIP= .342
Parra had a breakthrough season in many respects last year. He won the NL Gold Glove for left fielders, so he likely will get to play regardless. Anytime you can guarantee 600 plate appearances, you have some value for fantasy owners.
11. Brett Gardner, New York Yankees
ROV= .279
RC= 73
BABIP= .303
Most assumed that Gardner was simply another speed guy that would struggle offensively. After two solid seasons that notion has gone away. The problem for fantasy owners is that he won't swipe as many bags as he possibly could hitting at the bottom of the order. Still, he will score runs.
10. Shelly Duncan, Cleveland Indians
ROV= .283
RC= 33
BABIP= .297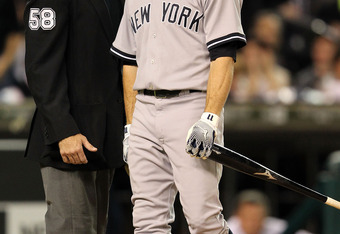 Leon Halip/Getty Images
I have to admit this pick is based a lot on spec. The Indians seemed to settle on Duncan late in the season for their hole in left field. If he gets 500 at bats he will have considerable value because of his power and place among other good offensive players in their lineup. Now, if they acquire a left fielder then forget I said that.
9. Nolan Reimold, Baltimore Orioles
ROV= .289
RC= 42
BABIP= .264
This is another speculative pick. The Orioles have been waiting for Reimold to show up for a few seasons and he finally did. The problem is that there is a potential logjam in the outfield with Luke Scott returning from injury. If Reimold gets the job he should finally make good on the potential people saw in him.
8. Logan Morrison, Miami Marlins
ROV= .294
RC= 73
BABIP= .265
This is another guy that could benefit from a looser Ozzie Guillen clubhouse. He was demoted last year for questionable reasons. I don't see that happening again. Of course, there are also rumors that he could be on the clock. First base is his natural position, so pay attention here.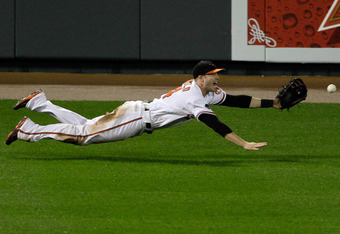 Rob Carr/Getty Images
7. Josh Willingham, Free Agent
ROV= .299
RC= 82
BABIP= .287
This guy could be huge if he gets out of Oakland. That cavernous ballpark stole some offense from him and he still hit 29 home runs. He could go for 35 and 120 easily with a contending team and smaller ballpark. If Boston put him in right field he could go absolutely nuts.
6. Desmond Jennings, Tampa Bay Rays, Sleeper
ROV= .316
RC= 43
BABIP= .303
It seems unfair that Andrew Friedman can seemingly call guys like this up at will. Jennings has been on the come for a couple of seasons now and finally arrived after the all-star break. He could play in left or center next year depending on B.J. Upton's fate.
5. Josh Hamilton, Texas Rangers
ROV= .316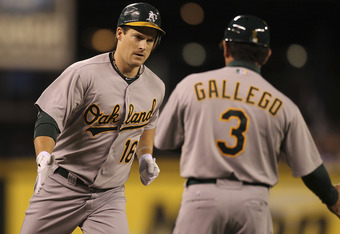 Otto Greule Jr/Getty Images
RC= 91
BABIP= .330
If he could stay healthy he would be a top ten overall fantasy player every year. Fifth seems awfully low for him in left field and he has some center field eligibility as well. He seems to alternate dominant seasons with merely good ones. Last year he was merely good, so......
4. Carlos Gonzalez, Colorado Rockies
ROV= .329
RC= 93
BABIP= .326
I'm not a huge Cargo guy. His strikeout to walk ratio bothers me some and he has lived off of some high BABIP numbers the past couple of seasons. Last year would have been another brilliant campaign without some nagging injuries. I keep thinking the lack of plate discipline will catch up with him.
3. Matt Holliday, St. Louis Cardinals
ROV= .331
RC= 87
BABIP= .330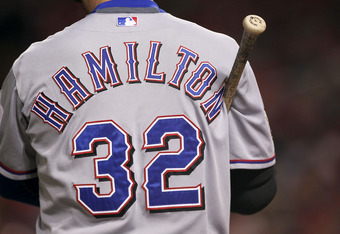 Ezra Shaw/Getty Images
World Series winners are barred from complaining, but the Cardinals did have a lot of nagging injuries last season and Holliday was one of them. If he, Berkman, and Pujols (assuming he is back) can remain healthy they could establish the Cardinals as the best team in the National League.
2. Alex Gordon, Kansas City Royals, Buyer Beware
ROV= .314
RC= 118
BABIP= .358
Alex Gordon was supposed to be the second coming of George Brett, but I guess the Royals will have to settle for the second coming of Hal McRae. Last season was a revelation for Gordon, but it came on the sails of a high BABIP. He will remain productive next season, but likely won't create 100 runs again.
1. Ryan Braun, Milwaukee Brewers
ROV= .374
RC= 138
BABIP= .350
Braun does have a high BABIP, but he hits a lot of line drives. Ultimately, the Brewers chose to go with Braun long-term over Fielder. While there is a chance Fielder could be back, odds are that he won't. How this will ultimately effect Braun in unknown, but he will be the best left fielder regardless.