WWE Trials: The Lost Art of a Wrestler's Character
November 10, 2011
A wrestler's character is who he or she is. The date is Nov. 8, 2011, and the title speaks volumes. What happened to characters in professional wrestling.
Instead of characters, we are fed a word of professionalism and political correctness. That term is a gimmick. What exactly is a gimmick? Is it a heel or face, portraying the specified "gimmick" for the fans?
In my recent piece, I highlighted on a wrestler's character and how it was essential to professional wrestling. Throughout a show, personas shine through and those portray a certain character.
Dude Love (Mick Foley) was the master of character. Multiple personalities gave the fans what they wanted.
Since the start of the business, characters were the basis of how a show ran. Whether it was Dusty Rhodes, Killer Kowalski, Gorilla Monsoon as well as many other wrestlers, they entertained and became idols in our eyes.
Only a few superstars today have these rare attributes, Cody Rhodes being the main example. You can give credit to his predecessor, the American Dream.
As most of you know, my quest is to find the art in wrestling. All facets of the business portray a character-like setting, but Vince strays away from what works well.
Twitter, Facebook or any social media outlet ruin any chances of not breaking kayfabe. With proper characters, certain wrestlers can make that "jump" to the next level.
Daniel Bryan or John Morrison fit in this certain group of people. Both need something to push them to a main event caliber position. Even if it is a heel turn or face turn, the character switch would be a fresh start to an old product.
A switch back to WWE today, a heel is the first one out to the ramp and controls most of the match, while the face makes his comeback at match's end. To be unpredictable and surprising, this way of producing a show cannot continue.
No matter what the situation is, a wrestler's character is a vital piece of the overall portrait that is professional wrestling. Starting with Indy promotions and transversely into the big leagues, a character drives the match home.
Shawn Michaels isn't there to perform his theatrics at the conclusion of a wrestling match. The Undertaker will not be entertaining all around the world, with his underworld character.
As fans, we must view the art like many pieces to a puzzle. If a part of the puzzle is missing, how can it be complete?
It's hard to find emotion in an aspect of the sport without proper reasoning. Just like any fan begs for, the quest for entertainment. It starts and ends with characters.
What do we see at the beginning of a show and at the end of a show? A character entertaining the fans. Why is a character so important?
Here are three reasonings as to why my statement stands correct:
That is the wrestler, not a gimmick in today's culture.
A character flows throughout the wrestler, and it tells a story within the match.
It's imperative to a wrestler's development as a star.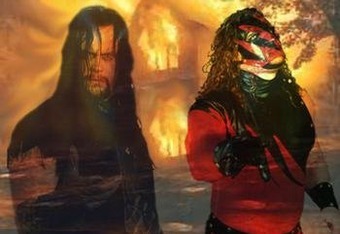 What lies ahead in the WWE is unknown. The inner-presence of a wrestler's character will never be the same again. It goes with the territory, I must assume.
Likes of the Undertaker, Shawn Michaels and many others are history if anything. My hopes if anything are optimistic that characters will return and the final piece of the puzzle will be added.
Thank you all for taking the time to read my piece. I appreciate your feedback as always. I pray that my quest for art helps all of you find it as well. Have a great day everyone.
Wrestling is an art. Look with optimism to witness it.