LSU vs. Alabama: Assistants Who Could Be Targeted for Head Coaching
Greg McWilliams/Getty Images
In Saturday's epic battle between LSU and Alabama, there will be star players on both teams making big plays.
However, there will also be some star coaches on the sidelines making some great calls.
Everyone knows the success and reputations of head coaches Les Miles and Nick Saban, but there will be assistants coaching in this game that could be future head men themselves.
This slide show will break down the assistants in the LSU versus Alabama game that could be targeted for head coaching positions in the near-term....
Kirby Smart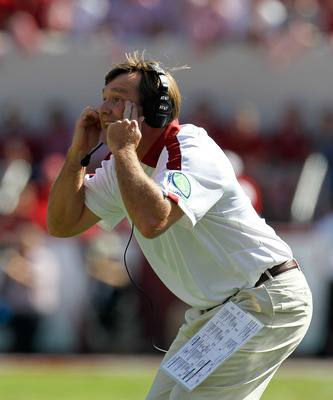 Kevin C. Cox/Getty Images
Position: Alabama Defensive Coordinator and Linebackers coach
History
This is Smart's fourth year at Alabama. Before that he coached the safeties for one season for the Miami Dolphins and was the running backs coach at Georgia in 2005.
In 2004 Smart also coached under Nick Saban, as the defensive backs coach at LSU. He also spent time coaching at Florida State and Valdosta State earlier in his career.
Smart was a stand out defensive back at Georgia, graduating in 1998.

Biggest Achievement
In 2009 Smart won the Broyles award as the top assistant coach in college football, after helping lead Alabama to a national championship.

Who May Come Calling?
Georgia (if they fire Mark Richt at seasons end)
Ole Miss (when they fire Houston Nutt at seasons end)
N.C. State (if they let go Tom O'Brien)
Jim McElwain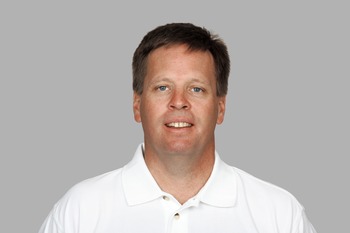 Getty Images/Getty Images
Position: Alabama Offensive Coordinator and Quarterbacks Coach
History
This is McElwain's third year at Alabama as offensive coordinator.
Before coming to Tuscaloosa, he was offensive coordinator at Fresno State where he led the Bulldog offense to 419 offensive yards per game and a quarterbacks coach for the NFL's Oakland Raiders in 2006.
Prior to that, he spent three seasons at Michigan State and Louisville in offensive positions and had stints at Eastern Michigan and Montana State to start his coaching career.

Biggest Achievement
McElwain's Alabama offense finished 12th nationally in rushing yards and averaged 32 points per game in 2009, in their march toward a national championship
Who May Come Calling?
Kentucky (if they fire Joker Phillips anytime soon)
Indiana (when they make the pending change)
Burton Burns
Position: Alabama Associate Head Coach and Running Backs Coach
History
Burns has been with Alabama for four seasons. He has successfully coached Heisman winner Mark Ingram and is now developing Heisman hopeful Trent Richardson.
He was an assistant coach at Clemson for eight seasons prior to joining the Tide.
Before that he spent four seasons at Tulane, including their 12-0 campaign in 1998.

As a player, Burns was a big fullback at Nebraska under Coach Tom Osborne.
Biggest Achievement
In 2009 Alabama averaged 215 rushing yards per game, good for 12th in the nation, won the national championship and Burn's back, Mark Ingram, went home with the Heisman trophy.
Who May Come Calling?
La-Monroe (when they fire Todd Berry)
Memphis (when they fire Larry Porter)
Tulane (if they fire Mark Hutson next season)
Frank Wilson
Position: LSU Running Backs Coach and Recruiting Coordinator
History
This is Wilson's second season with LSU.
In 2009 he coached the wide outs at Tennessee and Ole Miss and Southern Miss before that.
Originally a high school head coach, leading one of his teams all the way to the state finals.
A running back at Nichols State, Wilson knows what it takes to excel as a tail back.
Biggest Achievement
In two years as recruiting coordinator at LSU, Wilson has put together two straight top 10 nationally ranked classes.
Who May Come Calling?
Memphis (when they fire Larry Porter)
La-Monroe (when they fire Todd Berry)
John Chavis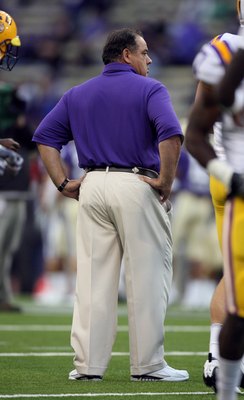 Otto Greule Jr/Getty Images
Position: LSU Defensive Coordinator
History
Chavis has been with LSU for three seasons and is making an immediate impact.
Before joining the Tiger's staff, Chavis was with Tennessee from 1989 to 2008 where he began as a linebackers coach and ended as the defensive coordinator.
Prior to Tennessee, he spent time as a defensive assistant at Alabama A&M and Alabama State.
In 16 seasons as a defensive coordinator, Chavis has produced a unit that finished in the top four in the conference in total defense 11 times.
Chavis was a big middle guard for Tennessee as a player.
Biggest Achievement
In 2006 Chavis was named the recipient of the prestigious American Football Coaches Association Assistant Coach of the Year honor.
Who May Come Calling?
UAB (when they fire Neil Calloway)
Troy (if they fire Larry Blakeney)
Kentucky (if they fire Joker Phillips)
Keep Reading