Pacquiao vs. Marquez: Why Pac-Man Shouldn't Be at Same Gym as Kobe Bryant
March 30, 2016
Michael Loccisano/Getty Images
Manny Pacquiao and Kobe Bryant have been spotted using the same gym, which is just a horrible idea for Pacquiao.
TMZ reports that Pac-Man and the "Black Mamba" were both spotted at Wild Card Boxing Club on Thursday afternoon. Whether or not the two were actually working out together can be put to question, but it's hard to imagine two huge personae not even acknowledging the other's presence.
However, the video had an obvious cut in the middle that makes me question the truth of the allegations, but that's a question for another day. Here's a tweet about the situation: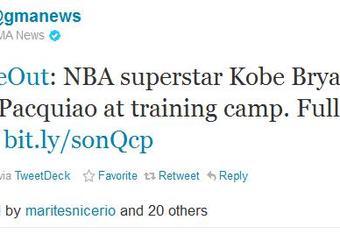 In light of his upcoming blockbuster fight against Juan Manuel Marquez on November 12, Pacquiao does not need any more distractions.
The most recent distraction comes from "Pretty Boy" Floyd Mayweather's camp.
Adviser Leonard Ellerbe had this to say about a potential fight between the two best pound-for-pound boxers in the world:
"Floyd made it very clear that he wants to give the fans the biggest fights that are out there. He wants to stay active. We're going to do everything in our power to make the biggest fight out there for the fans and we all know what the fight is."
The hypothetical fight would be scheduled for May 5, 2012, but is still a good distance from being an absolute certainty.
All that Bryant's presence at the gym does is give Pac-Man a distraction. His upcoming fight needs to be his main concern because he is 1-0-1 against Marquez. That would be great for any other boxer, but Pacquiao has the potential to retire as the most versatile boxer of all time.
He has title belts in eight divisions and he doesn't need to cloud his mind with another celebrity issue.
What do you think Bryant was doing in the gym with Pacquiao?