Tim Tebow vs. Carson Palmer: Which QB Gets Benched First?
November 4, 2011
While Tim Tebow may have the edge in terms of popularity, there's no question that Carson Palmer should be the odds-on favorite to win this Sunday's head-to-head battle between the two struggling quarterbacks.
It's going to be very interesting to see how this matchup between division rivals—the Denver Broncos and the Oakland Raiders—plays out. Each team happens to be in the middle of the a painstaking process of breaking in a new signal-caller.
This time around, though, the scales are simply tipped too heavily in Palmer's favor for Tebow to have much of a chance at coming out on top, and here's why.
First of all, Palmer is playing at home in front of the home crowd, a fact which cannot be understated.
Certainly, there are some fans in Denver seeing visions of the second coming of John Elway, one of the greatest come-from-behind quarterbacks of all time.
True, Tebow did pull off the '"Miracle in Miami," but that fact only makes it that much less likely that the rookie has another last-minute miracle up his sleeve.
As well, the Raiders are not the Dolphins. Don't let Oakland's forgettable performance against the Chiefs cloud your judgment, either. It's not very likely that the Raiders will repeat the six-interception fiasco they turned in two weeks ago.
Anyone who expected more from Palmer coming in with only three days to prepare and being called off of the bench already down by three scores is fooling themselves. I doubt very highly that anyone else would have done much better in Palmer's shoes.
That was two weeks ago, though, and this week, Palmer should expect to have a much easier time directing the Raiders offense.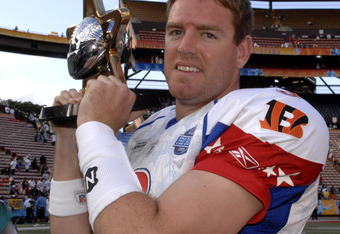 A. Messerschmidt/Getty Images
It's a lot to ask of a young quarterback to win games on the road while making such a big adjustment and with so much information yet to absorb. There really is no good substitute for experience, especially for an NFL quarterback.
Palmer, on the other hand, is a seasoned veteran who has been through everything that Tebow is experiencing now. Palmer is used to the pressure, having long since completed the transition that Tebow is in the midst of.
He's been to two Pro Bowls and made several appearances in the playoffs, which is the type of experience that there is simply no substitute for.
It's very rare that a rookie comes out of the gate firing on all cylinders. In most cases, it takes a year or two, in some cases much longer for a quarterback to make the adjustment from college to the NFL.
Tebow has as sharp a learning curve to navigate as any, and it will likely take quite a while before the fleet-footed gunslinger will be able to be depended upon in the way that Denver fans would like to.
That is, of course, if he ever gets there, which—despite his popularity—is still a long way from being determined.
Finally, Palmer has a much stronger team around him than does Tebow. Palmer will have the luxury of counting on the support of a devastating rushing attack and a solid defense behind him.
This time around, Palmer won't be coming in down three scores. He'll be afforded the opportunity to concentrate on managing the game and staying within himself and the system.
As weak as the Broncos are on both sides of the football, Palmer can concentrate on protecting the football and letting Tim Tebow and the Broncos self-destruct on their own.