Tim Tebow: Why the Media Need to Take Stephen Tulloch's Side
November 4, 2011
Doug Pensinger/Getty Images
One of my best friends from college sent me an email last week with no subject line; just a link: www.tebowing.com.
I immediately forwarded it to a few of my friends, one of whom is a Denver Broncos fan, with typical computer banter since it couldn't accurately depict how hilarious I thought this actually was (especially when I got to "Treebowing"—genius).
All responses, especially from the Broncos fan, had the same reaction that can be summed up in one word: Epic.
By Sunday, my Facebook feed was clogged with friends Tebowing everywhere: bars, friends' houses, one even took a picture—of himself—Tebowing at a work meeting.
While I was being overexposed to those of my friends who were doing it in the privacy of their homes or social circles, LB Stephen Tulloch did the Tebow of all Tebows in this, its infancy.
After sacking Tebow for the umpteenth time on Sunday in Denver, Tulloch didn't scream, taunt or pound his chest.
He Tebowed.
And he did it inches away from the man for whom it's named.
I didn't see this live, but when I learned of it, I was speechless—and not for the same reason Jemele Hill was. I immediately began scouring Facebook to see if I could "Like" anything remotely related to Tulloch (I'm still not hip to Twitter) because he did something, by my estimation, that was hilarious, ballsy and—read carefully here—harmless.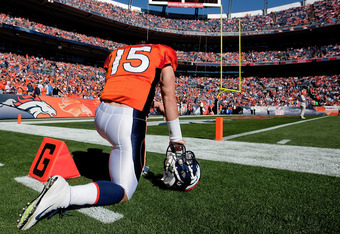 Justin Edmonds/Getty Images
But instead of just chocking it up to a blip on the Broncos-Lions highlights, writers like Hill have set off a trumpeting backlash in defense of Tebow, chiding Tulloch's action as an insult to Tebow's faith as a devout follower of Christianity.
What Hill and some of the rest of the media don't understand is "Tebowing" is a direct result of their handiwork.
Let me clarify two things:
I like Tebow as a person. The world would be a much better place if there were more people like him in it.
Not that this matters, and this will be the only time I'll mention this, but I too—like Tebow—am a Christian. I saw nothing sacrilegious nor mocking one's faith in what Tulloch did. Tebowing is almost as sacrilegious as dressing like Jesus for Halloween.
Tebow himself has since come out to say, hey, it was all in good fun. He saw what a large portion of the rest of us saw.
The fact that this has even gone this far is a microcosm of the cloud that surrounds Tebow, built by the media who have collectively created and destroyed him for most outside of Denver and Gainesville.
You want to know why Tebowing exists?
The media act like Tebow's intrusive parent who embarrassingly shows up at school to stop people from bullying him. Anytime anyone regards Tebow as less than perfect (usually in the athletic sense), those in the media come to his defense and heap his young resume as both an athlete and a person on the rest of us.
Yes, Tebow is an amazing athlete—probably the best college player ever.
Yes, Tebow is a leader who could probably rally an old folks home.
Yes, Tebow is an exceptional person who does great things.
Like I said, I like Tebow.
However, I cannot tell you how nauseating it was to watch the Florida-Miami (Ohio) game last fall and have ESPN commentators refer to the game as the first Gators game "A.T.," the Biblical double entendre meaning "After Tebow."
After Tebow?
How many athletes have significant periods of history tailored to their initials?
That's the problem—the media single Tebow out as if he's the only person who's ever been an athlete, been a leader or been an exceptional person. How dare the rest of us poke chips in his armor by simply hitting a knee to get a laugh out of our friends in a bar?
There are plenty of athletes who are everything Tebow is, both on and off the field.
Landry Jones is a potential Heisman candidate and visited Mission of Hope in Haiti this summer with his Oklahoma teammates.
My Cincinnati Bengals' own Andy Dalton is a devout humanitarian, led the first non-AQ team to a Rose Bowl victory and once rushed to save a dog that was dying of heat exhaustion.
Countless NFL players participate in their own charities and/or league-wide initiatives such as "Play 60."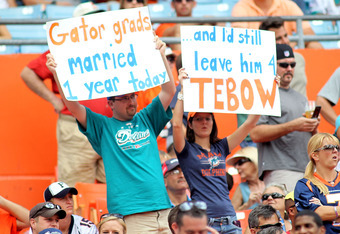 Marc Serota/Getty Images
While these players certainly get their blips, they're just that—blips. It's not force-fed down our throats every time we turn on an Oklahoma, TCU or NFL game that these guys do good things for society while also serving as video game-like athletes.
As a result, we admire them from afar and watch them be athletes.
Tebow has a legion of followers for the wrong reasons. They (myself included) wait and yearn for him to stumble not because they're jealous, but because he's built up so much and so often.
Sidenote: To illustrate this point, one of my friends went to Florida State and informed me years ago about a Jorts epidemic that has had Gainesville in a denim chokehold for some time now. Taking advantage of this information and Tebow himself, I came across a picture of Tebow, in jorts, on the cover of the fictional Jorts Illustrated.
Needless to say, I put this on a t-shirt and made a lot of friends in Columbia during the South Carolina-Florida game in Tebow's last year. You can imagine how not embarrassed I was that the Gamecocks lost, and I was sitting in the visitor's section.
The best part is, a Florida fan who was wearing jorts asked me what jorts were. I asked him if that was a trick question, and he informed me that he didn't know football games were fashion shows.
No. 15 is no different than the Lakers, the Yankees or my beloved Buckeyes—when you're constantly successful, people tend to side with the underdog.
Tebow now finds himself in unfamiliar territory in the NFL. He's an underdog as an NFL quarterback, and instead of asking him about his release or field vision, the media are instead asking if he was offended by Tulloch, who just so happened to do what the rest of had been doing for days.
Like the kid who's being bullied on the playground, the media need to not show up at school to defend Tebow in front of his peers.
That's why there's such a thing as "Tebowing" after all.