NBA Lockout: Different Jobs Superstars Could Pick Up If They Are Short on Cash
Brett Deering/Getty Images
So the NBA lockout is in full swing and it seems as though the players might not ever get back on the court.
As many of you know, a few of the players right now are struggling to make ends meet, which blows my mind due to the fact that all NBA players make over six figures every single year. If they are a rookie, I can understand, but if not, they have some explaining to do.
Although this may be a serious problem for some players, here are some potential jobs that some well known players might just get during the lockout.
Lebron James: King of England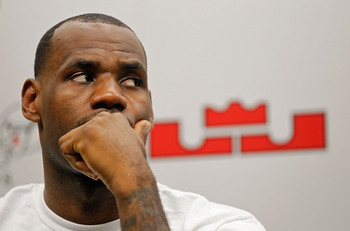 Mike Ehrmann/Getty Images
I mean you never know right? He is already invested in the UK in Liverpool, but he could just step it up. He is already the king, so why not just be a real king.
Although this isn't possible at all, as seen in this picture, he would be a good spokesman for Rogaine.
Anderson Varejao: Used Car Salesman
I mean this guy can sell any call. He is widely known as the best flopper in the NBA and is known for faking fouls to get his way.
So let's get him a cheap suit, a gold chain and a bottle of cheap cologne and he will be all ready to go sell some used cars at I'm Locked Out and Need Money Used Cars.
Although it's not one of those things you want to be known for, it is better than being known as that big curly haired guy that used to play with Lebron, oh wait.
Kevin Garnett: Professional Roaster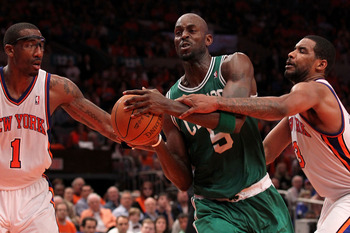 Nick Laham/Getty Images
How great would it have been to see Garnett on Comedy Central's Roast of Charlie Sheen? I mean really this guy would have us all laughing, and uptight people about to explode.
Garnett is known as the best trash talker in the game and has really been known to get in the head of his opponents and even sometimes go a little too far about some things, but he would be perfect for this job as it requires a lot of thinking and witty comebacks.
Brian Cardinal: Floor Cleaner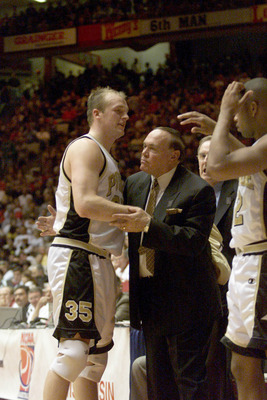 Jed Jacobsohn/Getty Images
This guy has got this on lock. If he ever needs some more cash, he can of course clean some floors. We all know he is on the hardwood enough during the game, diving for loose balls and looking highly athletic. I mean the guy wore knee pads in college, what do you expect?
Luckily for Cardinal though, he has a degree from one of the most prestigious universities in the world, Purdue, so he won't have any money problems in the future.
Dwight Howard: Superman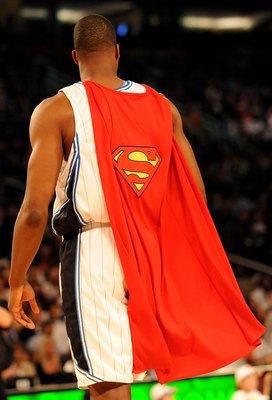 Ronald Martinez/Getty Images
He already is superman, but he could actually save the city and save the day by ending the lockout; come on Dwight, end this thing already.
Just imagine meeting Dwight in a dark alley.
Metta World Peace: UN Ambassador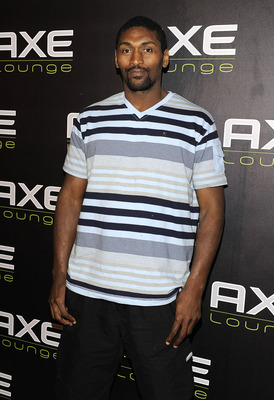 Eugene Gologursky/Getty Images
I mean the name says it all. World Peace, formerly known as Ron Artest, would be perfect for this position. His name really reflects what it would be about and no one would mess with him.
Let's just hope none of the other ambassadors make him mad, or we could have the UN version of the Pacers-Piston's Brawl.
One thing's for sure, World Peace would definitely make politics more interesting.
The Big Z : Body Guard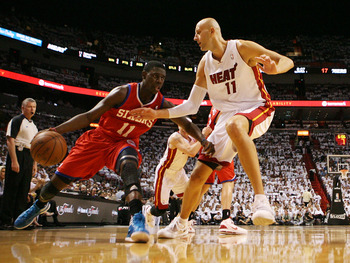 Marc Serota/Getty Images
No one is getting by the Big Z. Just look at this screen he set on Rondo a few years back. That would be like running into a brick wall.
The question now is, whose body guard could he be? Lady Gaga? They are both unusually pale and would probably make a good match, especially on that red carpet.
Dwayne Wade: Match Maker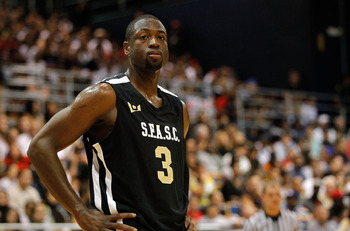 Mike Ehrmann/Getty Images
Dwayne Wade is just one of those leaders on the court that seems to take control. He really took the lead with the Heat again this season and will continue.
I just feel like he is really good at bringing people together, I mean he was partially responsible for the Miami acquisitions.
Derrick Rose: Mayor of Chicago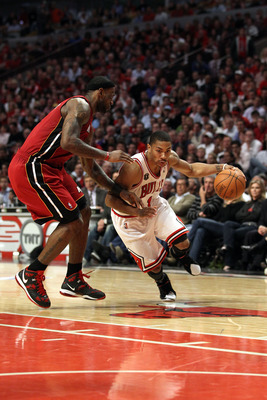 Jonathan Daniel/Getty Images
Honestly we should face the facts and just say he already is the mayor of Chicago, or at least better known and more than likely has more influence on things around the city.
D-Rose has become a phenomenon for that city. He has captured the hearts of millions and with a city that was so in love with Michael Jordan, they have really embraced Rose as the next big thing!
Kobe Bryant: Insurance Rep
Patrick McDermott/Getty Images
Sometimes it seems that Kobe just doesn't have a heart. He is a great player, but he knows it. He is not only known as one of the best players to play the game, but also one of the meanest. He has no regrets and just wants to win.
That's why he would be a great insurance representative. He can screw people over, make a lot of money, and win in the process.
James Evens serves as a National Featured Columnist for college football and basketball as well as the FC for the Purdue Boilermakers. Follow him on Twitter or like him on Facebook.
Keep Reading