Tony Romo and Philip Rivers: A Tale of Two Cities, and Two Quarterbacks
November 7, 2011
Wesley Hitt/Getty Images
Coming into this season there was no question with football fans and analysts alike that Philip Rivers was considered one of the top quarterbacks in the NFL, enjoying tea and crumpets with the elite.
Tony Romo, on the other hand, was facing yet another year of question marks regarding whether or not he was even considered a top-10 quarterback.
Millions of fantasy football owners also agreed with Rivers being the better quarterback. In all 4 major fantasy football leagues (Yahoo, ESPN, NFL.com and CBS) Rivers was selected higher with the average draft position of 23.99 compared to Romo's at 40.07.
I however, contend that they are the exact same player. People believe perception to be reality, but is it the truth? I've got a few numbers here that may make you rethink just how similar these two quarterbacks really are.   
Career Statistics coming into the season: 96.6 (Rivers) -95.9 (Romo) quarterback rating, 63.80% completion percentage (Rivers) – 64% completion percentage(Romo), 7.99 (Rivers) – 8.11 (Romo) yards per attempt and a 2.3 to 1 (Rivers) – 1.94 to 1 (Romo) touchdown to interception ratio.
In games played against teams who finished with a record of 9-7 or better for the season: .461% winning percentage (Rivers) - .450% winning percentage (Romo), 92.16 (Rivers) – 92.53 (Romo) quarterback rating, 62.12% completion percentage (Rivers) – 62.24% (Romo) completion percentage and a 1.95 to 1 (Rivers) – 2 to 1 (Romo) touchdown to interception ratio.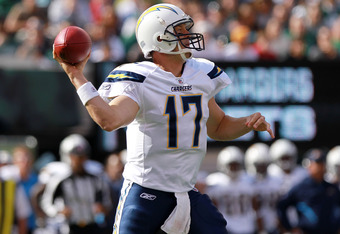 Nick Laham/Getty Images
Playoffs: .430% winning percentage (Rivers)- .250% (Romo) winning percentage, 79.2 (Rivers) – 80.8 (Romo) quarterback rating, 58.5% completion percentage (Rivers) – 59.3% (Romo) completion percentage and a .89 to 1 (Rivers) – 2 to 1 (Romo) touchdown to interception ratio.
The Statistics look very similar to me, especially in games of significance. I did however find one glaring difference, and that comes in the month of December. Romo has been notorious for falling apart in December, and definitely need to play better. Rivers has flourished in December.
The difference I feel can be contributed to the teams they have played within December. Rivers' opponents in this particular month have had a combined winning percentage of .430% while Romo has played against teams with a .562% winning percentage. Say what you what, but that is significant.
As week 9 of the NFL season comes to an end, both players performances have left much to be desired this season; however, they are looked at in two separate ways.
Rivers leads the league in interceptions, and is not statistically putting up the numbers anywhere close to what people are accustomed to seeing from him. Although he has stated numerous times that he is okay, questions have arisen regarding his health or any other personal distractions he may be dealing with. Everyone is convinced there is SOMETHING wrong with this guy.
For Romo, his issues this season in the 4th quarter against the Jets and Lions have only added fuel to the fire that Romo cannot get the job done. While people search for reasons regarding Rivers' play, Romo's known broken rib, and offensive line woes cannot be used as an excuse.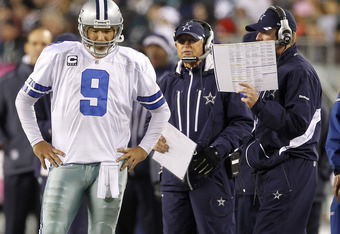 Rich Schultz/Getty Images
And oh by the way, Romo still has the all-time best 4th quarter quarterback rating in history (99.4) even with his horrible fourth quarter performances this season.
So why does the difference in perception still exist? Why are people searching for answers to fix Rivers and searching for ways to get rid of Romo although they are the same quarterback? It's all about the location.  
Rivers plays in a smaller sports market in San Diego. Expectations are immensely lower. Ever since he has been the starter he has been blessed with teams that were considered the trendy AFC pick to win the Super Bowl. Although he has led his teams to numerous playoff berths, he has never won it all.
People however, love to point to his amazing numbers as a reason he is considered elite. Also let's not forget the fact that he yells and shows emotion on the field and sidelines. Fans find this endearing because they want their players to feel how they feel. By showing it, Rivers has built a reputation of being intense and focused.  
Romo on the other hand happens to play on one of the most iconic sports teams not only in the NFL, but the world. Just by being the quarterback of this team, all eyes are on him. Everything he does both on and off the field is scrutinized.  
His reputation of being mellow on the field and sideline leaves many passionate Cowboy fans enraged. Because of this, he is looked at as someone who doesn't care.
To some, even his appearance is cause for concern. I had no idea the outrage wearing a baseball cap backwards on the sidelines can cause until Romo did it. Also looking like the Great Gatsby with his caps from the 1920s that he wears during press conferences, does not help his cause.
Even the near identical numbers Romo puts up in comparison to Rivers is seen as empty calories. To Cowboy fans, either win a Super Bowl, or get out. Even making the playoffs and leading the team to their first Playoff game since 1996 means nothing.
Simply put, being the quarterback for the Dallas Cowboys leads to much larger and unrealistic expectations. Philip Rivers has been, and I feel will continue to be, an amazing player no matter how this season unfolds. I feel the same about Romo. I just hope this article helps you realize perception is not always reality after all.