NBA Free Agency: 3 Possible Teams That Should Look into Marcus Thornton
Chris Graythen/Getty Images
A lot of the free agent focus post-lockout will be placed on Memphis Grizzlies center Marc Gasol. Rightfully so, but he's not the most promising player available in the NBA.
Marcus Thornton is.
Thornton is really coming into his own, molding himself into a versatile scorer with a knack for putting up big games. Once he finally got a trade that opened up more minutes for him, Thornton turned heads with a stellar second half of the season, perhaps one of the best in the league.
Being just 24 years old, Thornton has the time to develop into a possible franchise player for a lucky team. Money will be scarce for some of the legitimate suitors, but he could prove to be well worth a contract.
Plenty of teams should look into bringing the potential All-Star into their organization, but these are three options who should make the biggest strides.
Charlotte Bobcats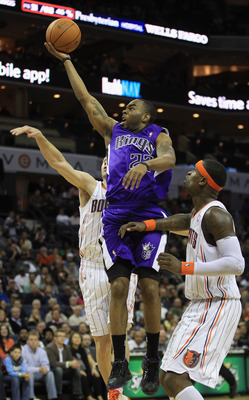 Streeter Lecka/Getty Images
Charlotte made it clear they are wanting to rebuild after trading both Stephen Jackson and Gerald Wallace in respective trades. After picking up Kemba Walker and Bismack Biyombo during draft day, the Bobcats seem to be heading in the right direction.
However, signing Marcus Thornton will only further that view.
Kemba is a point guard who can come in and make an immediate impact. He is a guy who never takes a break while on the floor and has shown the ability to be a true leader. Watching him help his UConn Huskies make an impressive run through both the Big East tournament and NCAA Final Four was one of the more memorable moments in recent college basketball history.
Walker has the intangibles that teams love, and also provides a nice scoring game, but he's going to need a backcourt mate to help him live up to his true potential.
As difficult as this offseason has been so far, there is no telling just what teams will be able to sign post-lockout. A new CBA will likely limit a lot of teams financially, but Thornton could come at a bargain.
It will be interesting to see just what teams gamble on risky free agents with a high upside, but Michael Jordan and the Bobcats should take the chance with Thornton.
He will bring a much needed scoring option who can put up 20 points a night and help take some of the pressure off Walker. He would fit nice in a starting role, letting Gerald Henderson come off the bench for a change of pace.
If Charlotte wants to remain competitive and fight for a playoff spot, they need to make an impact to replace Stephen Jackson. Let Marcus Thornton be that guy.
Chicago Bulls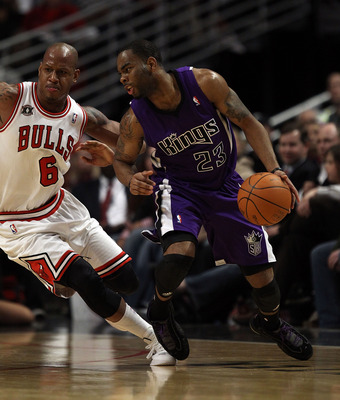 Jonathan Daniel/Getty Images
The Chicago Bulls have the worst starting shooting guard in the NBA with Keith Bogans. He's a solid defender, but other than that, not an asset. That being said, it was obvious during the Eastern Conference Playoffs that they need an uprgrade.
Often during Chicago's playoff run last year, they failed to get help from the supporting cast. An offensive option besides Derrick Rose was truly missed, as he was shut down when needed most.
Don't get me wrong, it's not Rose's fault, but giving him a promising guard to work with would benefit both him and the Bulls. There are plenty of shooting guard options available via free agency, but none would create a dynamic duo like Marcus Thornton alongside Rose.
Thornton is an improving defender that would be a nice piece in a solid Bulls attack. Offensively, he will help spread the floor and has the skills to work his way inside.
The Bulls are a team that has the roster to win now, but they are also built for a bright future for years to come. Thornton is the best shooting guard available right now; however, Chicago currently has salary issues.
The top focus for the Bulls should be extending Derrick Rose to a long-term contract. He's obviously the future of the team, but they might need to swing a move to make that happen.
Depending on how Chicago uses their gifted amnesty clause, they could create the necessary room to give Rose a hefty contract as well as signing a shooting guard of the future.
Sacramento Kings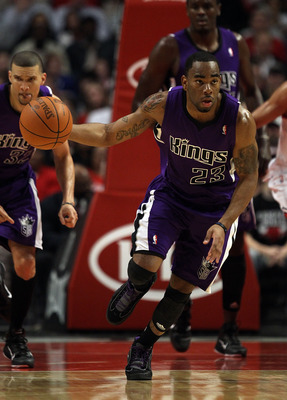 Jonathan Daniel/Getty Images
Marcus Thornton exploded last season after being acquired by the Sacramento Kings, averaging 21.3 points in 27 games. It was the first time we have seen him in an expanded role, and he did not disappoint.
Sacramento has a young core of players to build around, most notably DeMarcus Cousins and Tyreke Evans, but re-signing Thornton would give them a valuable shooting guard option who can score the ball. Look for either John Salmons or Francisco Garcia to be cut due to the amnesty clause, opening up plenty of minutes and opportunity for former LSU Tiger.
While many feel that Jimmer Fredette is the future shooting guard of the Kings, they could be right to an extent. He is a great shooter who can score from virtually anywhere on the floor, but he will be much better suited in a role similar to J.J. Redick off the bench.
Even if the Kings decide to pack up and move the franchise elsewhere, Thornton is a player they should bring along. He's got a bright future and is a combo-guard not worth passing up.
Keep Reading

Sacramento Kings: Like this team?