Baron Davis to the Miami Heat: Would the Veteran Point Guard Be a Good Fit?
November 6, 2011
Jared Wickerham/Getty Images
When the NBA powers that be finally come to a deal with the players and get back to basketball, there will likely be a flurry of players switching teams both due to free agency and the new amnesty clause. 
While there is much speculation that Cleveland point guard Baron Davis will probably be shipped away or simply let go (due to his huge contract and the ability for teams to say goodbye to cap-eating contracts with the potential new amnesty clause), there is also a growing hope/suspicion that he could end up in Miami. Miami needs a better point guard and Baron is seemingly a good fit. 
The question we have to ask now is not whether he will land in South Beach, but if that move would be something positive for both sides. 
Miami's point guard situation last season was less than spectacular, and there is certainly a need for change. The Heat tried using a veteran like Mike Bibby to lead the Big Three and also hit shots when needed. 
That didn't really work out so well.
Bibby had dismal point and assist totals coupled with an uninspiring percentage from behind the three-point line. His shot was not what it once was, and his 2.5 assists per game were way too little coming from a guy who has teammates like Wade, LeBron and Bosh.
Baron's stats are significantly better than Bibby's in that he averaged almost twice as many points and three times as many assists per game. 
Davis is younger, and seems to possess better ball skills than Bibby and, most importantly, he plays hard when he's motivated to win.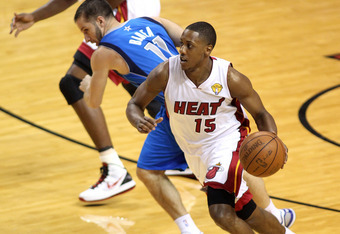 Marc Serota/Getty Images
The reality of the situation is such that I'm not convinced. Not by Baron's numbers nor his skills. 
I'm a firm believer in potential. 
I believe in the potential that Miami has on the bench. The potential of young players who should have been handed the reins at the beginning of last season. 
Mario Chalmers, barely 25 years old, had almost identical numbers to Bibby last year, while playing in a much more limited role than the veteran. However, the advantage he has is potential. Chalmers has the time and skill to grow into a tremendous starter for Miami, one that will know how to set up his star teammates and still score when it's required of him. 
Chalmers is not in a position to demand the ball from the other guys on the floor, nor is he going to demand any big contracts right now. 
He's in the perfect place to be handed the starting position from Bibby and prove he deserves it, making the team and himself better in the process. 
Davis, if he were to come to Miami, isn't a sure ticket to a championship, and if the team doesn't win, he could wind up heading for greener pastures, leaving the Heat back at square one with a lot less money to work with. 
Baron will just be another big name on a team full of them, and he is far from the right fit for the Heat right now. 
It's all well and good that Cleveland might want to get rid of Baron, but we already have enough Cavaliers who took their talents to South Beach. Let's see what current South Beach players can present their talents in a better way.