NFL Week 9 Picks: Teams Guaranteed To Run Up the Score on Sunday
November 3, 2011
Bob Levey/Getty Images
Three teams in Week 9 have opponents weak enough on the other side of the ball that allow me to say a win on Sunday is a guarantee.
The teams on the winning side of my picks aren't the Green Bay Packers or the Pittsburgh Steelers either. These teams have all had a few down points this season, even if those failures didn't necessarily result in losses.
Here are three teams set to light up the scoreboard when Sunday comes around.
The Texans have had injuries keep them from the top of the NFL, but it's all starting to come together at the right time.
This week, Houston plays host to the Cleveland Browns. The Browns have three wins this season, but the combined record of the teams they've beat is 2-20. Texans running back Arian Foster will have a big game against the seventh-worst run defense in the NFL.
As for the Cleveland offense, the issues at running back speak for themselves. Quarterback Colt McCoy is far from ready to put the team on his back.
The Cowboys are coming off a 34-7 loss at the hands of the Philadelphia Eagles.
In that game, Dallas looked inept at times. Cowboys fans may be scared for the future of their team right now. Here's a funny tweet by a self-proclaimed celebrity impersonator.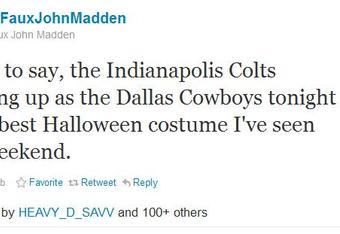 No need to worry though, the Seattle Seahawks are coming to town. The Cowboys will regain their confidence in this game, as Seattle's offense is the polar opposite of the Eagles.
The 49ers are the surprise team of 2011. People picking the Bills for this distinction should consider that the Niners didn't even make the playoffs in a horrid NFC West last season.
The 49ers are being thrown a bone this week, as the struggling Washington Redskins are next on their schedule. The Skins won't get shut out two weeks in a row, but it'll be tough for them to get anything going against the top-ranked scoring and rushing defense in the NFL.
I understand if there's still doubt surrounding the Niners' Super Bowl aspirations, but there's no doubt they'll be 7-1 after this week.