5 Philadelphia Eagles Facing the Most Pressure in the 2nd Half of the Season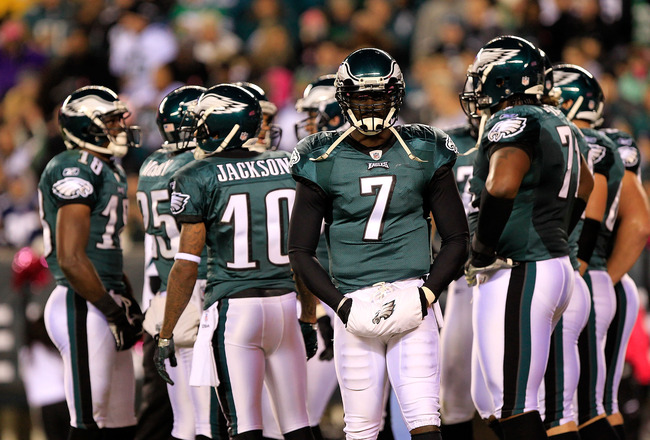 Chris Trotman/Getty Images
After a horrid 1-4 start, the Philadelphia Eagles have bounced back against their division rivals and are back in contention. The coaching staff seems to have resolved the major issues that plagued this team for the first five weeks of the season. Turnovers have been down and the offense is finishing out drives in the red zone.
The Eagles appear to be back and the pressure is on for several key players and one inexperienced coordinator. If the Eagles are to overcome their slow start to the season and make the playoffs, they have to continue to get better.
This team came into the season with a Super Bowl-or-bust mentality—and that still hasn't changed. With two very winnable home games coming up against the Bears and Cardinals, all the pressure is on the Eagles to get back into a division race that appears to be wide open.
1. Michael Vick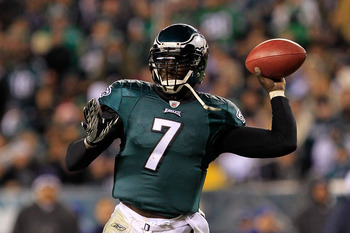 Chris Trotman/Getty Images
The Eagles offense is almost unstoppable. They are running all over everybody with the league's No. rushing attack, averaging 179.9 yards per game. Their passing offense is even more dangerous, with speedsters Jeremy Maclin and DeSean Jackson and quality possession receivers Brent Celek and Jason Avant. Add Michael Vick's running ability and his rocket arm, and this offense seems impossible to stop.
Not quite.
Turnovers, especially from Michael Vick, have been crushing to this offense. Vick has thrown interceptions in five of his seven starts this season. In the two games in which Vick played mistake-free football, the Eagles have outscored their opponents 65-20.
Vick has thrown eight interceptions and lost three fumbles so far this season. His turnovers are the only things that have contained this offense. All the pressure on this offense falls Vick. He makes the Eagles go—and he holds them back when he makes mistakes. Regardless of how the Eagles defense plays, if Vick plays well the Eagles will have a chance to beat anyone.
2. Juan Castillo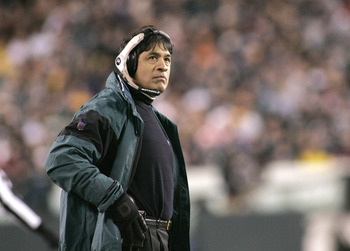 Joseph Labolito/Getty Images
When Andy Reid promoted his offensive line coach to defensive coordinator, he knew he was going to get a lot of criticism. Castillo hadn't coached on the defensive side of the ball since his days as a defensive coordinator at Kingsville High School (TX) in 1989.
Castillo got off to a rough start like every other member of this team—his defense couldn't stop the run and looked lost the majority of the time during the Eagles' four-game losing streak.
The last two weeks have been a completely different story for Castillo and his defense. The Eagles have held their last two opponents to just 20 points total. Nnamdi Asomugha and Dominique Rodgers-Cromartie are now being properly utilized. Rodgers-Cromartie spent much of last week's game covering Cowboys wideout Dez Bryant, while Asomugha was on Witten for most of the night. Both receivers combined for only 56 yards and no touchdowns.
Castillo has gone from an assistant coach on the hot seat to a hero in just two games. Eagles fans won't forget how bad this defense looked earlier in the season. The defense has to keep getting better in order for Castillo to keep his job next season.
3. DeSean Jackson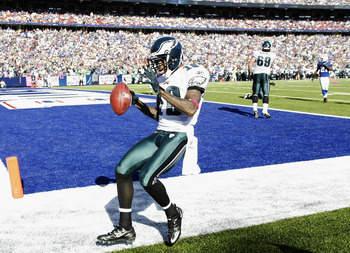 Rick Stewart/Getty Images
DeSean Jackson has more motivation than the rest of his teammates. He is playing for a fat new contract. Jackson is in the final year of his very modest rookie contract. He will earn just $600,000 this season despite being one of the most dangerous receivers in the league.
Every big play Jackson makes gives him a little more leverage in negotiations. Jackson has 27 receptions for 487 yards and two touchdowns this season. Those numbers don't really jump off the page—but Jackson's impact does.
Defenses have continued to keep their safeties 15 to 20 yards behind the line of scrimmage in order to prevent big plays from Jackson. This has opened up the middle of the field and created running lanes for LeSean McCoy.
Jackson's impact and his play up to this point have earned him a new deal, but if he wants top-five receiver money, he will have to make more of the big plays that only he can make.
4. Jamar Chaney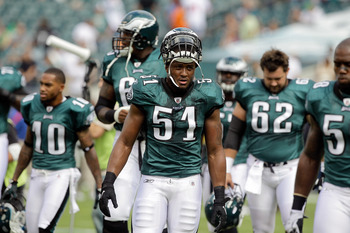 Rob Carr/Getty Images
Eagles middle linebacker Jamar Chaney had high expectations coming into the season. He played outstanding football in relief of then-starting middle linebacker Stewart Bradley last December. Chaney looked to be the starting middle linebacker for the Eagles for the next 10 years.
Then in training camp, Andy Reid and his staff decided to move Chaney to strong-side linebacker so Casey Matthews could man the middle. Needless to say, the move bombed and Chaney was moved back to the middle. He has struggled throughout the season and has just 31 solo tackles through the first seven games.
You can blame his struggles on the coaching staff's trying to turn him into an outside linebacker in a shortened training camp—or you can blame them on the wide-nine technique that the defensive line has implemented. Either way Chaney has been the weak link on this defense and will have to improve his play if he wants to keep his job next season.
The Eagles have three drafts picks in the first two rounds next April and will have the means to move up and take whoever they want in the draft—outside of Andrew Luck, of course. If Chaney can make a bigger impact against the run, he should be able to keep his job—but, as of right now, he has a long way to go.
5. Asante Samuel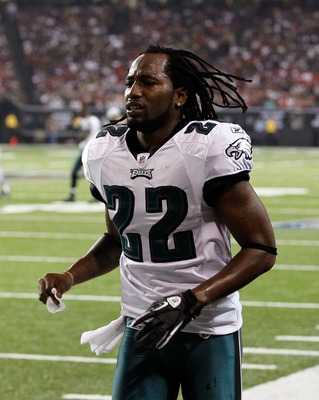 Kevin C. Cox/Getty Images
Asante Samuel has been on the trade block all season. From training camp to the trade deadline, Samuel was a part of several trade rumors—and it did not sit well with the four time Pro Bowler.
This season Samuel isn't just playing for the Eagles—he is auditioning for his new team next season. The Eagles will be looking to re-sign DeSean Jackson and LeSean McCoy to big contracts this offseason. Samuel is set to make $8.4 million next season. The Eagles have too much talent at cornerback—and too much young talent elsewhere that they need to re-sign down the road—to be able to keep Samuel past 2011.
Samuel is still one of the top cover corners in the NFL, and no one is better at jumping routes. He will be 31 next season and he will have to prove to other teams' GMs that he can still play at the high level worthy of his bloated contract.
Keep Reading

Philadelphia Eagles: Like this team?