Manny Pacquiao: Khan Right to Trust Pac-Man's Readiness
December 4, 2014
Michael Loccisano/Getty Images
Amir Khan, the unified WBA Super and IBF Light Welterweight Champion, basically said Manny Pacquiao seems poised to win his next fight, and I couldn't agree more.
Sporting Life reports that Khan said that Pacquiao is looking "razor sharp," which is even more reason to see Pac-Man as the favorite heading into his fight with Juan Manuel Marquez on Nov. 12.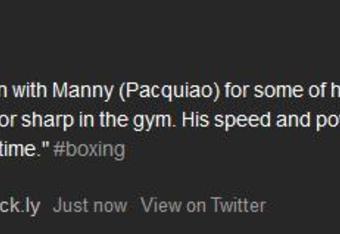 Both boxers come in with more than 50 fights and almost 40 knockouts. However, Pacquiao is six years younger, and his last fight was on May 7. Marquez was in the ring in July, even though it was for less than one round.
Pac-Man is 1-0-1 against Marquez, with both fights going the distance and to a decision. The draw was the first fight between the two in 2004. In 2008, Pacquiao won a split decision.
Khan's comments give even more leverage to the favorite, whose last loss was in 2005. Including the loss to Pacquiao, Marquez has lost three unanimous decisions since 2006.
Pacquiao has been knocked out twice in his career, but he's never lost a decision in his career—although he's had two draws. Marquez has never been knocked out.
At age 38, Marquez won't be able to keep up with Pac-Man for 12 rounds. If he wants to win this fight, he needs to knock out Pacquiao, which is not an easy task.
If Khan is right and Pacquiao is fast and powerful as advertised come next Saturday, Marquez stands no chance.
Take it from Manny himself, who was quoted on BoxingScene.com. He's ready.
I'm not saying I'm going to knock him out, but I've been training hard for this fight. We did a lot of things, [made] a lot of sacrifices for this training camp. If the knockout comes, it'll come. That's a bonus for the hard work that I did. But I worked hard for this fight, to make sure I'm ready for the fight and I'm in 100-percent condition on that night.