The Hottest Heartbreakers in Sports
It seems that the athlete is always the one doing the dumping, doesn't it? Some professional athletes go through more beautiful women in a year than bottles of shampoo.
It just doesn't seem fair.
Well, there are a few man-eating WAGs who have turned the tables and upgrade their athlete arm candy every few months or years. Watch out boys, they'll chew you up.
Here are the top 25 heartbreaking WAGs you don't want to get attached to.
25. Cameron Diaz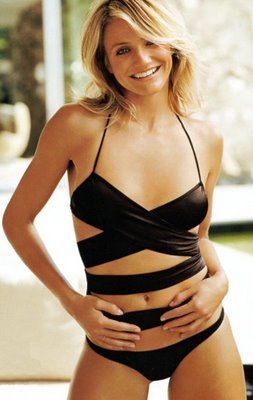 Actress Cameron Diaz has an impressive dating resume which includes surfing star Kelly Slater, singer Justin Timberlake, crazy hot Jared Leto and she's currently dating Alex Rodriguez.
It's not always clear who is dumping who, but Diaz certainly doesn't seem to be looking for marriage and tends to keep her relationships casual and…short.
Diaz does seem to make her way back to surfer Kelly Slater in between a lot of her relationships, so perhaps when this nonsense with A-Rod plays out, those two will give it another try.
A surfer boy like Slater and a California girl like Diaz seem like a good match.
24. Brittny Gastineau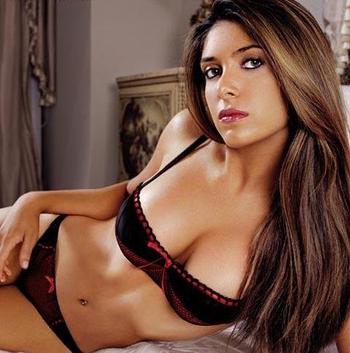 Socialite and former reality television star Brittny Gastineau is the daughter of former New York Jets player Mark Gastineau. She's also very good friends with one Ms. Kim Kardashian and attended her "fairytale" wedding.
Gastineau has dated D-list actors Nick Carter and Jerry Ferrara, and A-list athletes Jeremy Shockey and Michael Phelps.
Gastineau has a relatively short attention span, as is often the case with reality television stars and their men. She was last linked with Phelps in late 2010 and there were pregnancy rumors surrounding the pair.
23. Pamela Anderson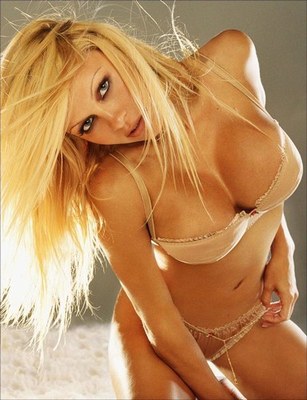 Former Baywatch star Pamela Anderson has dated most people in the country. Anderson dates four different types:
Bad Boy Rockers: Tommy Lee, Kid Rock, Fred Durst, Vince Neil and Brett Michaels
Douchebag Actors: Scott Baio, David Charvet, Antonio Sabato Jr., Stephen Dorff and David Spade
Miscellaneous Douchebags: Criss Angel, Rick Salomon, Mark McGrath, Marcus Schekenberio, Eric Nies and Arsenio Hall
Professional Athletes: Jon Rose, David Binn, Eddie Irvine and Kelly Slater
As far as I know, Anderson and Rose are still together, but there's a good chance that she's already left him for a new guy.
22. Katie Price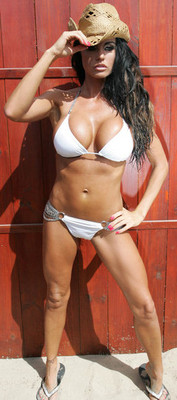 English media personality Katie Price (previously known as Jordan) is a former glamour model who is best known in the States for her colorful personal life. She became famous as a topless model in the British tabloid The Sun.
Price was briefly married to singer Peter Andre but has mainly dated athletes.
Price has been linked with footballers Teddy Sheringham and Dwight Yorke, Gladiators' Warren Furman (aka Ace) and she married MMA fighter Alex Reid in February 2010.
The two split January 2011.
21. Rachel Hunter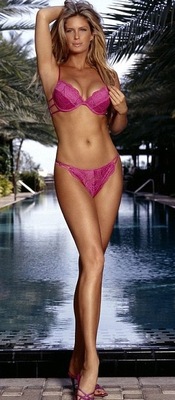 Former supermodel, and current hot cougar, Rachel Hunter has been linked with a large number of very famous men including: Mark Wahlberg, Rod Stewart, Liam Gallagher, Robbie Willaims and pervtastic jailbird Joe Francis.
She's also had her share of athletes. Hunter has dated Manchester United's Ryan Giggs, and hockey players Sean Avery and Jarret Stoll.
Hunter was engaged to be married to Stoll in 2009, but the wedding was called off.
20. Eva Longoria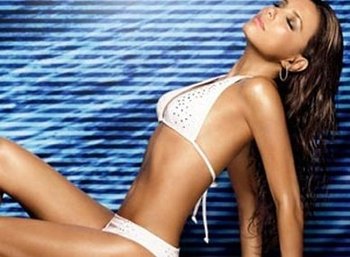 Actress Eva Longoria was famously married to NBA star Tony Parker, but their divorce was probably more famous.
There were accusations of cheating all around, but it was Longoria who ultimately pulled the trigger on the divorce.
19. Anna Kournikova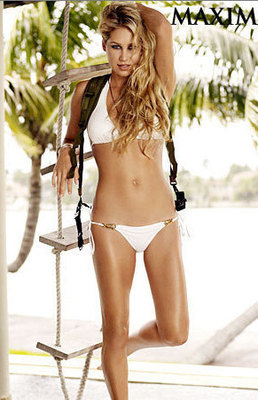 Former tennis player Anna Kournikova has been dating pop singer Enrique Iglesias since appearing in one of his videos in 2004. Before she hooked up with Iglesias, Anna only had eyes for professional athletes.
Anna K. dated former NHL star Sergei Federov from 1997-2002 and somehow dated former NHL star Pavel Bure in 1999. Awkard. She and Federov were briefly married, but Anna was like a wild mustang back then and she ended the marriage within months.
She briefly dated Australian tennis player Mark Philippoussis in 2001, which also had some overlap with her relationship with Federov
18. Selita Banks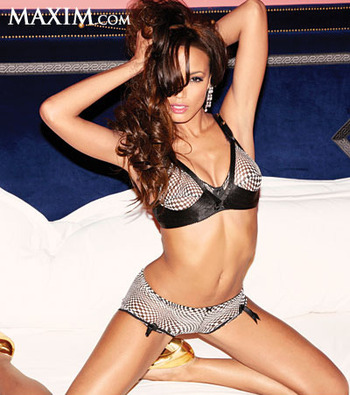 Caymanian fashion model, and former Victoria's Secret Angel, Selita Banks has been linked with Mehcad Brooks, Nick Cannon and Kanye West.
She's also got a thing for athletes, having dated Philadelphia Phillies slugger Ryan Howard and New York Giants defensive end Osi Umenyiora.
17. Tyra Banks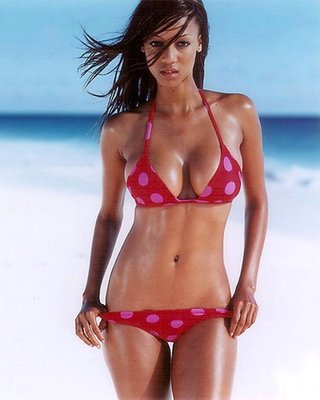 Former supermodel Tyra Banks has dated some serious sports heavyweights.
In 1996, Banks was linked with golf legend Tiger Woods but the pair denied rumors they were dating; she was soon dating sprinter Michael Johnson.
In 1999, Banks was linked with hockey legend Mark Messier; Messier discussed their relationship on the Howard Stern Show.
Then in 2001, Banks embarked on a relationship with Kings forward Chris Webber. The pair dated for three years before splitting.
16. Alyssa Milano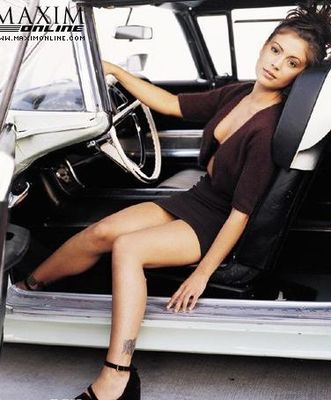 Who's the Boss star Alyssa Milano has long been the object of desire for most red-blooded American males. She's also dated a list of men that any girl born around the early 80's would be jealous of.
1980's: Corey Haim and Corey Feldman and NHL player Wayne McBean
1990's: David Arquette, Jonathan Silverman, Eric Nies, Scott Wolff and Cinjun Tate
2000's: Jason Behr, Greg Vaughan, Brian Krause, Josh Shamaugh, Justin Timberlake, Fred Durst, Jimmy Frederico, Eric Dane, MLB players Carl Pavano, Barry Zito and Bradley Wayne Penny.
Milano recently married talent agent David Bugliari.
15. Hayden Panettiere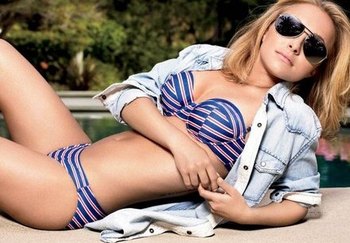 At age 22, cutie Hayden Panettiere is already a bonafide heartbreaker.
She's been linked to actors Stephen Coletti, Steve Jones and Kevin Connolly. Panettiere has also dated singer Jesse McCartney and restauranteur Harry Morton.
In early 2011, she dumped Serbian boxer Wladimir Klitschko and started dating NFL player Scotty McKnight.
14. Kim Kardashian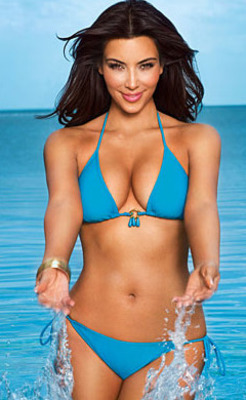 Well you already know Ms. Kim K's history with professional athletes. She famously dated Dolphins running back Reggie Bush in 2007 until the pair called it quits in 2010.
Kim rebounded with Dallas Cowboys receiver Miles Austin before hooking up with former New Jersey Net Kris Humphries. We all know how that played out.
Kim is currently accepting applications for her next phony marriage.
13. Lara Bingle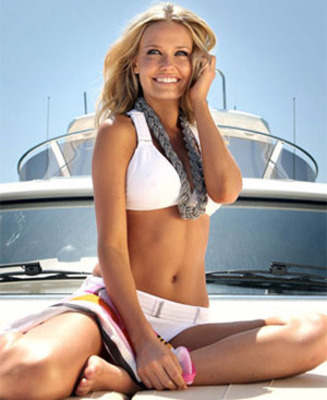 Lara Bingle is an Australian model with a weakness for professional athletes, and a reputation as a home wrecker.
In 2006, Bingle was reportedly the other woman involved in the divorce of footballer Brendan Fevola. Bingle claimed she didn't know Fevola was married when they began their affair.
In 2007, Bingle began dating Australian cricketer Michael Clark and the pair became engaged in 2008. They never married and announced the end of their engagement in 2010.
Since then, Bingle has been linked to British Rugby player Danny Cipriani; their relationship ended in late sumer 2011.
12. Jennifer Walcott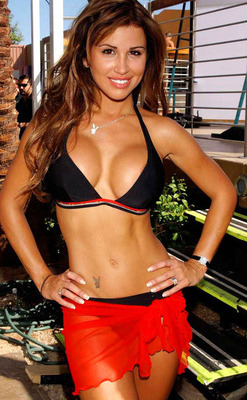 Jennifer Walcott-Archuleta is an American glamour model/actress who is best known as Playboy's Playmate of the Month in August 2001.
Walcott was linked to actor Luke Wilson and former Denver Broncos quarterback Jake Plummer, before meeting former NFL safety Adam Archuleta in 2005.
Walcott and Archuleta were married in 2007 and had their first child in 2008.
11. Gisele Bundchen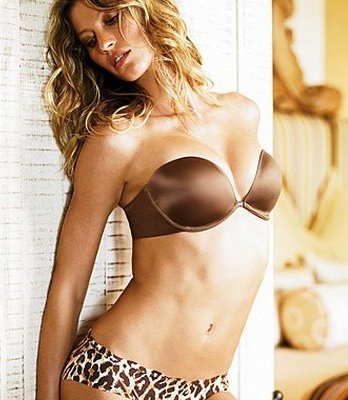 Mrs. Tom Brady, Gisele Bundchen, wasn't always Mrs. Tom Brady.
Before marrying Tommy Terrific, Gisele was linked with hotelier Vikram Chatwal, international male model Scott Barhill, architect Joao Diniz, actor Leonardo DiCaprio, professional surfer Kelly Slater and actor Chris Evans.
In 2008, Gisele was allegedly the other woman involved in the breakup of Tom Brady and actress Bridget Moynahan. Moynahan was pregnant with the couple's child when Tommy Terrific ditched the brunette for the blonde.
10. Danielle Lloyd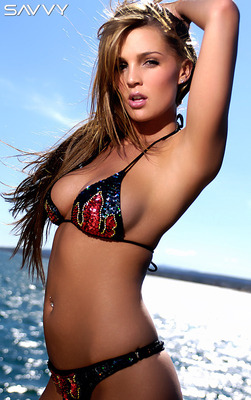 Danielle Lloyd is an English glamour model, former Miss England 2004 and former Miss Great Britain 2006. Lloyd was stripped of her Miss. Great Britain title after she stripped for Playboy in December 2006.
Llloyd dated footballers Teddy Sheringham, Marcus Bent and Jermain Defoe before settling on footballer Jamie O'Hara.
Lloyd and O'Hara have been engaged since 2009 and the pair have two children together.
9. Gabrielle Union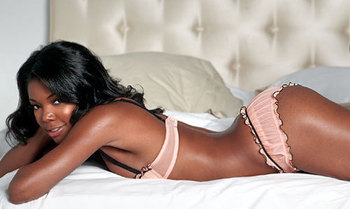 Bring it On actress Gabrielle Union is currently dating the biggest (talent) of the Miami Heat's Big 3, Dwyane Wade. Union is said to have been at least part of the cause for Wade's divorce from Siovaugh Funches.
Before hooking up with Wade, Union was married to retired NFL player Chris Howard, but the pair divorced in 2006. Union was also briefly involved with NFL players Jonathan Borrero and Darren Sharper.
8. Hope Dworaczyk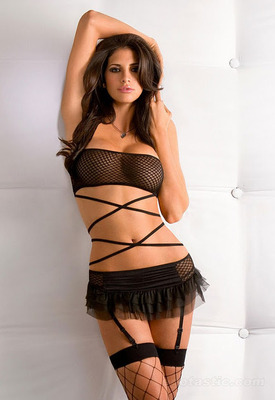 Former Playboy model Hope Dworaczyk is now a reality television personalty and TV host.
She is probably best known for her relationship with Dallas Maverick guard Jason Kidd.
7. Eliza Dushku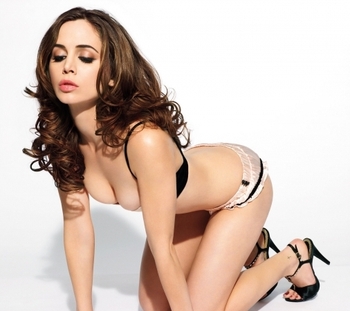 Bring it On actress Eliza Dushku has been linked to actor Matt Dillon, entrepreneur Brent Bolthouse and Family Guy creator Seth McFarlane.
Dushku has also dated former Los Angeles Laker forward Rick Fox and free agent MLB pitcher Brad Penny.
6. Aida Yespica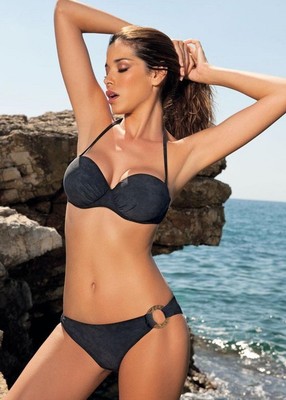 If ever there was a man-eater, it has to be Aida Yespica. Yespica has been linked to some very high profile men.
How are Italian Prime Minister Silvio Berlusconi and John McClaine himself (aka Bruce Willis) for high profile? Yespica has also dated direct Ezio Greggio, footballer Filippo Inzaghi, actor Francesco Facchinetti, singer Craig David and Italian playboy Niccolo Oddi.
In 2007, Yespica began dating footballer Matteo Ferrari and the couple had a son in November 2008 before splitting in January of 2009.
Currently she's living in Spain and dating German fashion designer Philipp Plein.
5. Elisha Cuthbert
Blonde beauty Elisha Cuthbert has become best known as former NHL player Sean Avery's "sloppy seconds," but she's rebounded with far less disgusting hockey players since breaking up with Avery in 2007.
Before dating Avery, Cuthbert was linked to Olympic snowboard Shaun White, teen heartthrob Andrew Keegan and was once engaged to Justin Timberlake's best friend, Trace Ayala.
She is rumored to have broken off their engagement after beginning a relationship with Sean Avery.
In 2007, Cuthbert dated the NHL player, in 2008 she dumped him for NHL player Dion Phaneuf.
I'm sensing a pattern.
4. Ana Ivanovic
Serbian tennis beauty Ana Ivanovic is only 23 years old but she's already loved and left two high profile athletes.
In 2008, Ivanovic was linked with Spanish tennis star Ferdnando Verdasco Carmona. The two dated for approximately one year before Ivanovic moved on to Austrailian golfer Adam Soctt.
Ivanovic's relationship with Scott also lated approximately one year, the pair called it quits in 2010.
3. Rihanna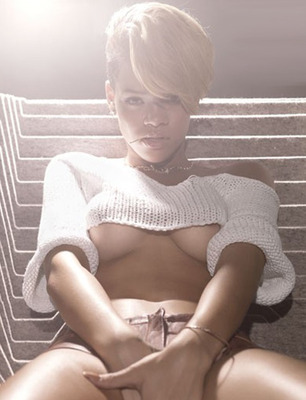 Superstar singer Rihanna's most famous relationship was with singer Chris Brown; which ended after Brown assaulted her a few days before she was scheduled to perform at the Grammy's in 2009.
Before dating Brown, Rihanna had been linked with actors Josh Harnett and Shia LaBeouf, as well as singer/dancer Omarion Grandberry.
After dating Brown, Rihanna dated singer/actor Drake, baseball playerMatt Kemp and, in 2011, she was linked to model/boxer Dudley O'Shaughnessy.
Rihanna met O'Shaughnessy when he started opposite her in her video for "We Found Love."
2. Adriana Lima
Victoria's Secret's sexiest angel, Adriana Lima is currently married to creepy basketball player Marko Jaric. The pairing has everyone in the world asking, "is she really goin' out with him?"
Before Jaric scored the deal of a lifetime, Lima graced the lives of a number of high profile men.
In 2001, Lima was linked with rocker Lenny Kravitz. When the pair split in 2003, Lima rebounded with Price Wenzeslaus of Liechtenstein. When they split in 2006, she rebounded with New York Yankees slugger Derek Jeter.
Lima briefly dated Brazilian rocker Denny before meeting Jaric in 2006.
1. Gemma Atkinson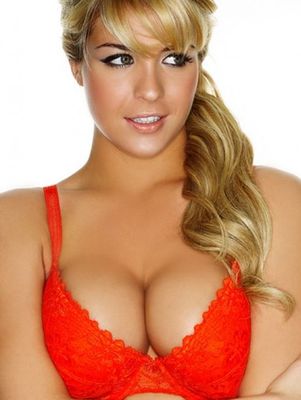 English actress Gemma Atkinson is a former glamour and lingerie model who was most famously linked to Real Madrid's Cristiano Ronaldo.
Atkinson has been involved with a number of other footballers including Alan Smith, Darren Bent and Marcus Bent.
Keep Reading