Jinkee Pacquiao: Pics of Manny Pacquiao's Wife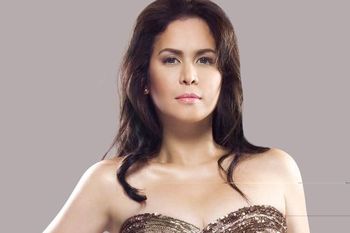 Behind every great man is a woman rolling her eyes, but behind every great boxer is a woman waiting in the wings for her opportunity to shine.
As arguably today's best pound-for-pound boxer, Manny Pacquiao naturally needs a stellar wife by his side to kiss his bruises and treat his cuts after a brutal match.
However, with 53 wins and only three losses in his career, it's safe to say Maria Geraldine "Jinkee" Jamora has plenty of free time to concentrate on herself.
It's time to appreciate the other half of the dominant force that is Manny Pacquiao.
Here are the hottest pics of Jinkee Pacquiao.
Enjoy.
10. Supportive, but Skeptical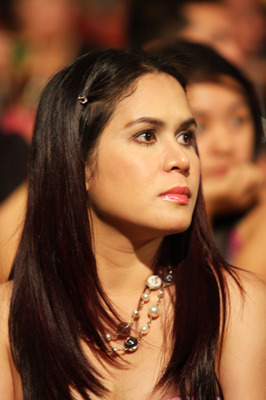 Considering her husband is the first eight-division world champion with six world titles, and the first to win the lineal championship in four different weight classes, Jinkee Pacquiao seemingly doesn't have to worry about coddling his bruised ego after a rare loss.
However, her firm expression reeks of disapproval and anxiety despite Manny's prowess.
9. Mano E Mano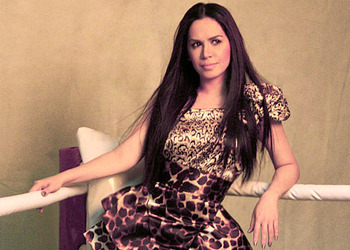 With 53 professional fights under his belt, Manny Pacquiao undoubtedly dreams of the day when he can sit in the crowd and watch his beautiful wife participate in a match.
After allegedly meeting her at a Philippine mall when she worked at a cosmetics store, the lightning-quick boxer seemingly knew he had found his other half.
While she may have become the only woman in his entourage, Jinkee was easily the most intimidating.
8. Can't Argue with the Stats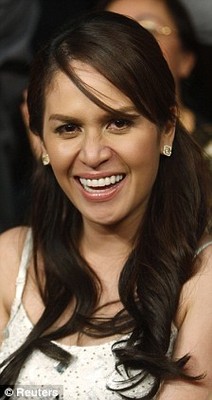 After being named "Fighter of the Decade" for the 2000s by the Boxing Writers Association of America, Manny Pacquiao clearly wasn't the only one smiling.
While she may not agree with his career choice, Jinkee can't possibly argue with her husband's 53 wins (38 by knockout).
Her smile concurs.
7. Only the Best Survive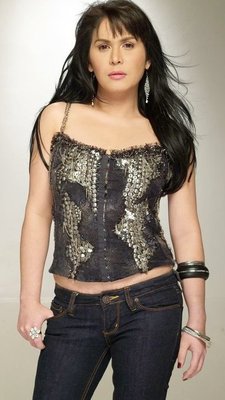 As her shirt effortlessly hangs off her shoulders, face bereft of any type of smile, Jinkee Pacquaio's fans begin to realize that Jinkee Pacquiao isn't playing around.
Like her prosperous husband, Jinkee is quite serious in her pursuit of perfection.
She cannot be ignored.
6. Staying Strong to the Roots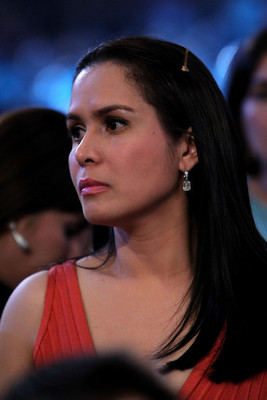 After his mother allegedly discovered his father living with another woman, Manny Pacquiao's parents separated when he was only in sixth grade.
The fourth among six siblings, Pacquiao likely wants to make sure he is a devoted husband and caring father.
He not only has four children with his wife, but the prolific boxer is a congressman of a small district in the Philippines, called Sarangani (also his wife's hometown).
That undoubtedly keeps her happy.
5. Cleansing the Palate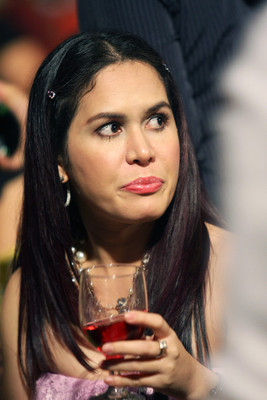 It was the best of times, it was the worst of times. That's essentially the life of a boxing WAG.
Many fans are baffled as to how those close to boxers can watch their loved ones get bruised and bashed repeatedly for a plethora of strenuous matches.
Inebriation certainly helps.
4. Shining Bright in the Crowd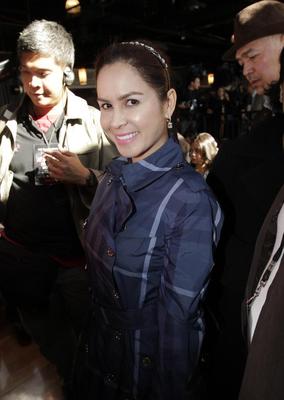 Not only does Manny Pacquiao draw huge audiences every time he slaps on the gloves, but his wife stands tall among the throng of salivating boxing addicts, wealthy businessmen, sketchy passersby and attention-starved models.
It's as if the camera flows through the crowd unfazed until it spots her.
Time seemingly stands still.
3. Making a Name for Herself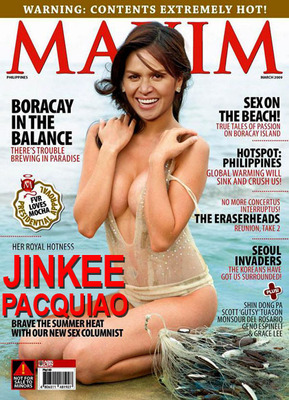 While she may not be known for her breathtaking modeling, Jinkee Pacquiao has quite the on-camera presence.
Seemingly attempting to grab some of her husband's attention, this WAG might want to consider producing more provocative photo shoots.
Maxim is certainly an ideal place to start.
2. A High Ceiling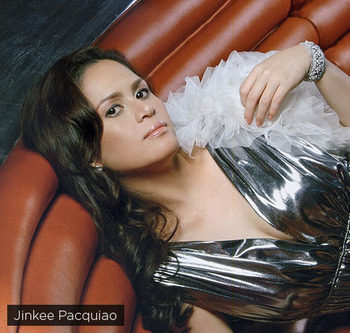 While Pac-Man destroys the egos of his opponents, his beautiful wife seems content carelessly lying down for the camera.
Not only did Pacquiao transition from an innocent 16-year-old youth who measured out to 4'11'' to a dominant athlete, but his wife continues to transform from an unknown WAG to an exhilarating presence on camera.
She is beginning to realize her promise.
1. Enjoying the Spotlight

While she hasn't exploded on the media scene quite yet, there is a high ceiling for this sexy WAG.
Jinkee may not have found her style or her affinity for the camera yet, but there are signs of a bright future.
Her lethal husband may be able to retire early.
Keep Reading