Chicago White Sox: Theo Epstein Can Pick Up Kenny Williams' Dropped Ball
November 3, 2011
White Sox general manager Kenny Williams could have possibly given new Cubs director of player personnel Theo Epstein a welcoming gift in Robin Ventura.
Williams selected Ventura to lead the South Side Hitmen in 2012. With Wednesday's news of Cubs manager Mike Quade not returning next season, they have a chance to hire a manager the White Sox missed.
Potential candidates include ex-Sox and Cubs outfielder Dave Martinez who is currently the bench coach for the Tampa Bay Rays and former Boston Red Sox skipper and Epstein co-worker Terry Francona. Both Martinez and Francona had White Sox ties during their careers and had to be in the Williams' sights.
Francona managed in the Sox minor league system from 1991-1995 including Baseball America's Manager of the Year in 1993. However, that accolade pales in comparison to his two World Series championships with Boston.
Epstein stated he would hire a manager who had managing experience or coaching experience at the Major League level. Williams missed that boat all together hiring Ventura who was coaching but at the high school level in California.
Chicago media outlets didn't even consider Ventura when the managerial search was on, however Martinez and Francona were. The hire was a shock to everybody among fans and media.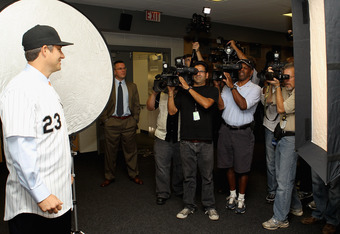 Jonathan Daniel/Getty Images
Williams had pick of the litter when he let Ozzie Guillen go to Miami and selected Ventura who wasn't even at the kennel.
If Ventura turns out to be anything less than average and Epstein's choice can succeed even a little, Williams will once again have dropped the ball. Every little mistake excused by inexperience will be scrutinized by Sox fans and the local media.
This season has the potential to prove Williams' poor decision making if the Sox finish worse than the Cubs and it should cost him a job.