John Terry and the Premier League's Worst 11 Players of the Week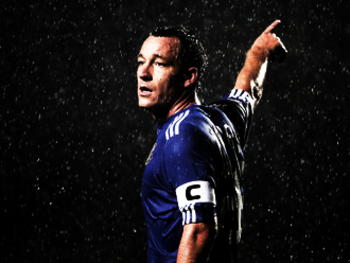 With man of the match awards and the EA SPORTS Index, we know who the best players during Matchday 10 were, but do we know who were the worst?
I'm talking about the players who were anonymous, who showed no determination, who were incompetent, who let down their teammates and whose antics became news.
Here is the Premier League's worst 11 of the week.
Goalkeeper: Petr Čech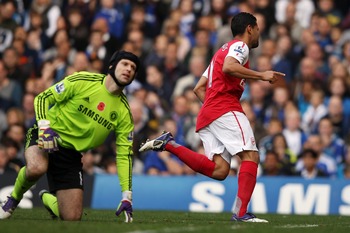 Ian Walton/Getty Images
Performance grade: C-
Petr Čech had a below-par game.
He was beaten near post when Theo Walcott scored and made a weak attempt at "saving" Robin van Persie's goal for the Dutchman's hat-trick.
Keep in mind, his back four, which were supposed to protect him, failed miserably.
Is Čech past his prime? No.
Remember that this guy came off the bench and saved a penalty a few days prior to the 5-3 humiliation.
Last season, he was Chelsea Player of the Year.
Detractors of Čech should also factor in his excellent save to deny van Persie in the second half.
Defender: José Bosingwa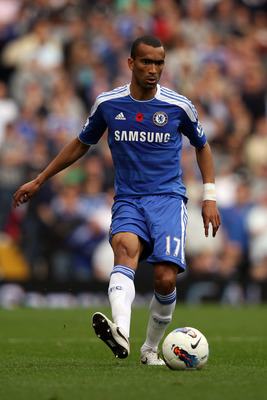 Ian Walton/Getty Images
Performance grade: F
Defending isn't in José Bosingwa's vocabulary.
In the 15th minute, the Portuguese player passed the ball straight to André Santos. Then, 34 minutes later, Bosingwa would essentially let Santos run past him to score.
In the last minute there was again no defensive pressure as Robin van Persie cannoned in his final goal.
It's time for Branislav Ivanović to return to right-back.
Defender: Branislav Ivanović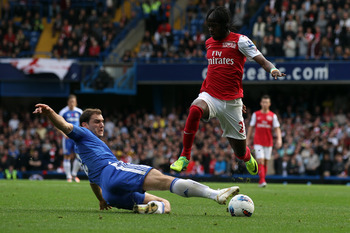 Clive Rose/Getty Images
Performance grade: D
Branislav Ivanović won two tackles. That's the same amount Johan Djourou won—and the Swiss was torched at right-back.
Ivanović was constantly caught out of position and at times looked flat-footed.
My main concern when the Serbian started playing right-back was that he'd become a better right-back than centre-back.
Unfortunately, that is now evident.
Defender: John Terry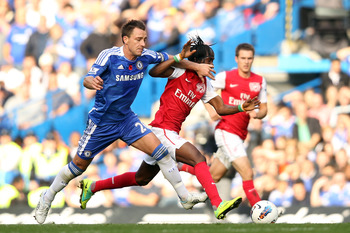 Ian Walton/Getty Images
Performance grade: C
Perhaps adjusting to Andre Villas-Boas' very high line is something John Terry disagrees with at heart; his leadership of this back four has been at times nonexistent.
How do we know this?
A defence, which previously prided itself on clean sheets, is now conceding goals in school boy-like fashion.
Terry's goal was well taken and he was very efficient with his passing (per usual) with a 95 percent completion rate.
One also has to wonder how much Anton Ferdinand's "strong feelings" regarding allegedly being racially vilified by Terry has affected the Chelsea centre-back's state of mind.
Defender: Ashley Cole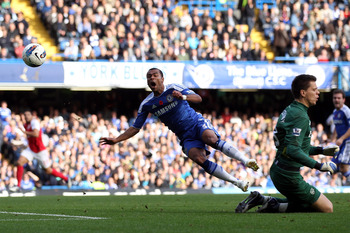 Clive Rose/Getty Images
Performance grade: D
Ashley Cole gave nightmares to makeshift right-back Johan Djourou, who I don't think has ever played in that position, and Theo Walcott gave nightmares to Cole.
This would problem have been solved if Chelsea played the ball out to Cole more often. He could have just run past Djourou.
Instead, they focused on André Santos, who was horrible, but the Brazilian is a full-back and got himself back into the game in the second half.
Djourou doesn't know how to play full-back. That was evident in the first five minutes when the Swiss acted like a deer caught in the headlights.
Defender: André Santos
Clive Rose/Getty Images
Performance grade: C-
When I was covering Chelsea vs. Arsenal, I said this in the 8th minute:
"8'- Chelsea may get a lot of joy out of André Santos, but they need to watch out for his forward runs."
Santos might just be the most incompetent defender playing for a high-profile club, but he is a very sneaky and underrated attacker.
Sure enough, early in the second half, Santos made an intelligent and excellent run past a bemused and clueless José Bosingwa to score.
I still do not understand why Chelsea manager André Villas-Boas subbed off Daniel Sturridge, who was showing everyone why Santos cannot defend.
When Arsenal bought Santos, I knew he'd fail. Read my article outlining the reasons why.
Midfielder: Diniyar Bilyaletdinov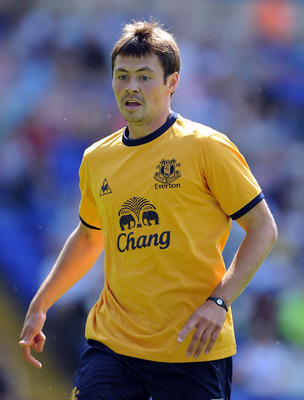 Chris Brunskill/Getty Images
Performance grade: F
Lazy, inefficient, no determination—these are the characteristics Diniyar Bilyaletdinov has been showing of late, but he still somehow got a start against Manchester United.
It didn't last long because the Russian was subbed off at half-time.
Has Everton manager David Moyes thought about playing Bilyaletdinov in another position?
It just seems to be common sense that when a player who doesn't have pace, and doesn't want to play as a winger, is forced to play as a winger, then he is more likely to fail.
Not only fail, but play to such a degree that you wonder why is he even on the field.
Midfielder: Stewart Downing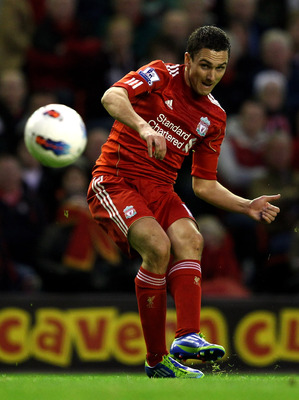 Richard Heathcote/Getty Images
Performance grade: D
How many assists and goals do you think Stewart Downing has accumulated in 11 games for Liverpool?
Zero.
At least Downing tries, unlike Diniyar Bilyaletdinov. But it's time for Downing to start warming the benches because Liverpool need someone who will produce.
Why not give Maxi a go?
Midfielder: Adel Taarabt
Performance grade: F
QPR manager Neil Warnock's mind games have affected Adel Taarabt. At the start of the season, it was the Moroccan who had the advantage.
Coming of a stellar season, Taarabt was flirting with PSG, but I believe Warnock blocked the move out of common sense.
Now Taarabt is struggling with form, PSG don't need him anymore, and he has no leeway with Warnock.
Last season, I watched Taarabt, hands on his hips at the half-way line, watching his teammates defend for their lives. When, I believe it was Shaun Derry who came out with the ball, there was Taarabt, jumping up and down for the ball.
Taarabt's mind is all over the place and he has yet to score a Premier League goal.
He couldn't do it with Tottenham Hotspur and seemingly can't do with QPR.
Midfielder: Anthony Pilkington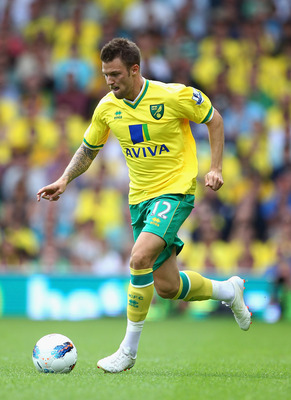 Julian Finney/Getty Images
Performance grade: C
Firstly, what a game between Norwich City and Blackburn Rovers. The game ended 3-3 after a last-minute penalty from Grant Holt.
Anthony Pilkington, who has been in reasonably good form, should have run riot against this very average Blackburn Rovers team.
But Pilkington didn't really show up.
Forward: David N'Gog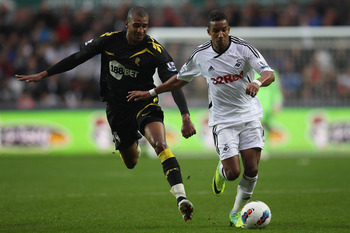 Michael Steele/Getty Images
Performance grade: D
David N'Gog's shoulders slumped when Michel Vorm pulled off an outstanding save to deny the Frenchman.
N'Gog just didn't play well and it didn't help his cause when Ricardo Gardner was sent off. This meant that the chances of N'Gog scoring decreased.
One thing I did notice was that N'Gog was giving away passes left, right and centre. He completed only 60 percent of his passes—and remember this is a forward who was attempting some pretty basic passes. That must be a concern.
Please also read the Best Attacking Combinations in Football History.
Keep Reading