10 Reasons Why LSU-Alabama Is the Most Important Game in College Football
November 3, 2011
Chris Graythen/Getty Images
At 8 p.m. on Nov. 5, you'd better not be at an evening wedding, wake or watching Kansas State-Oklahoma State (OSU will win by 30 in a one-sided contest that should have been televised by Fox at midday, by the way) or Notre Dame's visit to Wake Forest (Irish by 21, by the way). If you do, then you're not a proper college football fan. Proper college football fans watch LSU and Alabama.
This matchup—which will be in prime time (thankfully not on CBS at 3:30 p.m.) can only be described as one thing: College Football Armageddon. Here's why it's so important:
Here's why it's so important (1)
This is a massive game when these two get together anyway. This year—a year which has been one that's been a little boring and predictable in most people's estimations (of course, these were the critics that missed the Michigan-Notre Dame, the two Wisconsin stunners. the triple-overtime Stanford-USC games and Oklahoma's major upset to Texas Tech amongst others)—has been owned by LSU and Alabama.
No team has really come even close to their dominance. LSU is ranked first because it's beaten Oregon, gone on the road and beaten rowdy West Virginia and Mississippi State crowds, as well as home wins over ranked Florida and Auburn.
Alabama? It's No.2 because it beat the 8-1 Penn State Nittany Lions on the road in front of a rowdy Beaver Stadium Crowd and noone's been really to touch them at home. If the Crimson Tide had a better off-schedule home record, they'd probably be No. 2. 
It's two of the best unbeatens in the country going against each other.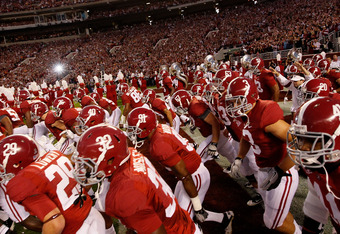 Kevin C. Cox/Getty Images
Here's why it's so important (2)
The winner of this game wins a comparatively weak SEC West (sorry Arkansas) and goes to the SEC Championship Game.
Since the SEC East is a joke this year (sorry SEC fans, but Georgia, South Carolina and Florida are pretty bad), the winners will go to the Georgia Dome to have their wicked way with the SEC East winners. Thus they will remain unbeaten and go to New Orleans for the National Title Game.
So, not much to play for then, In other words, the winner goes to the National Title Game.
Here's why it's so important (3)
If you're one of the best recruits in the nation and you're being courted by Alabama, then why wouldn't you be at this game?
Why would you choose Alabama ripping North Texas and instead choose to be on the sideline at the Granddaddy Of Them All. Also, there's the chance to see LSU—a school that has heavily recruited you too.
You can always—or have—gone to Baton Rouge to see a game in Death Valley, anyway. You can meet Coach Saban, he'll say some nice things, and you can also see two of the best teams in the country and tell all the boys and gals at high school that "you were there." Mom wouldn't say no to a ticket, either. 
In other words, it's big for recruiting.
Here's why it's so important (4)
This is important for both sets of players' futures.
Don't think that every NFL scout in the nation will be sitting down to watch this game. If a player fails in this game, then it might be a signal to the NFL that he can't succeed.
That'll affect his draft status and also his money. Which would be nice, because the Pittsburgh Steelers could do with a cheap cornerback (so if the Honey Badger would like to fail this game as badly as he failed his drug test, then that would be fantastic for Terrible Towel Nation!).
In other words, it's big for the NFL.
Here's why it's so important (6)
Bama coach Nick Saban (Or 'Nick Satan,' as we've renamed him) was the head coach at LSU, moved to the NFL and then back to college football, opting for the Tigers' most hated rival. That'll really piss off a team, won't it? 
In other words, it's big because LSU hates Saban.
Here's why it's so important (7)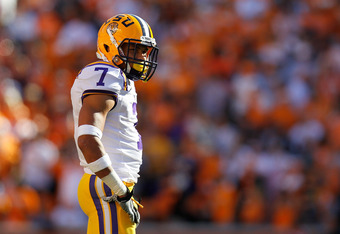 Kevin C. Cox/Getty Images
Then there's the SEC angle, where for the second week in a row SEC players (LSU and then Georgia) have failed drugs tests. Quite frankly, the SEC could do with some good PR. 
In other words, it's big for the SEC.
Here's why it's so important (8)
The SEC could also do with proving that these guys should rematch in the National Championship Game, too.
So a 17-14 game, with both teams battering each other for 60 minutes, would really work out well. Not only that, but the SEC could also do with the South Carolina-Arkansas game at 7 p.m. being a close one too. The critics can give further thumbs up to the conference. 
In other words, it's big for a potential National Championship rematch.
Here's why it's so important (9)
We're not joking when we say that this loss could cause Armageddon. If Oklahoma State wins against one-loss Kansas State, is that a better victory than LSU winning over Bama, since Bama was a top-two team?
Should Oklahoma State replace Kansas State? Or if Oklahoma State loses, should Stanford replace Alabama just because they've hammered Oregon State and Alabama lost by three points? This is a horrible, worst-case scenario of winner-really-does-take-all, unless the BCS pulls of a miracle and lets a one-loss team from the same conference play in the National Championship Game (my buddy from Stanford is getting his New Orleans tickets just in case!). 
In other words, Sunday's going to be college football madness
Here's why it's so important (10)
Both teams absolutely hate each other. They've hated each other before Nick Saban arrived in Tuscaloosa and they'll hate each other long after he's left.
If he ever does leave... 
In other words, both sides despise each other—nothing better for a night SEC game, eh?