Fantasy Football: How to Optimize Your Bench and Cut the Dead Weight
November 2, 2011
Brian Bahr/Getty Images
"But he is a nice guy to stash on your bench."
How often have your heard that? Probably as often as I have written it. Since we are so familiar with this statement, we all know exactly who it refers to. Right?
How you set up your bench in fantasy football is almost as important during the regular season as who you have in your starting lineup. Your bench players provide you options and insurance. Just like in actual life, having options and insurance is very important.
But the real question is, how do you balance your options and your insurance? To start, let's break down what your options and insurance actually are:
Options
Options are any player who you might consider starting if the matchup were right or as a bye week or injury fill-in. Options are usually RBs and WRs but could include QBs, TEs and DSTs if you are filling a starting position via committee.
Insurance
Insurance, in this case, is players who you probably will not start unless you unexpectedly lose the services of a player. Insurance would usually refer to a backup QB or "handcuff" RB who is usually the primary backup to one of your elite fantasy RBs.
Simple enough. Now we can dig a bit deeper. You need to evaluate your team and you need to know your league. Evaluating your team is fairly simple.
What is Your Record?
Your win-loss record will help to determine where your team stands in the hunt for the playoffs. All teams can be sorted into four categories:
Out of the Running (0-8, 1-7)
Still Alive (2-6, 3-5)
In the Hunt (4-4, 5-3, 6-2)
A Lock for the Playoffs (7-1, 8-0)
It your team is out of the running,  you can make moves for next season if it is a keeper league. If not, continue to run your team to the best of your ability and set your lineups every week. Sorry, that is all you can do at this point.
Teams that are still alive  and  in the hunt should have a similar strategy. You cannot afford to lose. Maybe the 6-2 team can take a loss. A team that is in the hunt can have a slight eye towards the future. For a team that is just still alive, there is no tomorrow.
If your team is a lock for the playoffs, you can begin making preparations for said playoffs.
There is one caveat here: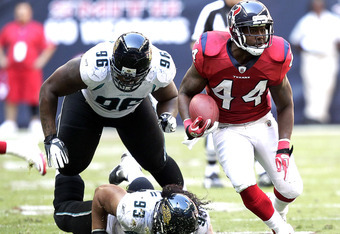 Bob Levey/Getty Images
How Many Points has Your Team Scored?
Is your fantasy team close to the top of your league in total points scored? If so, your win-loss record is less important. If your team consistently scores a high total of points but just happens to lose...there's no way to make this easy, you have just been very unlucky. But good news, everyone! That means your fantasy team is a good team as currently constructed.
On the flip side, if your team is in the bottom of your league in total points scored, you are in trouble. There's really no easy way to say this either—your fantasy team is not that good, and you have just gotten lucky. Congratulations, you have had an easy schedule, and you played against the right team every week. Good for you.
Alright, you should be able to evaluate your team now. All that is left is to put your knowledge of your league to work. And what exactly do I mean by this?
What is Free Agency Like in Your League?
Is your league active, where almost every team is working the waiver wire every week? Or do most teams just stick with what they have?
Is Your League an Active Trading League?
Can you make trades? Trading increases your options for improving your roster. But if you are in a league where no one will ever trade with you, it is not practical to make any moves in order to set up a future trade.
How Much Attention do the Other Owners Pay to Your League?
Do owners in your league pick up players even though they are on a bye? How about injured players? It pays to know if you can drop a player on his bye and pick him back up the next week. It all depends on your league.
We are all set up. You can evaluate your team, and you know what to look for in your league
How Do We Apply This?
If your team is still alive but is good in total points scored, you should probably stick with what you have. Try to make small upgrades via the waiver wire, but stick with the players that have been scoring points for you.
If your team is still alive but is bad in total points scored, you need to stack your roster with players who can make an immediate impact. Your current team does not score enough points, and you do not have time to wait on players to produce. You need as many options on your bench as possible.
If your team is in the hunt and good in total points scored, you need to stick with what you have. If you are filling out a position(s) via committee, try to pick up players a week before you intend to use them. You are not in a good enough position to look ahead to the playoffs, but you can look ahead to the next week or two.
If your team is in the hunt but is bad in total points scored, there is no need to panic, but you need to find some other options. You have gotten lucky up until this point, but you cannot count on that to continue. There is no need to make drastic moves, but you need to acquire a couple of high-upside players, even if you cannot start them immediately. Even though you need to win, you also need to find some better options for the future.
If your team is a lock for the playoffs, congratulations. If your team is good in total points scored, excellent. If your team is bad in total points scored, no problem. You've got time. At this level, you can carry insurance players. You can also start trying to acquire players who have favorable matchups during your league's playoff weeks. Consider trying to package some of your depth in a trade to upgrade your starting lineup. Feel free to fill your bench with high-upside players whom you have no immediate use for.
If your team is bad in total points scored, do not be afraid to make changes to your lineup. Just because you are going to make the playoffs doesn't mean you have to lose in the first round.
There is no magic formula for success. But it is difficult to decide how balance your bench. Just ask the Darren McFadden owners who cut Michael Bush to cover for a bye week at another position. So to make it simple:
If you team is anywhere below a lock for the playoffs, the only insurance player you should be carrying is the handcuff for your elite RBs, and only the handcuffs that have potential. That means only RBs whom would be the lone primary RB for their team if your starter were to go down. Examples: Michael Bush, Ben Tate and Ricky Williams.
If you are cruising to the playoffs, sure you can carry a QB to backup your starter, Tom Brady. But if you have any less than seven wins right now, you do not have that luxury. Your RBs and WRs take priority over a backup QB who would only play if your team were hit with a catastrophic Tom Brady injury. And even if that happens, is say, Jay Cutler really going to replace Tom Brady?
If you have anything to add to the discussion, please use the comments. Questions are welcome, but please be specific. Good luck to all of your teams this week.
Follow John on  Twitter
Check out John on Bleacher Report