David Freese: Can St. Louis Cardinals' 2011 World Series MVP Get Better in 2012?
November 6, 2011
Ed Szczepanski/Getty Images
How high is the sky for David "Deep" Freese in terms of MLB achievement? Can the third-year St. Louis Cardinal improve to the point of National League Most Valuable Player status next year?
If Albert Pujols returns—and Bill DeWitt, Jr., and John Mozeliak had better bring him back—will Freese surpass Pujols as the club's best hitter in 2012?
Freese has definitely been a big hit in Hollywood. Producers are probably lining up to offer film roles and commercials. Endorsement offers for products ranging from cars to winter clothes could soon start rolling in for him.
As this year's reigning National League Championship Series and World Series MVP, Freese was rolling in the playoffs and could be rolling in the dough before next year. He has already appeared on television shows such as The Tonight Show, Access Hollywood and Ellen.
I realize now why Freese set a playoff record for runs batted in run. He needed the 2012 Corvette that was given as a prize. Freese reportedly told Jay Leno that he (David) had been driving a 2001 Acura handed down from his father.
To be sure, though, David grew up in a high-end neighborhood in affluent West County (Wildwood) in the Greater Saint Louis Area. Some of the homes there were listed at $3-$5 million two years ago.
The graduate of Lafayette High School will feel right at home inside the multimillion-dollar mall frequented by rich, middle-class and broke St. Louisans. He'd been scheduled for an autograph signing at the Galleria—a mall near some of the higher-end neighborhoods in St. Louis County.  
The Cardinals acquired Freese by trading one former slugger for a future one. Thanks to Mozeliak, Jim Edmonds was sent to the San Diego Padres for Freese in 2007. Freese was a 24-year-old, and Edmonds was approaching the end of his career.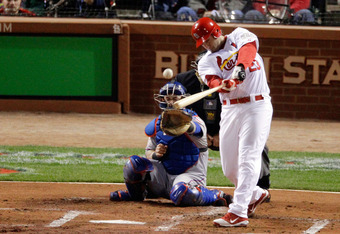 Rob Carr/Getty Images
Edmonds won a World Series with the Redbirds in 2006 after appearing with St. Louis in six different playoffs. Now Freese, 28, can add World Series champion plus MVP to his own name.
Obviously, a star has been born. There isn't a better place to be a hometown World Series MVP than in Baseballville (St. Louis). Actually born in Corpus Christi, Texas, Freese's star power was probably increased by baseball's commissioner.
During the MVP trophy presentation, Bud Selig repeatedly called him a St. Louis native. The Texas native (Freese), after spurning the University of Missouri (Columbia), eventually attended Meramec Community College in St. Louis County. Meramec is a junior college with a fine baseball reputation in Missouri.
Freese then performed well in all levels of minor league baseball as a third baseman. The former high school shortstop was a stellar fielder as well as a hard-hitter in AAA. He's now coming into his prime as an MLB hitter, but his fielding needs work if he wants to earn a Gold Glove.
Whether or not he can become an All-Star or win a regular season MVP like Pujols—who has three, to be exact—remains to be seen. What Freese has been so far, however, is another cog in the Cardinals' offensive machine.
Freese debuted in the Majors with St. Louis in 2009, but he was sent back to the minors on April 20. He was recalled late in the season but only played in 17 games that year.
He was, however, the opening day starter in 2010 and 2011. But, Freese was injured both years for long stretches, including a season-ending ankle problem in June 2010.
According to baseball-reference.com, he made $416,000—close to the league's minimum—in 2011 and is pre-arbitration eligible.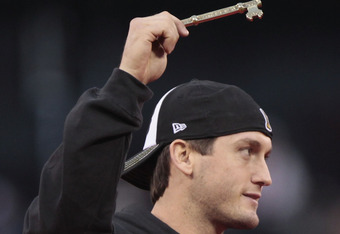 Whitney Curtis/Getty Images
If the Cardinals can afford him for the next three to five years, then they could continue to have one of the league's most feared offenses. That is barring injury, depending on Pujols' return and including a host of factors such as Allen Craig's status.
This column isn't Craig's list, though, it's all about "Deep" Freese and his future in Hollywood—pardon me—in baseball. For sure, he "freezed" the Texas Rangers out.
If you'll recall, dear readers, he was rocketing missiles off of and over Busch Stadium's walls on cold nights in the playoffs. He also became the fourth player ever to hit a walk-off home run with his team facing elimination in a World Series.
He did that in Game 6. In Game 7, Freese started where he left off by driving in the first two Cardinals of the game—Pujols and Lance Berkman. Freese's double to left center on a 3-2 count with two outs in the bottom of the first tied the game. Of course, the rest is World Series and St. Louis Redbirds history.
In 2012, he'll need to work harder to improve because he'll be a target. I suspect he'll be fine in the Cardinals' lineup.
But can he win a regular season MVP next year? That'll be tough with Berkman, Matt Holliday and hopefully Pujols also pounding the baseball. Freese could, however, hit .325 or better next season. That would be an improvement over last year.
But, he'll probably never be considered a better hitter than Pujols. Not even if he (Freese) hits .400. Don't feel bad about that, David. After all, not many in the history of baseball are better than "King" Albert.
Now, how high is David's baseball sky? Well, it's about as high as one of his home run clouts can carry him.
Contact Lake Cruise: Lakecruise@att.net