TUF 14: Team Bisping vs. Team Miller, Live Results and Analysis, Episode 7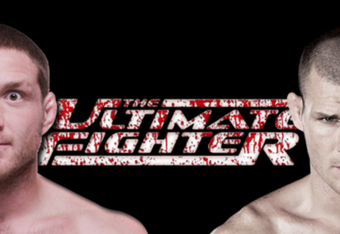 The Ultimate Fighter: Team Bisping vs. Team Miller has been a monster from the first episode and has yet to disappoint as it enters its seventh installment.
In fact, this roller coaster might be cresting before another wild stretch.
Only T.J. Dillishaw and Roland Delorme remain stuck in the first round (aka quarterfinals), but the two bantamweights are scheduled to throw leather in Episode 7. In other words, the action should get more heated as we enter the semifinals in both the featherweight and bantamweight brackets.
So there's a storm brewing on the competition front.
But there's movement on the reality-television front as well.
Dillishaw has managed to rub his teammates the wrong way by exuding arrogance while allegedly ducking more difficult opponents. The volatile featherweight Akira Corassani seems to create a new rivalry with each episode and it would seem the coaches are nurturing some genuine antipathy for each other.
To date, Jason Miller has mostly risen above Michael Bisping's constant needling, suffering only in a slight (and provoked) outburst as well as an amicable exchange of pranks. Of course, Team Miller's sound thrashing of Team Bisping thus far in the head-to-head competition has probably played a significant role in Jason's calm and the brash Brit wears on even the most patient souls.
Since neither the Count nor Mayhem Miller are renowned for their restraint, that powder keg figures to explode once or twice before the live finale arrives in the firs week of December.
Will it be tonight? Who knows, which means you better tune in at 10 p.m. ET/7 p.m. PT and join us as Bleacher Report brings you live commentary on all the antics.
The semifinals are set, we've got 4 good matchups set and they come complete with intriguing back stories as well. True, we've been promised some fireworks between the coaches and they haven't materialized (yet), but that's a minor gripe when the action inside the Octagon is this compelling.

Regardless, that's it for this week so check back with us in seven days for another installment.

See ya then.
Wow, are you kidding me with Dillishaw chucking his real teammate under the bus like that?

T.J. might very well be right about Caraway's lack of mental fortitude (circumstantial evidence certainly points in that direction), but how are you gonna dime him out like that?

Brutal.
In other news, I cannot wait for the tussle between Corassani and Bermudez. Akira talks like the ultimate badass, but Dennis might have the better claim to actually being the ultimate badass.

Because the ultimate badass can throw some heat, but he can also wear it as well.

And Bermudez has already proven his ability to take a beating and walk through it.
Wow, Caraway actually mouthed "f***" after it became clear he would be facing Diego Brandao.

Never seen that either.

Bryan sure doesn't try to hide his thoughts or feelings one bit. I might rethink that strategy to a degree.
Sure enough, the bantamweight pairings are T.J. Dillishaw vs. Dustin Pague and Johnny Bedford vs. John Dodson while the featherweight pairings are Akira Corassani vs. Dennis Bermudez and Bryan Caraway vs. Diego Brandao.

What Dana wants, Dana tries to get.
I think Dana White wants the finale to feature Dodson vs. Dillishaw and Brandao vs. Corassani so I'm betting the semi-final matchups reflect that desire.

But we shall see because it sounded suspiciously like Dodson and Dillishaw will be meeting before the live Vegas climax.
Dillishaw says he wants to fight Dustin Pague because, amongst other things, he sees a hole in Pague's game. Meanwhile, all three of the other bantamweights (Johnny Bedord, John Dodson and Pague) all say they want T.J.

Hmmmm….

T.J. Dillishaw might be the most talented bantamweight in the house, but I'd ride with John Dodson, Dustin Pague or Johnny Bedford rather than T.J. in an instant.

Heart is something you can't teach and those three seem to have it in more abundant quantities than Mr. Dillishaw.
Roland takes the defeat hard—no surprise there—but give T.J. credit, he put on a thorough performance and seemed like a good sport in victory.

Still seems too arrogant for my tastes, though.
Yikes, Dillishaw lands about as solid a straight right as I've seen in a loooong time and floors Delorme inside the first 10 seconds of the second round. Roland's not out, but he's badly hurt and T.J. can smell the literal blood.

He pounces on his groggy opposition and pounds away while Roland is in straight survival mode.

The Canadian is a tough S.O.B., but he's basically been absorbing punishment for two minutes and finally succumbs. He gives up his back and T.J. cinches in the fatal rear-naked choke for the stoppage.
And then goes smashing back to the canvas courtesy of a nice trip by T.J. Dillishaw.

More ground 'n' pound plus a near-d 'Arce choke (so named by one Jason Miller) ices an easy, 10-9 round for Team Bisping.

Delorme manages to get back to his feet, land some more strikes and (kind of) secure a takedown of his own before the horn, though.

So maybe all isn't lost yet.
Dillishaw gets another takedown and does a bit better with this one as Delorme seems to be suffering due to his time away from training (i.e. he's gassing). T.J. quickly takes Roland's back and begins to look for a rear-naked choke, but his adversary defends and rolls Dillishaw back to full guard.

From there, the favorite scores more points with some better ground 'n' pound before the underdog frees himself and stands up.
That ground 'n' pound that Team Bisping's favorite is so proud of certainly didn't amount to much as he had Roland pinned to the ground. T.J. landed a few nice shots, but nothing too malicious before Delorme was able to execute a nice escape back to his feet.
A little more hand-to-feet combat ensues before Dillishaw catches a kick from Delorme, who then oddly seems to pull guard via another guillotine attempt. T.J. has no trouble freeing himself and proceeds to take top position.

So we've got what looks like a mistake from Team Miller's athlete inside the first minute of the contest.
Dillishaw's confidence on his feet lasts about 10 seconds as a few well-placed kicks and a secondary show of aggression from Delorme convinces the Californian to go for the takedown.

Roland threatens with a guillotine and that's enough to distract T.J., enabling the Canadian to scramble back to his feet.
I really wish I could let a shot of Arianny Celeste pass without comment.

Alas…
Haven't we entered an era of mixed martial arts where "I'll do what I do best and that's ground 'n' pound" is an admission of weakness? I feel like anyone can be a master of pounding on someone from a dominant position.

You wanna impress me, let's see some striking and/or grappling prowess, mothaf****.
Yep, I'm not a fan of T.J. Dillishaw.

He just looks like a conceited, condescending jag.

Maybe that's not the case, but if it looks like a duck and sounds like a duck, well…
Well, that's a first for me—that clip from Mayhem Miller about the curve ball Team Bisping threw them in the matchups was identical to the one aired during last week's episode.

Never seen clips recycled before on TUF.
I think it's pretty clear Michael Bisping doesn't respect Dillishaw's choice to pick the weaker fighter, but didn't want to toss his (possibly) best charge under the proverbial bus.

I mean, it's a little odd to say T.J. had "the balls" to ask for an easier tussle. I think the gutsier move would've been, y'know, to take the more difficult bout.
Team Miller is destroying Team Bisping in just about every way imaginable. They're domination in the Octagon, they're not griping at each other (as much) and Mayhem's pranks are infinitely better than the Count's.

Anyone can get a car towed from a handicap spot, but it takes creativity to call in a bunch of highway barricades to trap someone's truck.

That's good stuff.
If what Bisping and Tiki Ghosn say is true—that Dillishaw is the complete package and the most well-rounded warrior on the show—then I've gotta agree with his critical teammates.

And I'd also question what kind of a statement he can send by dominating an antagonist who he hand picked, but I guess we'll see.
Roland Delorme gets the green light from the doc and that's great news. I know everyone seems to be counting him out, but he looked pretty slick on the ground in his elimination bout.

I'm interested to see how he'll do against the hyped Dillishaw.
Unfortunately (or maybe fortunately), a twist is all we gets as cooler heads prevail and Team Bisping prepares to sing "Kumbaya" together.
Amazing, I didn't see that coming—Dillishaw claims he's not a racist after Brimage starts chirping that he's "a simple dude from Alabama."

Now that's a twist.
This article is
What is the duplicate article?
Why is this article offensive?
Where is this article plagiarized from?
Why is this article poorly edited?