NFL Picks Week 9: Bye Week Won't Affect New York Jets at Buffalo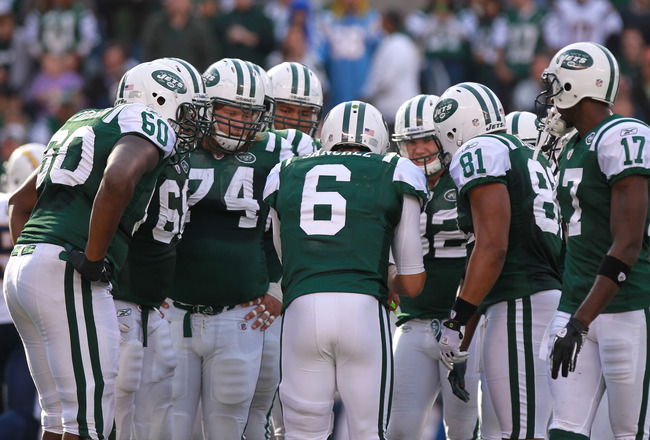 Nick Laham/Getty Images
The New York Jets played their best, most complete game of the season against the San Diego Chargers the week before their bye.
With the Jets flying high into their bye week, putting together a two-game winning streak that may have saved their season, the only way the week off can affect them is negatively.
New York has put themselves in a perfect position to win the AFC East if they can duplicate their play in Week 7 against San Diego for the rest of the season.
The Jets face two huge games coming out of their bye against the Buffalo Bills in Buffalo and against the New England Patriots in New Jersey.
If they win both of them, they will very much be in contention to capture the AFC East crown, a feat that seemed unattainable after their 2-3 start.
Here are five reasons the bye week won't affect the Jets at Buffalo:
They Already Found Their Running Game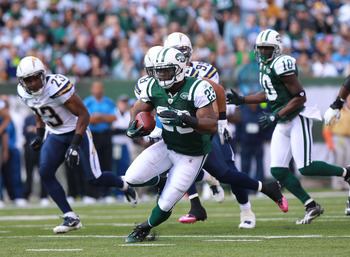 Nick Laham/Getty Images
Shonn Greene finally rushed for over 100 yards in a game against San Diego for the first time this season.
Rex Ryan saw that the change in offensive philosophy from ground and pound to an aerial attack was not working. So, after the dreadful performance against the Baltimore Ravens in Week 4, he switched it back.
In the next three games, Greene got at least 20 carries in each of them. In the first four games, Greene was only averaging a little over 10 carries per game.
With a heavier workload, Greene rewarded the Jets by rushing for 83 yards, 74 yards and 112 yards. In those three games, New York went 2-1.
The week off should not affect the running game; Greene and the Jets just need to continue what they started three games ago.
They Know How to Stop the Running Game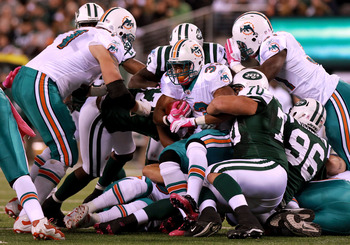 Nick Laham/Getty Images
A team can not magically fix their rushing defense during a bye week—well, unless they bring in new personnel.
The Jets are not going to bring in anyone. The personnel has always been there. All this talk that New York can't stop the run is ridiculous.
Yes, the Jets are giving up an average of 127 rushing yards per game, which ranks them 25th in the league. But if you look through the stats game by game, those numbers are deceiving.
New York has only allowed two running backs to go over 100 yards in a game this season. Darren McFadden gained 171 yards against them in Week 3, and BenJarvus Green-Ellis had 136 yards in Week 5.
Besides those two performances, the Jets held Felix Jones to 44 yards, Maurice Jones-Drew to 88 yards, Ray Rice to 66 yards, Reggie Bush to 71 yards and Ryan Matthews to 39 yards.
The Jets are equipped to stop Fred Jackson and that hasn't changed during their bye week, they just need to execute.
They Have Their Red-Zone Target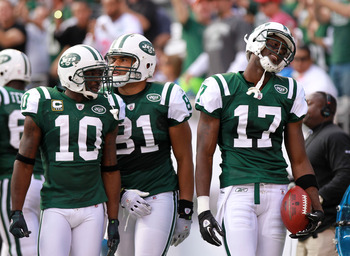 Nick Laham/Getty Images
Plaxico Burress showed just how valuable he could be in the red zone against the Chargers. When targeted high in the end zone, he should be unstoppable.
Nothing during the Jets' bye week should have changed this.
Offensive Coordinator Brian Schottenheimer needs to keep the same game plan on how to get Burress involved and use it against the Bills.
The Bills' tallest CB is Drayton Florence, who is 6'0". Burress is 6'5". Jets fans should see some sort of repeat performance out of Plax as the one he played against San Diego.
Mark Sanchez' Play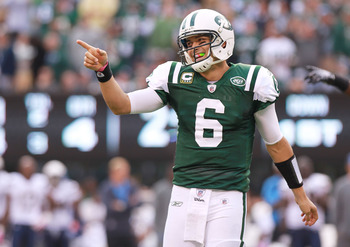 Nick Laham/Getty Images
A bye week won't affect Mark Sanchez. He is what he is, an average QB who cannot be the focal point of an offense yet.
The Jets tried to give Sanchez the keys to the offense in the beginning of the season, but he couldn't start it.
Since the opening game against the Dallas Cowboys where he threw 44 times, his attempts per game have decreased, with the exception of the game against the Oakland Raiders.
Sanchez has played better during the last three games with the decreased workload. In the last three games, he has limited his turnovers, only throwing one interception.
I believe that the coaching staff has found a happy medium for Sanchez, right around 30 passing attempts per game.
Rex Ryan's Mouth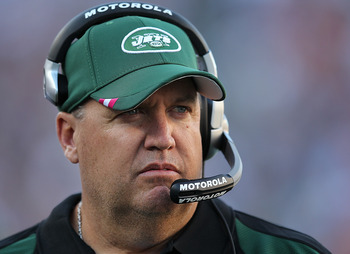 Jim Rogash/Getty Images
No bye week, nor person, nor thing can affect Rex Ryan's mouth. If the Jets are able to come out of their week off and win both their games against the Bill and the Patriots, Ryan's mouth may even get louder.
Now, I know I may be getting ahead of myself here, but it looks like everything is breaking in the Jets' favor.
If the Jets play like Rex think they can play, they just might find themselves tied for first in the AFC East going into Week 11, where Rex thought they would be. This may be too optimistic, but it's a real possibility.
Keep Reading

New York Jets: Like this team?