Georgia Football: Isaiah Crowell Needs Only to Look at Alec Ogletree's Example
November 2, 2011
Kevin C. Cox/Getty Images
Georgia Bulldogs freshman running back Isaiah Crowell, along with two other running backs, were suspended for one game yesterday for a failed drug test. This is not uncommon in college football. In fact, this is the third SEC team in trouble for a similar situation in the last three weeks.
Last month, LSU suspended defensive backs Tyrann Mathieu and Tharold Simon and running back Spencer Ware one game for a failed drug test, and Alabama running back Brent Calloway was arrested for possession of marijuana.
On the field, Crowell has been exceptional as a freshman running back. He has been battling minor injuries, but leads the Bulldogs in rushing with 689 yards and 146 carries (4.7 YPC) and five total touchdowns.
Off the field, however, it has not been smooth sailing. Crowell was suspended the first quarter of the Vanderbilt game for an undisclosed issue. Mark Richt said that he suspended him because he loves him. In other words, he wasn't focused off the field and Richt wanted to send him a message.
It is possible that Crowell smoked marijuana before the Vanderbilt game and he is back on track.
It is also possible that he is an 18-year-old kid who has been treated like a god since he was a kid, and simply needs to grow up and see what is at stake. Not only does it hurt his personal image but could cost him millions of dollars in the future.
I do not say this judgmental—I made more mistakes between the ages of 18-20 than any other time period in my life. He might play football like a man, but he is still just a kid.
As a former coach, I can at some levels identify with what coach Mark Richt is feeling right now. I have had star players with great talent but hard heads. It is frustrating because you see their potential but at 18 they only see their present.
Mark Richt is a far greater coach and handler of men than I will ever be. However, I would like to submit that the answer is right before his eyes—the answer is Alec Ogletree.
Ogletree arrived on campus last season as a Scout.com 5-star recruit. He was the prize catch in the 2010 recruiting class. However, Ogletree did not start off well.
Ogletree was arrested on theft-by-taking charge in connection with the theft of a motor-scooter helmet that was outside a campus building. Ogletree is not from a poor family, the helmet was only valued at $35.Ogletree could have purchased the helmet himself.
How he came into the helmet was debated on message boards, but how he responded never showed. The University of Georgia did not have Ogletree make an official statement about the incident. Instead, they suspended him one game and encouraged him to move on.
Ogletree did, however, release an apology to Bulldog fans on his Facebook page. He simply stated that he was sorry for the incident and promised the Bulldog faithful that they would never see his name in an off-field incident again.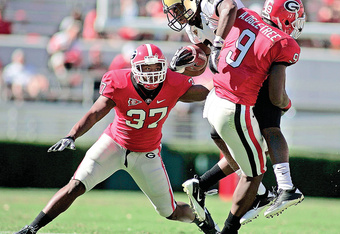 His sincere apology did not go unheard. I watched the same people who were bashing him, then rally around him. They realized that he was a kid that made a mistake, but he was also a Bulldog that was going to grow from this experience.
A year later, no one ever mentions Ogletree in a negative light. He is now known as a dominant defensive player and a quality leader both on and off the field.
Richt was quoted as saying, "We have certain standards in all that we do, and their actions do not reflect the Georgia way. They will serve their suspensions, learn a lesson and I'm sure will be better men for it."
Isaiah, look to No. 9 as an example of how to rebound and become the man and Bulldog you're destined to be.