2012 MLB Free Agents: David Ortiz and 3 Veteran Sluggers Worth Signing
November 2, 2011
Rob Carr/Getty Images
Pitching may be the most important part of baseball, but who knows the tricks of the pitchers better than veteran sluggers?
The traditional MLB season is over, but the time for the free agency is upon us. With signings set to dominate baseball headlines all the way up to spring training, what veterans can still produce next season?
Here are three power hitters I would sign up for my team.
David Ortiz
Hear it from Ortiz himself.
"If the Red Sox sign me right now they won't regret (it). I've got so many ways to keep doing what I've been doing around here. I bring so much to this organization, I bring so much to the table here because I care so much about this organization."
Ortiz had the second-best average (.309) of his career in years where he's played more than half the 162 games.
He's a special hitter—even though he's almost 36 years old.  
Vladimir Guerrero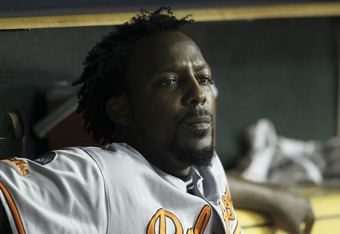 Leon Halip/Getty Images
Vlad's still got it.
Many of his stats last season suggest otherwise, but he's an old school player. He bats without gloves, and he's collected the most hits by a Dominican-born baseball player.
In his 16th year in the big leagues, he still hit .290 with 63 RBI's, two stolen bases and a triple. He's not going to hit 40 home runs next year, but he's certainly someone you want batting with a game on the line.
Teams will overlook Guerrero, but someone will be lucky to have him next season.
Aramis Ramirez
Ramirez broke onto the scene in 2001 with the Pittsburgh Pirates. After following that up with a subpar year in 2002 when he hit .234, he righted the ship with the Chicago Cubs.
His agent, Paul Kinzer, spoke to ESPN Chicago about Ramirez leaving the Cubs on Monday.
"We are very sorry that this era is coming to the end for Aramis and the Cubs. He loves Chicago and the fans. They've been great to him, but at this point it's better that we check out the market and address free agency."
Ramirez hit .306 last season with 93 RBIs in one of his "up" years. At age 33, Ramirez still has plenty of hits left in his career.