SEC College Football Preview: No. 10 South Carolina vs. No. 8 Arkansas
November 2, 2011
Wesley Hitt/Getty Images
This may not be the college football game of the weekend, or the best game the SEC has to offer this week, but the eighth ranked Arkansas Razorbacks versus the tenth ranked South Carolina Gamecocks should prove to be an exciting game between two very similar teams.
The Razorbacks take on their fourth ranked team in the past six games and second top 10 team of the season when the Gamecocks visit Reynolds Razorback Stadium on Saturday. Arkansas head coach, Bobby Petrino, hopes playing at home will spark his talented team into playing a complete game against a revenge minded team.
In 2010 Arkansas jumped out to an early 24-10 lead and cruised to a 41-20 win at Williams-Brice Stadium. Absent from last year's winning team are Ryan Mallett's 303 yards passing with one score because he has graduated to the NFL and Knile Davis' 110 rushing yards and three touchdowns, because he is out with an ankle injury.
The Gamecocks will also be without last year's starting quarterback Stephen Garcia, dismissed from the team in week seven for violating team rules, and running back Marcus Lattimore, injured ACL.
Garcia threw for 161 yards with one touchdown and two interceptions against the Hogs in 2010. Lattimore was held to 30 rushing yards on 11 attempts, before Spurrier took him out of the game in the third quarter.
The 2011 starting quarterbacks for both squads made an appearance in last year's game. Arkansas' Tyler Wilson was sacked on his only passing attempt and the Gamecock's Connor Shaw completed two passes for 20 yards in mop-up duty.
Based off preseason predictions this year, both teams have struggled to meet expectations offensively and defensively this season, despite their current rankings.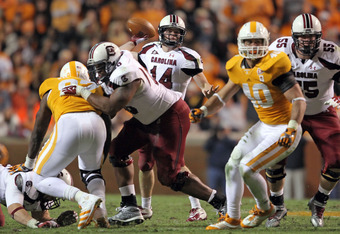 Andy Lyons/Getty Images
In four of their past five games the Hogs have overcome double digits deficits, before rallying to win. Included in those wins were sub-par performances against Ole Miss and Vanderbilt.
South Carolina head coach, Steve Spurrier, has had to overcome one difficult situation after another this season. Connor Shaw started the season under center for the Gamecocks, only to be replaced by troubled senior Stephen Garcia in the second quarter of their first game. Garcia was then dismissed from the team in week seven of the season for violation of team rules.
Shaw replaced Garcia as starting quarterback after his dismissal. Shaw was supposed to count on the production of all-SEC running back Lattimore, only to lose him at the end of that same week to an ACL injury suffered against Mississippi State.
Arkansas has not been without injuries either, though. Both starting defensive ends and cornerbacks have missed significant game time as has their top wide receiver, Greg Childs, over the past two years.
South Carolina had a bye week to prepare true freshman running back, Brandon Wilds, for their first game without Lattimore. Wilds responded with 135 yards rushing on 28 attempts, in a sluggish win over the Vols. Wilds also caught three passes for 31 yards.
Before his breakout performance against Tennessee, Wilds highest rushing totals had come against Kentucky when he rushed five times for 45 yards.
Connor Shaw has been inconsistent as the Gamecock starting quarterback. He threw for 311 yards against Kentucky, but has regressed since then. Against MSU he threw for 155 yards with one touchdown and two interceptions. On the road against Tennessee he finished with 87 passing yards, on 10 of 18 passing attempts.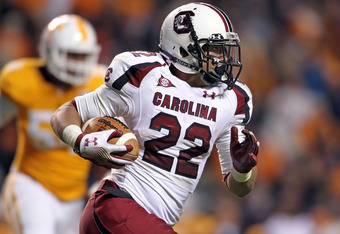 Andy Lyons/Getty Images
The Hogs running game made a brief appearance for two games but took a big step back against the Commodores last week. Dennis Johnson was held to 52 yards rushing on nine attempts and was benched after fumbling the ball, for the second straight game. Arkansas finished with 72-net rushing yards, after quarterback Tyler Wilson was sacked three times for a loss of 21 yards.
Through shaky offenses, injuries and poor defensive performances, both teams are fighting for an opportunity to remain in contention for a SEC conference title game appearance and a possible BCS bowl berth.
Much like last year, both teams enter the game with identical 7-1 records. South Carolina leads the SEC East, while Arkansas can only hope LSU beats Alabama and they can beat LSU for an outside shot of representing the SEC West in the title game. 
Inside the Game
South Carolina's defense will get their first true test of the season against the Razorbacks. The Gamecocks defense has the sixth rated total defense in FBS, but the Hogs have the ninth best passing attack in the nation.
Weakness on weakness pits Arkansas' running game and USC's rush defense. Can the Hogs take advantage? USC is allowing 130.25 rushing yards per game. If the Hogs can hit that total then maybe all Tyler Wilson needs to control the game is his arm.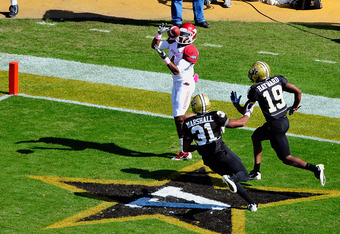 Grant Halverson/Getty Images
The Razorbacks allowed two inferior opponents, Ole Miss and Vanderbilt, to rack up 151 rushing yards and 222 yards respectively. The Hogs have to like that a true freshman, Wilds, is handling the ball for the Gamecocks. They have to hate that Wilds ran for 135 in his first game as a starter against Tennessee. They can hope that the 28 carries he had last week wore him down some.
South Carolina averages 202 rushing yards per game but that was with Lattimore. Can they keep that pace up?
USC has the third best pass defense in the nation limiting teams to 135.88 passing yards per game. Is this statistic telling of their defense, or a product of the offensive systems they have encountered?
Of the eight teams the Gamecocks have played only two of those teams featured throwing quarterbacks; East Carolina's Dominique Davis and Georgia's Aaron Murray. Davis threw for 260 yards and 248 for Murray. The telling statistic is both quarterbacks threw for four touchdowns against the Gamecocks.
South Carolina has not played a ranked team at the time of their game this season. Georgia and Auburn are both currently ranked. The Gamecocks strength of schedule is tied for 68th in the nation.
Connor Shaw threw for 87 yards against Tennessee and wide receiver Alshon Jeffery was held to three catches for 17 total yards.
Arkansas has made their last two opposing quarterbacks—Randall Mackey, Ole Miss and Jordan Rodgers—look like world beaters. Shaw showed his ability to run against the Vols gaining 64 yards on 16 attempts, much like what the Razorbacks faced in Vanderbilt's Jordan Rodgers last week.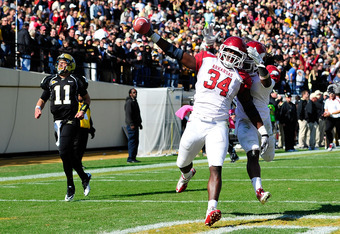 Grant Halverson/Getty Images
Prediction
Arkansas head coach has to be excited that he has made it through the most difficult part of his schedule to return home 7-1 for a three game home stand.
Spurrier has to hate that his young team is Arkansas' homecoming game.
The Razorbacks have been uninspired over their past two games, but gain a spring in their step being home for a night game.
Final Score
Hogs 28, South Carolina 17