2012 MLB Predictions: Jesus Montero and 25 Breakout Stars in 2012
Jim McIsaac/Getty Images

The 2011 MLB season saw a number of rookies who made their presence felt in a major way. In the National League, Craig Kimbrel, Freddie Freeman, Josh Collmenter, Danny Espinosa, Vance Worley, Cory Luebke, Brandon Beachy and Wilson Ramos were just a few of the first-year players whose stars shined brightly on the senior circuit.
In the American League, Mark Trumbo, Jeremy Hellickson, Eric Hosmer, Ivan Nova, Michael Pineda, Jemile Weeks and Jordan Walden were all first-year players who contributed mightily to their team's efforts.
In 2012, there will be number of players who will once again be vying not only for playing time for their particular teams, but who could very well make huge impacts as well.
Bleacher Report will attempt to pick out 25 potential stars on the rise in the upcoming 2012 season.
Begin Slideshow

»
Dave Reginek/Getty Images

The Detroit Tigers in 2009 selected high school right-handed pitcher Jacob Turner with the ninth overall pick in the MLB Draft, and in just two short years, Turner was already debuting in the majors.
While his beginning was not necessarily stellar (8.53 ERA in three last-month starts), Turner displayed to the Tigers and their fans his mid-to-high 90s fastball along with a developing curveball and changeup that would give him a nice repertoire of pitches. A lot will depend on how he performs in spring training in determining whether or not he heads north with the Tigers, but at some point during the 2012, season Turner will impact Detroit in some way, shape or form.
Doug Benc/Getty Images

Like Jacob Turner before him on this list, Shelby Miller was also selected in the 2009 MLB Draft by the St. Louis Cardinals, the 19th overall pick. By the time the 2011 season was completed, Miller was named the fifth-highest rated prospect by MLB.com, and finished his season with a record of 11-6, a 2.77 ERA and 170 strikeouts in 139.2 innings between Advanced Single-A and Double-A ball.
The 21-year-old right-hander may not necessarily crack the Cardinals' starting rotation out of spring training in 2012, but his presence will definitely be felt at some point during the season.
Otto Greule Jr/Getty Images

When 19-year-old Mike Trout started the season at Double-A Arkansas in the Los Angeles Angels farm system, few expected Trout to have any impact on the big club during the 2011 season. With the outfield being manned by Vernon Wells, Peter Bourjos and Torii Hunter, it was widely expected that Trout would continue to develop his considerable skills in the minors.
However, an injury to Bourjos saw Trout get the call to the big club, making his debut for the Angels on July 8 against the Seattle Mariners. Trout's first stint with the Angels didn't go swimmingly, hitting just .163 before being sent back down to the minors when Bourjos returned from the DL.
Trout's second stint was better, getting recalled on Aug. 19 and sticking with the Angels for the rest of the regular season. Trout ended his season hitting .220 with five HR and 16 RBI, and gave Angels fans and management a glimpse of his tremendous speed and other five-tool skills.
It may be difficult to keep Trout off the 25-man roster to start the 2012 season if he has a solid spring, however the Angels will have to get creative with roster decisions in order to find Trout a place in the lineup should he continue to impress.
Scott Cunningham/Getty Images

With the recent trade that sent Atlanta Braves pitcher Derek Lowe to the Cleveland Indians, there is an open spot in the Atlanta Braves rotation, and it just might be highly-rated prospect Julio Teheran who claims that spot.
The 20-year-old Colombian right-hander, who was signed by the Braves in 2007, was a shutdown pitcher for Triple-A Gwinnett with a 15-3 record and 2.55 ERA in 24 starts. Teheran made three starts for the Braves, posting a 1-1 record and a 5.03 ERA.
Teheran will not blow anyone away with an overpowering fastball, however he has several plus pitches and displays great command of the strike zone. Teheran will likely be competing with Randall Delgado and Mike Minor for a spot on the back of the Braves' rotation during spring training.
Jason Miller/Getty Images

The Seattle Mariners have been suffering from a power outage in terms of run production for the past several seasons, however this season, while still suffering from anemic offensive support, they saw enough several young prospects to give them pause for the future—including third baseman Kyle Seager.
Seager, drafted out of the University of North Carolina by the Mariners in the third round of the 2009 MLB Draft, ascended the minor leagues quickly, making his debut with the Mariners on July 7. In 53 games with the Mariners, Seager hit a very respectable .258 with three HR and 13 RBI, also showing versatility by starting games at shortstop and second base as well as at third.
Seager won't blow anyone away with home run power, but clearly has the ability to hit .300 or better after hitting .328 in two-plus years in the minors. For a team aching for on-base production at the top of the order, Seager just could give the Mariners a nice lift.
Hannah Foslien/Getty Images

The Seattle Mariners clearly struck gold in the 2009 MLB Draft, selecting the aforementioned Kyle Seager in the third round, but also selecting second baseman Dustin Ackley with the second overall selection in the first round, directly behind Stephen Strasburg.
Ackley, like Seager, didn't take long to develop in the minors, hitting .303 at Triple-A Tacoma before getting the call to the big club on June 17. Ackley did little to convince people that he wasn't worth a second overall pick, hitting .278 in 90 games with the Mariners with 29 extra-base hits, 36 runs batted in and just six errors at second base.
Ackley will clearly get some love in Rookie of the Year balloting in the American League, however the 2012 season could be a breakout campaign for a player whom much is expected.
Stephen Dunn/Getty Images

It took seven-plus seasons in the minors for 25-year-old Mike Carp to finally get the call for regular playing time in the majors, however he certainly made the wait worthwhile in 2011 with the Seattle Mariners.
In 79 games for the Mariners, Carp hit .276 with 12 HR and 46 RBI, giving the Mariners a trio of players (Carp, Dustin Ackley, Kyle Seager) who could very well help the Mariners out of the offensive doldrums they have been dealing with for the past several seasons.
J. Meric/Getty Images

The Tampa Bay Rays already thought left-hander Matt Moore was pretty special after the incredible season he posted in the minors in the 2011 season, with a 12-3 record and 1.92 ERA in 27 starts between Double-A and Triple-A ball.
However it was after Moore was called up in September when he really opened eyes in Tampa.
In his first major league start on Sept. 22 against the New York Yankees, Moore blanked the Bronx Bombers on just four hits in five innings, striking out 11 batters.
Then, with all of his top pitchers unavailable, Rays manager Joe Maddon, after consulting with GM Andrew Friedman, made the decision to start Moore in Game 1 of the ALDS against the Texas Rangers. The decision was masterful, as Moore completely shut down the vaunted Rangers offense in seven stellar innings, allowing just two hits and striking out six in a 9-0 victory.
Moore followed up with a three-inning relief performance in Game 4, allowing just a solo home run to Adrian Beltre and keeping the Rays within striking distance of the Rangers.
The 2012 is now certainly full of promise for the Rays, as their already stellar starting rotation will now be complemented by the hard-throwing Moore, who has already made his mark in pressure situations.
Brian Kersey/Getty Images

The Cleveland Indians have built up a nice young stable of prospects in the past several years, and that list is headlined by third baseman Lonnie Chisenhall.
Selected by the Indians with the 29th overall pick in the 2008 MLB Draft, Chisenhall made his debut for the Indians on June 27. In 66 games for the Tribe, Chisenhall hit .255 with seven HR and 22 RBI. It was a lukewarm start to Chisenhall's MLB career, so much will be expected of him to start the 2012 season.
If Chisenhall gets off to a slow start, expect Indians fans to clamor for Jason Donald to replace Chisenhall at third, as some are actually calling for now.
David Maxwell/Getty Images

Cleveland Indians manager Manny Acta has stated that the second and third base positions for the 2012 season are not yet locked in stone, however with the performance of young Jason Kipnis in 2011, it's hard to believe that anyone else would have an edge over him.
Kipnis, drafted by the Indians in the second round of the 2009 MLB Draft, hit .272 with seven HR and 19 RBI in 36 games. Granted, it's a fairly small sample size, but enough was seen to give the Indians' hope for a great future in Cleveland.
David Maxwell/Getty Images

Through his call-up in September, Minnesota Twins fans were given a look into the future with the arrival of first base prospect Chris Parmelee.
Parmelee, the 20th pick overall by the Twins in the first round of the 2006 MLB Draft, hit .355 with four HR and 14 RBI in just 21 games, and if Justin Morneau is unable to recover from concussion symptoms, the Twins may very well have their next star at first base.
The Twins have had a fabulous history of first baseman, from Harmon Killebrew to Kent Hrbek to Morneau, and now, possibly to Parmelee in the not-so-distant future.
Christian Petersen/Getty Images

Is there really any wonder why Los Angeles Dodgers GM Ned Colletti had no problem shipping shortstop Rafael Furcal out of town? Well, aside from the fact that Furcal had an expiring contract, the primary reason was the young man primed to take his place, Dee Gordon.
Gordon was indeed impressive in just a third of a season for the Dodgers, hitting .303 with 27 stolen bases. It certainly appears as if the Dodgers have a new leadoff man, and Gordon, at just 23 years of age, should be around Dodger Stadium for a very long time.
Kent Horner/Getty Images

San Diego Padres manager Bud Black may have a big decision on his hands during spring training—how to fit emerging prospect James Darnell into the Padres' lineup.
Darnell, a second-round draft pick in the 2008 MLB Draft, hit .333 in Double-A ball before being promoted to Triple-A Tucson. For the season, Darnell hit 23 HR and 79 RBI, and saw brief time with the Padres in a September call-up.
The Padres obviously saw a conflict with Chase Headley now manning third base, as Darnell worked in left field in the minors and saw time there during his call-up as well. With Darnell's potential, it will be difficult for Black to keep him out of the lineup, so Darnell will likely be training in the outfield during most of his winter break.
Norm Hall/Getty Images

When shortstops Paul Janish and Edgar Renteria were struggling mightily after the first three months of the 2011 season, the Cincinnati Reds called up prospect Zack Cozart to fill the void, and judging from Cozart's first 11 major league games, it certainly appeared as if the Reds had made the right decision.
However, Cozart was injured on an awkward play at second base just days after the All-Star break, requiring reconstructive surgery on his non-throwing elbow that ended his season prematurely.
Certainly enough was seen by the Reds that Cozart will be given a clear opportunity to win the shortstop job outright in spring training, and judging on his brief performance in 2011, the Reds could have a very nice surprise on their hands.
Photo courtesy thegoldensombrero.com
If for some reason the Texas Rangers are unable to sign free-agent pitcher C.J. Wilson, they just might have a young pitcher in the system ready to take up the slack—20-year-old prospect Martin Perez.
Perez, signed by the Rangers in 2008, features a mid-90s fastball, a better-than-average curveball and a nasty changeup that serves as a great out pitch. While Perez struggled a bit after being promoted to Triple-A Round Rock, he is no doubt a Rangers' ace-in-waiting, and could very well be ready to make an impact sometime in the 2012 season.
Mike Zarrilli/Getty Images

At just 20 years of age, Atlanta Braves pitching prospect Arodys Vizcaino is a rising star in the organization, however just when and how that star will shine is still somewhat in question.
Vizcaino struck out 17 batters in his 17.1 innings of relief work when called up by the Braves, however he also issued nine walks, struggling with his command of the strike zone. Still, Vizcaino is clearly destined for good things in the Braves' organization, and manager Fredi Gonzalez will now have to figure out how best to use Vizcaino in order to maximize his effectiveness.
Christian Petersen/Getty Images

Yes, he just turned 19 years, and yes, he's only had one full season of professional ball. However, Washington Nationals slugging prospect Bryce Harper has nonetheless shown he is fearless, and ready to take on whatever comes his way.
Harper's great strength at the plate comes from his natural ability to quickly transfer his weight and square up the ball in the hitting zone, and his quick hands and tremendous bat speed make him a natural as a pure power hitter. A true five-tool player, Harper could very well be ready for prime time sometime during the 2012 season.
Jeff Gross/Getty Images

The Kansas City Royals debuted two rookies in 2011 who showed great promise for more to come—first baseman Eric Hosmer and third baseman Mike Moustakas. Could prospect Wil Myers be far behind?
Myers, drafted as a catcher in the third round of the 2009 MLB Draft, has been transitioning to right field in the minors, presumably to speed up his ascent to the majors. Myers, who was the 10th ranked prospect by Baseball America at the start of the 2011 season, hit .254 while learning a new position at the Double-A level this past season, but scouts aren't worried whatsoever about Myers' bat—praising him for his sweet swing from the right side of the plate.
It's very possible that the youth-conscious Royals could bring Myers up at some point during the 2012 season—it certainly worked pretty well with Hosmer and Moustakas.
Thearon W. Henderson/Getty Images

While many fans in the Denver area may still be lamenting the loss of Ubaldo Jimenez in the trade with the Cleveland Indians, one of players they received in return may just assuage their concerns.
Drew Pomeranz, the infamous "player to be named later" in the trade that sent Jimenez to the Tribe, features an above-average fastball and a terrific changeup. Pomeranz has the type of stuff that could be absolutely deadly for left-handed hitters, and he figures to be at least a No. 4 or 5 starter for the Rockies in 2012.
Stephen Dunn/Getty Images

When the Boston Red Sox acquired Adrian Gonzalez from the San Diego Padres, they shipped two highly-rated prospects to the Padres in return—pitcher Casey Kelly and first baseman Anthony Rizzo.
Rizzo tore up the PCL early in the year, hitting .331 with 26 HR and 101 RBI in just 93 games before getting the call by the Padres. Unfortunately, Rizzo's lofty numbers in Triple-A ball weren't carried with him to San Diego, hitting just .141 with only one home run in 49 games.
Still, at just 21 years of age, Rizzo figures to be the first baseman of the future for the Padres, and with some additional work this winter and during spring training, the 2012 season could be pretty special.
Brian Kersey/Getty Images

A sweet-swinging left-handed hitter, the only thing holding up the progress of Cincinnati Reds prospect Yonder Alonso is where he will play.
Called up by the Reds in late July, Alonso clearly showed he can perform at the major league level, hitting .330 with five HR and 15 RBI in 88 at-bats. The only problem for Alonso at this point is where in the field he can best fit in.
A natural first baseman, Alonso's path the majors is clearly blocked there by Joey Votto, so Alonso has been working in the outfield to speed his progression. With Drew Stubbs in center field and Jay Bruce in right, Alonso's only opportunity will be in left, where he will be competing with another impressive youngster, Chris Heisey.
Still, if Alonso continues hitting at the level that he showed in 2011, manager Dusty Baker will have a difficult time keeping him out of the lineup.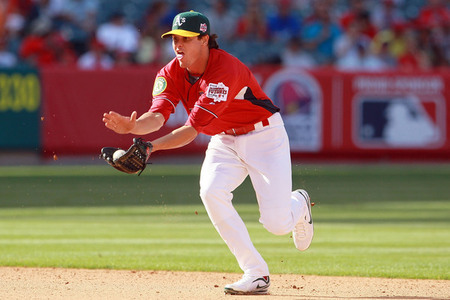 Photo courtesy thegoldensombrero.com
The Oakland Athletics currently have Cliff Pennington playing the shortstop, but it's pretty apparent that he is literally just holding the bag until young prospect Grant Green is ready for prime time.
Green, the 13th overall pick in the first round of the 2009 MLB Draft, made the move to Double-A last season, and continued right where he left off in the lower levels, hitting .291 with 33 doubles, nine HR and 62 RBI.
Green also spent time learning the center field position as well, appearing in 47 games there for Midland, which could also speed up Green's progression to the majors. But it certainly appears that Pennington's time at shortstop in Oakland is limited at this point.
Photo courtesy dodgers.scout.com
The Los Angeles Dodgers might be onto something by moving prospect Scott Van Slyke to first base. After languishing in the minors for six seasons, Van Slyke absolutely tore up the Double-A Southern League in 2011, hitting .348 with 20 HR and 92 RBI for Chattanooga.
Van Slyke, son of former Pittsburgh Pirates/St. Louis Cardinals great Andy Van Slyke, also showed an impressive 100/65 K/BB rate, and his 1.022 OPS is hard to ignore.
Given the fact that current Dodgers first baseman James Loney is devoid of power, Van Slyke's time in LA could come sooner rather than later.
Photo courtesy coloradorockiesprospects.com
In just two years of professional baseball, Colorado Rockies pitching prospect Chad Bettis has already shown he can be a world-beater, posting a 12-5 record and 3.06 ERA in the hitting-heavy California League, striking out 184 batters in 169.2 innings of work.
It may be a stretch to think that Bettis, a second-round draft pick in 2010, could actually impact the Rockies in 2012, but if he continues pitching lights out at the minor league level, his time could come sooner than he thinks.
Jim McIsaac/Getty Images

New York Yankees were more than pleasantly delighted to witness the talents of prospect Jesus Montero in the last month of the regular season. Montero hit .328 with four HR and 12 RBI in just 61 September at-bats, and was a perfect 2-for-2 in the ALDS against the Detroit Tigers as well.
The biggest problem for Montero at this point is his defensive abilities behind the plate. The Yankees seem very reluctant to hand over the catching duties to Montero, and consistent trade rumors have dogged him since the 2010 season. Still, the potential for greatness as a hitter is clearly there, and if Montero doesn't get his shot in the Bronx, he will make an impact in the majors in the 2012 season, possibly in another city.
Doug Mead is a featured columnist with Bleacher Report. His work has been featured on the Seattle Post-Intelligencer, SF Gate, CBS Sports, the Los Angeles Times and the Houston Chronicle. Follow Doug on Twitter, @Sports_A_Holic.