WWE Fantasy: Friday Night SmackDown 11/11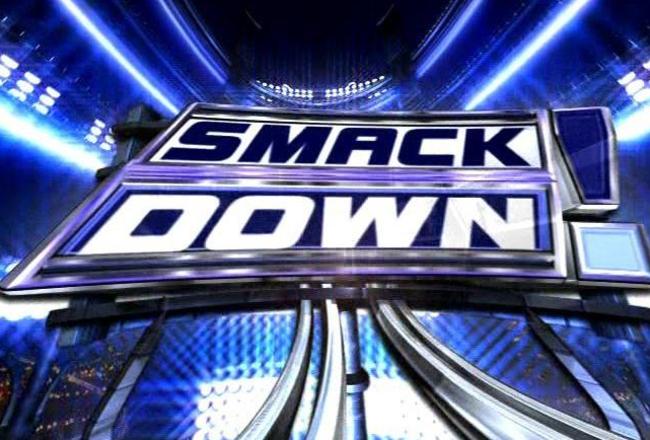 This is the fourth edition of Fantasy Friday Night SmackDown by Nathan Giese and me.
For those who are not up to date yet, check out the third episode here.
For those further behind, each episode has a link to the previous episode all the way back to first, so it is easy to catch up.
You can also check out this week's Raw here if you have not already.
Remember to rate the show at the end out of 10 i.e. "8/10," as this is a competition between SmackDown (Nathan Giese and Kevin Berge) vs. Raw (Nate Scaccia and Will Owen).
Now, on to the show.
The intro rolls, then we are treated to a recap of last week.
Dolph Ziggler and John Cena are wrestling one another back and forth as the camera focuses upon a weakening Cena. Cena is shown lying on the ground tired and worn from the battle.
They continue to fight until Ziggler hits a huge kick to Cena on the top rope sending him to the outside, which causes the video to focus upon Ziggler, who is contemplating the situation. He decides to throw Cena back into the ring when he is suddenly rolled up for the three which Ziggler may have kicked out of.
We are also shown Miz and Punk battling bitterly. Each hit finishers for two and are seemingly all out of tricks. Michael Cole runs in to try to help Miz only to get in the way.
Punk ends up getting the three count off one final GTS, and we have our main event for Survivor Series.
The picture splits between Cena and Punk raising their hands in victory. Green Day then plays.
Opening Segment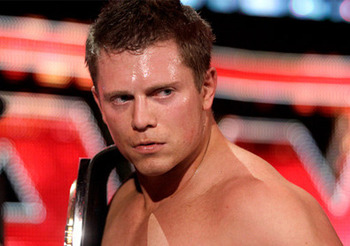 Josh Matthews: "Hello, everybody, and welcome to Friday Night SmackDown. We are at the Echo Center in Liverpool, England with a raucous crowd and a great night planned for you all."
Matt Striker: "Don't forget, Josh, we have John Cena and CM Punk in our main event tonight just nine days away from Survivor Series, where they will again be facing off in SmackDown's main event match for that PPV."
As the two continue, The Miz hits the stage and walks down to the ring with a microphone already in hand. The crowd gives him some good heat.
Miz: "I know all of you here in England know nothing about what is fair and right, but I am still out here to tell you all a story about the greatest cheat in WWE history, CM Punk.
You see, I came out last week and fought tooth and nail to take one more step toward the title I truly deserved. Needless to say, Punk "won" the match, but even you all know that I could never lose to someone like Punk.
It just doesn't happen. Let's face it, my name should be next to John Cena's in that WWE Title match at Survivor Series not CM Punk's-"
Suddenly, Dolph Ziggler's music hits, and he also gets a fairly loud negative reaction. He saunters down to the ring and goes around the ring to grab a microphone. The Miz watches with a snarl on his face. Ziggler gets into the ring and faces Miz.
Ziggler: "You know, I had heard that you were a funny guy before, but I didn't know just how outrageous your jokes were until now.
I admit I laughed backstage as you talked about getting cheating, especially when I realized you had no explanation for why you got cheated. Miz, you lost. That puts you at the back of the line."
Ziggler points behind himself and then faces the crowd continuing.
Ziggler: "Now, let's talk about real quips. How about when a guy obviously gets out of a pinning attempt by a helpless and beaten opponent and still gets counted for the three. Cena was finished, yet somehow, the ref managed to make me lose the match.
I got screwed worse than Bret. If anyone deserves to be in that match at Survivor Series, it's me."
He says this has he turns back around and faces an angry Miz. Miz looks ready to make a comeback on the mic when Michael Cole comes out to an aggressively loud negative reaction. As he speaks, the crowd consistently taunts him.
Cole: "If I can have your attention please. You too both are great competitors and, in my humble opinion, should be facing each other at Survivor Series for the WWE Title. However, I made a promise as general manager that this tournament would provide a winner, and that means that Cena and Punk are still going down.
So I have an alternative. I was recently made aware by WWE management that at Survivor Series, there will be a traditional five-on-five elimination match between Raw and SmackDown. Obviously, as the greatest SmackDown general manager of all time, I want to start my reign as the best.
Therefore, since neither of you will be competing in the title match, I want the two of you as capatins of my team. You will be allowed to choose your final three team members from the entire roster that is not already competing next Sunday in a match.
As added incentive, if either of you two survive that match, you will be made No. 1 contender to the WWE Title. In order to get ready for that match, you two will be tag teaming tonight as I announced last week against the two men that beat you last week. Neither man is here yet, but they will be here by the time of the main event. You two should go back and prepare."
We cut to commercial break as the men exit the ring wary of one another.
Match 1: John Morrison vs. Alberto Del Rio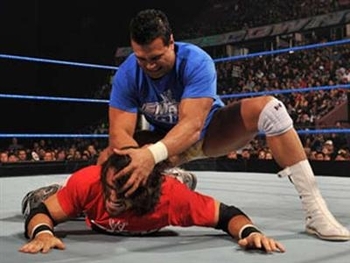 We return to John Morrison's theme music as he enters the arena to an average pop.
Striker: "We just got some huge news for Survivor Series, Josh. Now, we have three huge matches on tap for the PPV. Not only do we have a phenomenal main event in Cena vs. Punk, but we also have a brand vs. brand Survivor Series elimination tag match with Miz and Ziggler as captains."
Matthews: "And we have out Fatal Four Way match for the Intercontinental Title, which includes this man, John Morrison, and his opponent..."
John Morrison's entrance has just finished, and Alberto Del Rio's music hits. He comes out in a beautiful Aston Martin DB9 Convertible with a smile on his face. When he gets to the center of the stage and taunts, his old stream of sparks fall down behind him.
Matthews: "As I was saying, both of these men will be a part of a great Fatal Four Way match that will determine our newest Intercontinental Champion. The other two men in the match, Big Show and Cody Rhodes, will perform later in the night."
Del Rio gets in the ring, and the two men face one another ready for action. The bell rings and the match starts.
Del Rio runs at Morrison with a viciousness in his eyes. He gets a hold of Morrison's arm and drags him down with a hard shot. For several minutes, the entire match is all about Del Rio working over the arm. Morrison finally fights out with a flapjack on Del Rio.
Morrison pulls some huge moves, including tilt-a-whirl DDT and hard enzuigiri. He has Del Rio down and hits a standing moonsault for two. He then goes to the top rope and jumps for a crossbody.
Del Rio counters by catching Morrison and hitting a bridging German suplex for a long two count. As Del Rio gets Morrison up for a backbreaker, Morrison counters a perfect pele kick sending Del Rio to the outside.
Morrison follows him outside with a huge springboard diving crossbody, sending both men to the outside. We go to commercial break as they attempt to recover.
John Morrison vs. Alberto Del Rio Continued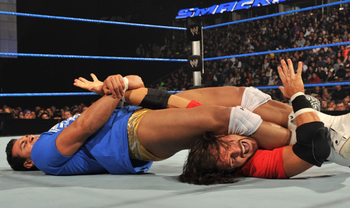 As we return, Morrison is beating down on Del Rio on the outside. During the commercial break, we are shown how these two fought inside and outside the ring with vicious hits, including a hard-spinning heel kick from Morrison to Del Rio for two.
The men continue fighting on the outside, as the referee's count is up to six. Del Rio reverses a move from Morrison into a vicious shot as Morrison is thrown right arm first into the ring post. Morrison, who has had that arm worked on the entire match, is in visible pain, as he just barely makes it back into the ring where Del Rio is waiting.
Del Rio sets up the Cross Armbreaker, which he applies viciously. Morrison seems ready to tap. With the last bit of his strength, Morrison makes it to the ropes. An irate Del Rio cannot believe that he had not won the match.
He begins arguing with the referee about how he should have rung the bell, though the ref tries to explain that Morrison never tapped out. As the exchange continues, Morrison comes from behind and rolls up Del Rio for the three count.
Tony Chimel: "Here is your winner, John Morrison."
Del Rio cannot believe it as Morrison rolls out of the ring holding up his left arm and clutches his right arm to his chest. The camera pans on an angry Del Rio as we cut to commercial break.

Match 2: Justin Gabriel vs. Heath Slater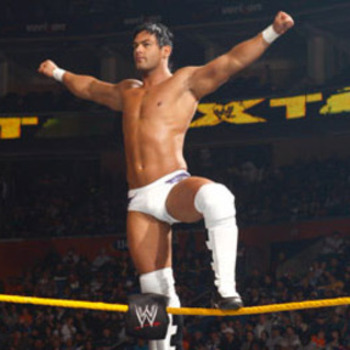 We return, and Heath Slater enters to a new theme song "I Wanna Be in ACDC" by Down By Law. He get very little reaction of any kind from the crowd, though he tries his hardest to get them to dislike him.
Justin Gabriel's music hits to a decent pop from the crowd. He enters the ring quickly and causes Slater to bail from the ring. The two seem ready for their match when Christian's music hits with the Cruiserweight Champion coming out in street clothes with his title on his shoulder.
Gabriel is distracted as the bell rings, and Slater hits Gabriel with a hard double axe handle to the back of the neck. It causes Gabriel to go down hard as Christian walks to the announce table and puts on a mic.
Slater gets Gabriel down with a hard headlock. He keeps Gabriel down as Christian talks with the announce team.
Striker: "Greetings, Christian; I'm glad to have you with us this week."
Christian: "Thank you, Matt. Too often, I am wrestling in this ring and don't really get time to come talk with the guys who really make this whole company flow, our announce team."
Heath Slater is losing hold of Gabriel, who fights back with a series of elbows to the gut and a powerful spinning heel kick. His energetic offense gets the better of Slater, who takes a variety of swift moves.
Matthews: "Really? You're just out here to grace us with your presence. I guess you didn't mean to distract Gabriel before his match and have no intention of getting back on him from last week's altercation."
Christian: "Don't patronize me, Josh. I am doing a favor coming out here and doing your job for you. If I weren't here, you probably just be talking about Twitter or Facebook or whatever else is hip these days. I am out here to help commentate and see how Gabriel can fair against a very game Heath Slater."
As the three battle on about, Slater is ducks to the outside, and Gabriel hits a baseball slide on him, which sends Slater into the barricade. Gabriel then forces Slater to his feet and hits a beautiful hurricanrana onto the ring post.
Christian: "Do you see the viciousness that Gabriel is exuding? That is the drive he is gaining from my mere presence as Cruiserweight Champion. He wants this title so badly that it is eating away at him."
Gabriel and Slater are back in the ring brawling, with Slater seemingly getting the edge only for Gabriel to kick Slater hard in the gut and execute the Gabriel Special. Slater is dazed on the ground, so Gabriel goes to the top rope and hits a picture perfect 450 Splash.
Gabriel pins Slater for the three count as Christian can be heard dropping his commentary microphone.
Tony Chimel: "Here is your winner, Justin Gabriel."
Gabriel is celebrating in the ring with the ref holding up his arm until Christian can be seen with a microphone in hand.
Christian: "Justin Gabriel. You attack me and lay claim to my title using sheer brute force to try and get your way. Well, you have your match. I'm a fighting champion, and, as such, I will not back down from a brute like you.
At Survivor Series, you get one match: Christian vs. Justin Gabriel for the Cruiserweight Title. Don't expect another chance like this to ever come for you again, so make the most of it."
Christian smiles as he sets down the mic. Gabriel can also be seen smirking in the ring as he points at the Cruiserweight belt that Christian is holding as Christian begins walking to the back.
Backstage Segment: CM Punk and John Cena Arrive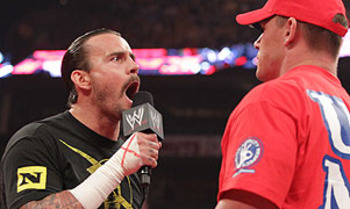 We return to see a car pulling up in a parking lot that is connected to the backstage area.
John Cena gets out to a huge negative reaction (much to the chagrin of WWE backstage) from the crowd looking around the area. Suddenly, he turns right and speaks to someone in the distance with a grin.
John Cena: "Well, I see I'm not the only one whose late to the show."
A massive cheer comes over the crowd as CM Punk enters the camera view and stares down Cena.
CM Punk: "Look, John. We've had our battles and even our wars before. I've beaten you more times than most people in that locker room. Next Sunday, I will go out there and take you beyond your limit and win the title that I deserve."
Cena looks about ready to interrupt and speak, but Punk holds up his hand and continues.
Punk: "However, tonight is not Sunday. My words and yours won't change the outcome of our match at Survivor Series. Regardless, tonight we go out to that ring and get what we both deserve: the chance to beat down the loudmouth heels. I won't get in your way with Ziggler if you don't get in my way with Miz. Just go out and fight."
Cena again looks ready to respond, but Punk walks away before allowing Cena to say a word. The camera focuses upon a contented Cena as we fade to ringside.
Match 3: Cody Rhodes vs. Big Show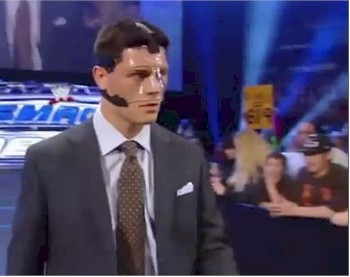 Cody Rhodes is making his way to the ring for his contest, receiving some solid heat in the process. Big Show's entrance hits and receives a moderate pop from the Liverpool crowd.
Matthews: "Here is our second contest involving the four men in the fatal four-way for the Intercontinental Championship at Survivor Series. We have already seen John Morrison knock off Alberto Del Rio in the first contest tonight."
Striker: "Yes, Josh, but I'm more interested in this contest. Cody Rhodes made a very bold statement last week that he would be the one to walk away with the Intercontinental Championship; now is his chance to prove to the Big Show that he wasn't just blowing smoke."
The match begins, and Rhodes immediately goes to work on the knees of Big Show. Show manages to fight him off, throwing him into the corner and laying thunderous slaps to Rhodes' chest.
Rhodes, obviously in pain, starts trying to knock the big man off of his feet, but to no avail. Show continues to throw Rhodes to the ground, only to have him pop right back up, looking for more.
Show finally begins to use his weight advantage, forcing the lower half of his body into Rhode's torso in the corner. Smiling and laughing, Show heads towards a wounded Rhodes, looking to put him away early. Only Show is met with a slap to the face, forcing him to turn his back on Rhodes, whom takes the opportunity to take out the big man's knee from behind.
As he has Show on the ground, Rhodes begins to work on damaging the big body, stomping away at his chest. Rhodes begins to get an angry look in his eye, continuing to kick the life out of Show.
Rhodes heads towards the top rope, looking to hit a flying moonsault.
As Rhodes comes down towards Show, Show puts his big knee up to block the hit. Except, not only is Rhodes hurt from crashing into his knee, Big Show is also in pain, as he used his recently rehabbed knee to block the attack.
Show has yet to get up by the time Rhodes reaches his feet. Seeing he has the big man down, Rhodes starts attacking the legs. The referee is urging Rhodes to stop the assault, but Rhodes refuses to let up. Show is asked by the official if he would like to stop the match, but Show says no.
Cockily, Rhodes allows Show to pull himself up in the corner. As soon as he reaches his feet, Rhodes charges at Show and delivers a drop kick. Show does not leave his feet though. Instead, he starts to wobble around the middle of the ring, in obvious pain.
When Show turns around to find Rhodes, he is met with a disaster kick to the skull. Rhodes goes for the pin, earning the victory.
Tony Chimel: "Here is your winner, Cody Rhodes!"
Matthews: "Well, Rhodes certainly made a statement here tonight, defeating Big Show and making himself appear more vicious than normal."
Striker: "Yes, Rhodes is on a mission and he proved it here tonight. Trust me, Josh; Cody will not rest until he is holding that Intercontinental Championship."
In-Ring Segment: Natalya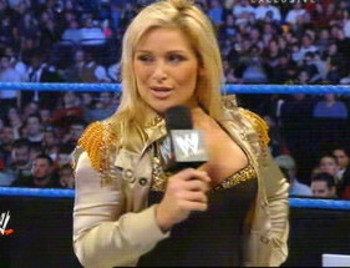 We return to the show and see Natalya making her way to the ring to a good pop. She does not have a smile on her face this time, though. Instead, you can visibly see bruising all over her face and arms.
She marches her way to the ring and immediately grabs a microphone.
Natalya: "For those of you who are unaware of what's been going on around here lately, there have been a lot of weird actions happening. Two weeks in a row, Gail Kim and I have been scheduled to face each other in a match. Both times, someone or something has attacked us by cutting out all the lights and destroying us.
Each time, there has been a secret message. The first time, it was 'Survive'. The second time, when we were attacked in our dressing room before we could even make it to the ring, there was another message. This time, it read 'Redemption'.
Now, I have no clue what's going on, but I have a feeling that Gail has some idea. I think Gail knows more about this than she's letting on."
Gail Kim's music hits, already speaking before she even appears on stage.
Kim: "Whoa, what just a minute Natalya."
She has made her way into the ring.
Kim: "You honestly think I know what's going on here. I'm just as confused as you are. In case you don't remember, we were both attacked, but I was the one who had the red X on her forehead. Whoever is doing this obviously wants something to do with me."
Natalya: "I'm not buying it. Yes, you were the one with the red X on your head, but you were also the one who was laid out on top of me the first time, which makes me think that you're actually the one attacking me, and just making yourself seem like your a victim so we don't assume that sweet and innocent Gail Kim could do something like that."
Kim: "Natalya, maybe you got hit too hard in the head because you're sounding like a paranoid nut-job right now."
Natalya: "You're darn right I'm paranoid. I can't do anything anymore without thinking you're going to attack me from behind again. I don't trust you. You're manipulating the system and using me as your bait."
Kim: "Naty, I don't know how to explain it to you so you'll understand, but I'm not the one doing this. What do I have to do to prove to you I'm not the attacker."
After a long pause, Natalya finally responds.
Natalya: "Fine. You say you're not the attacker, I'll believe it when I see it. If you can't prove to me by this time next week you're not the person behind all of this, you're going to pay for everything, even if you really did it or not."
Natalya storms off, leaving Kim in the ring looking confused and baffled.
Match 4: Air Boom vs. Jack Swagger and Ted Dibiase (with ?)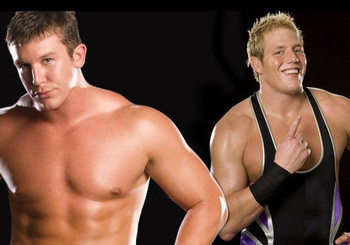 Matthews: "Wow, Matt. I don't even know what to say. There is so much controversy around here lately, it's almost unbelievable. We've got Gail Kim and Natalya being attacked by someone, and CM Punk now has a spooky admirer. Still to come tonight, we have Kurt Angle, who is trying to prove a point about how to be humble, taking on Daniel Bryan.
And right now, we've got Jack Swagger and Ted DiBiase introducing their tag team mentor to us as they get set to take on the Tag Team Champions, Air Boom."
Striker: "Josh, that's what makes this so great. We never know what were going to get on a given night here on SmackDown. Anything can happen at any time. This is awesome. I love this job."

Air Boom comes out to a huge ovation, getting set to accept the challenge placed before them by Swagger and DiBiase one week ago.
Swagger and DiBiase come out to good heat. Swagger, with microphone in hand, begins to address their opponents.
Swagger: "Wow, I'm surprised you two showed up. By the end of the night, you're going to wish you hadn't. Now, let me introduce to you the man who is going to lead us to the promised land in the tag team division.
He knows the ins and outs of the division better than anybody else. He has taught us everything we know and now believes in our abilites as a team to take those tag team titles away from you. Ladies and gentleman, allow me to introduce to you, our mentor.......Jimmy Uso!"
Uso comes out to reasonable heat from the crowd. Kofi Kingston and Evan Bourne are shown in the ring, having puzzled looks on their face. Swagger, DiBiase and Uso make their way into the ring and the match begins.
DiBiase and Bourne begin the match with DiBiase getting the early advantage. Bourne goes down to the ground, allowing for Million Dollar Man's son to control the tempo. DiBiase starts to tweak Bourne's leg, looking to take away his high flying ability.
Eventually, DiBiase makes the tag to Swagger, both men working the ankle of Bourne before the tag is made. As Swagger enters the ring, he immediately sets up for Swagger Bomb, hitting it with perfection, only getting a two-count in the process.
Swagger and DiBiase begin to isolate Bourne away from Kingston, keeping them from tagging in. Double team action continues in the corner, dominating Bourne. Jimmy Uso is shown outside of the ring, remaining unfazed by what's going on in the ring, almost zoning out.
After a few minutes, Swagger is in total control of Bourne, even keeping Evan from getting a single offensive move in. Swagger irish whips Bourne towards the ropes, inadvertently knocking DiBiase off of the apron. Swagger doesn't even flinch as he continues to attack Bourne inside the ring.
The camera pans over to Kingston, looking frustrated at the goings ons inside the ring while he's forced to watch. Before Kofi realizes it, he's being ripped off of the apron by DiBiase and attacked on the outside. The referee doesn't realize what's going on as Swagger applies the ankle lock to Bourne.
Bourne, in searing pain, looks to crawl towards his tag partner to attempt a tag, but finds that his corner is empty. DiBiase continues to work on Kingston on the outside of the ring. He even goes as far as to throw Kingston under the ring, making him invisible to the the official.
DiBiase returns to his corner before the ref can realize what happen. Swagger still has the ankle lock applied on Bourne, finally forcing him to tap out.
Tony Chimel: "Here are your winners, Jack Swagger and Ted DiBiase."
Jimmy Uso enters the rings, applauding his two mentees on a job well done.
Backstage Segment: Dolph Ziggler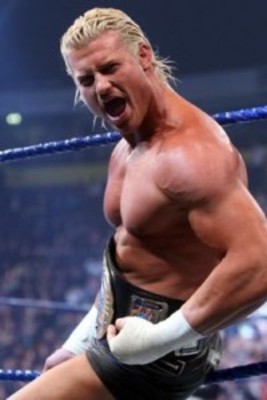 We return from commercial break as Dolph Ziggler is looking around backstage. He heads around a corner and meets up with Jack Swagger and Ted Dibiase after their match, who are talking with their manager, Jimmy Uso.
Ziggler: "Hey you two, nice match out there. You really showed something that is deserving of the SmackDown brand. A viciousness and intensity that really deserves to be representing SmackDown.
I am here to offer both of you a spot on the illustrious SmackDown Survivor Series team. If you can help us win next Sunday, I'm sure that our general manager will look favorably upon both of you. Having the general manager on your side is always a positive."
The two look knowingly back at Ziggler, understanding the hint he is dropping. Jimmy Uso comes forward to address Ziggler.
Uso: "Great tag teams know when to take an opportunity presented to them. Obviously, Jack and Ted accept wholeheartedly. Don't worry. We will not let our brand down."
The three shake hands with Ziggler one at a time, and then they leave. The Miz comes up to Ziggler as he smirks.
Miz: "Did you just choose two of our members without me?"
Ziggler: "I didn't trust your judgment enough here. I decided to take charge as captain and give us two winning members."
Miz: "Captain? I think you mean Assistant to the Captain. We all know that Michael Cole chose me as captain because I have actually lead a Survivor Series team to victory. If I remember right, you were on that team. How did you do again?"
Ziggler: "I said two weeks ago. That is all in my past. This time, I will lead our team to victory."
Miz: "I certainly hope you can last longer than three minutes this time."
Ziggler: "You know what? You choose the final member of the team. We'll see how he fares."
Ziggler walks away, and the camera stays on an angry Miz as we cut to the ring.
Match 5: Daniel Bryan vs. Kurt Angle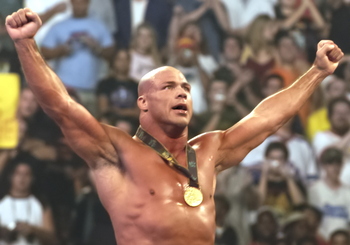 We find Daniel Bryan making his way to the ring, this time, without the briefcase. Matthews and Striker remind the audience of why this match is about to take place, citing Kurt Angle being fed up with Bryan's selfish attitude and poor showing of late. Angle is here to keep Bryan in line so he too can become a legend.
Angle's music hits to a huge reaction of the Liverpool crowd, even getting into the old time "You Suck" chants of old. Angle has a serious look on his face as he looks to battle another technical great. As Angle enters the ring, Bryan begins staring holes in Angle, waiting for his chance to prove himself.
The match begins and both men begin with a collar and elbow tie up. Angle starts to work his weight to his advantage, overpowering Bryan in the hold and bouncing back and forth off of the ring ropes, only to be met with a drop kick. Bryan quickly goes for the cover, but Angle kicks about before the count of one.
Bryan begins a headlock on Angle, attempting to wear down the bigger opponent. Angle, using his ring savvy and veteran knowledge, flips Bryan over his head to escape the hold, following it up with a clothesline.
Bryan refuses to back down, getting right back up, but is flung over Angle via an arm drag into an arm bar. Bryan starts to work his way out of it, but is unable to escape Angle's grasp. Angle turns Bryan and converts a belly-to-belly suplex, flinging Bryan across the ring, sending him to the outside.
Bryan gets up and realizes that he may be in trouble with this match. We cut to commercial break as Bryan reluctantly tries to enter the ring.
When we return, we see that Bryan and Angle are still feeling each other out. They stand face to face with intense looks in their eyes.
The two lock hands, looking to see who is the stronger of the two. Instead of trying to overpower Angle, Bryan begins to kick the thigh and work his lower body. After two successful kicks, Angle catches Bryan's foot and flips him over by a leg drag, locking on a leg lock.
In pain, Bryan starts getting angry, focusing most of his attention on Angle rather than trying to get out of the maneuver. With the hold still in place, you can hear Angle telling Bryan, "Come on, you can get out of this."
Bryan is finally able to work his leg out of the hold and flip himself into a pinning combination, only getting the two count. Immediately, Bryan starts grappling with Angle, except Angle flips Bryan around again, hitting not one, not two, but three consecutive German suplexes, pinning on the third, but barely able to get to the count of one.
Angle then begins to squeeze Bryan's mid-section, forcing the breath right out of him. At this point, the crowd is completely divided. Chants for Bryan are just as loud as those for Angle. Bryan starts to regain his strength and elbowing Angle's head to get out of the hold, only to be flung with yet another German Suplex.
Bryan regains his composure, looking to make a comeback in the match and still fighting for dear life. Bryan is noticeably exhausted while Angle appears he's barely had a match thus far. Angle approaches Bryan and tries to lock in the Ankle lock.
Daniel Bryan vs. Kurt Angle Continued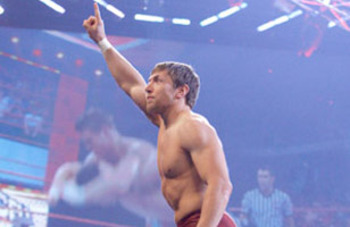 Before he can completely lock it in, though, Bryan rolls up and sends Angle flying to the outside of the ring. Bryan gets back up and realizes where Angle is. He runs off of one rope and flies through the other side, between the second and top rope, knocking Angle down.
Bryan starts to gain some confidence, pumping his fists in rapid fashion. He throws Angle back into the ring and slaps on an ankle lock of his own. Angle is thriving in pain but is able to work his way out of it, sending Bryan flying into the top turnbuckle.
As Bryan bounces off, Angle is right behind him and delivers an Angle Slam. Angle goes for the the cover, but Bryan is already up before he can attempt a pin, much to the suprise and the delight of Angle. Bryan throws a few punches, connecting on a number of them. He moves to fly between the ropes and suicide kicks Angle in the chest, knocking him on his back.
Angle gets to his knees, allowing Bryan to implement his famous series of body kicks. Four repetitive kicks plus one final blow to the head knocks Angle down, allowing Bryan to go for the pin, only managing a long two count.
Bryan begins to wonder what he has to do to win. Noticing Angle still on the ground, Bryan goes to the Lebel lock, with success. Angle is under tremendous pressure, and it appears he's going to tap out. Bryan is wanting and hoping for Angle to tap out, but the true American hero refuses to quit.
Angle starts crawling towards the bottom rope, being within a fingertip's length away from forcing a hold break. Bryan sees this and releases the hold, looking to drag him away. Unfortunately for him, Angle was playing possum and slapped on the ankle lock again.
Bryan is being tortured, almost crying at how much pain he is in. His face suddenly turns red, becoming upset of the circumstances. Angle begins to contort the left ankle, moving it from side to side, applying more pressure with every passing second.
Angle holds the ankle lock for a solid minute, but Bryan has yet to tap out. Angle's face turns from his serious look to that of puzzlement. He finally releases the hold on Bryan. As soon as he does, Bryan starts holding his ankle, still screaming in pain.
Angle then picks up Bryan and delivers another Angle Slam to him. He goes for the cover and gets the one, two, three.
Tony Chimel: "Here is your winner... Kurt Angle!"
Matthews: "Wow, what an amazing match. Bryan fought his heart out, but in the end, there was too much damage to the ankle for him to be able to continue. You have to give each man the respect he has earn for their match here tonight."
Angle does not cheer in victory. Instead, he walks over towards Bryan and stares at him as he tries to recover from the match. You can clearly see Angle say "Hell of a match, kid." He reaches his hand out for a handshake, which Bryan reluctantly accepts.
Rather than merely leaving after that, Angle helps Bryan get out of the ring and becomes his second leg in order for him to be able to make it to the locker room. Both men receive a standing ovation from the crowd as they both turn and thank them.
Main Event: John Cena and CM Punk vs. the Miz and Dolph Ziggler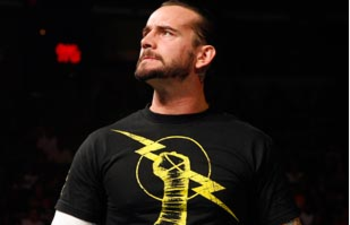 We are greeted out of the commercial break by the sound of The Miz's theme. He comes out and is quickly followed by Dolph Ziggler. Both men are given good heat by the crowd as they taunt the audience on their entrances and wait for their opponents.
John Cena's music hits to another wave of good heat, which Cena smiles about as he makes his way to bottom of the ramp and stares down Miz and Ziggler.
CM Punk hits the stage to a monstrous positive reaction. He makes his way down in typical fashion, soaking in the cheers. Punk walks right past Cena and enters the ring, causing The Miz to back down a few steps, which gets a smile from Ziggler, who seems unaffected.
All of the men get set in the ring, and the bell rings as Punk and Ziggler begin. Ziggler and Punk go back and forth with the action for a few minutes, swapping kicks and slams. The two keep up a quick pace until Punk hits a leg lariat putting Ziggler down hard. Punk then climbs to the top rope to try and hit a diving crossbody only to get hit hard by a highly elevated dropkick from Ziggler.
A tired Ziggler tags in Miz who works over Punk. The two employ classic tag team psychology as they isolate Punk and keep him away from Cena for about three minutes. Then Miz, who has gained a bit too much confidence at this point, taunts Punk and takes over half a minute to set up a kneelift.
Just as Miz runs to hit the move, Punk catches a breath of energy and hits Miz hard with a kick to the gut and an enzuigiri. The two men land hard, and both manage to reach their partners.
Cena, who is fresh at this point, goes on a tear, taking out Ziggler with shoulder blocks and taking Miz off the apron.
Cena is the only man left standing as we go to commercial break.
John Cena and CM Punk vs. the Miz and Dolph Ziggler Continued
When the commercials are over, Cena has control of a tired Miz. He holds him down and hits a few stiff punches. He then throws his strength around with an explosive belly to belly suplex. Cena taunts and goes for the five knuckle shuffle. He hits it for a two count.
Punk is finally recovered from the beating he took earlier and looks ready to fight again, though visibly worn out. Cena holds Miz's arms behind his back as he tags in Punk. Punk pulls out a springboard clothesline on Miz as Cena ducks out of the way. Punk then hits the diving elbow for a two count.
Punk tags back in Cena, who helps work over Miz until Miz hits Cena with punch to the gut and a neckbreaker. Ziggler gets into the action when Miz tags him in, and Cena and Ziggler stare down.
The two each taunt and then trade punches. Cena eventually gets the upper hand, taking down Ziggler. As Ziggler is reeling, Cena connects with a huge gutwrench suplex and taunts, preparing for the AA. He get Ziggler in position, with The Miz running in from around back trying to surprise Cena with a shot.
Punk sees Miz coming in and tries to stop him. As Miz goes for a clothesline, Punk tries to hit a roundhouse kick. Unfortunately, The Miz ducks, and Punk grazes Cena. Cena drops Ziggler and turns toward Punk. The chaos is mounting as Punk and Cena stare down, and the Miz bails from the ring.
The referee is trying to get a hold of the mounting craziness when the Miz pulls Punk out of the ring. Cena, still confused, is hit by the Zig Zag from Ziggler. Ziggler goes for the pin as Punk tries to get Miz out of the way and save the match. The referee counts three as Punk cannot save his partner.
Tony Chimel: "The winners of this match, Dolph Ziggler and The Miz."
A frustrated Punk hits Ziggler as he rises with a roundhouse kick, which sends Ziggler to the mat. Cena rises and backs up, worried that Punk will kick him as well. The two stare down as Miz and Ziggler and bail out the ring holding their heads in pain but smiling.
Cena and Punk stare down both each other and their two opponents not sure what to do. The show ends with Punk and Cena staring each other down.
And the Credits Roll!
And that's the end.
Tune in next time to see how everything shapes up going into Survivor Series. Who is behind the attacks on the Divas? What is the next step for Daniel Bryan and Kurt Angle? How will Punk and Cena react on their final night before the WWE Title main event match between them at Survivor Series?
Remember to rate this show on a scale from 1 (horrible) through 10 (awesome).
If you enjoyed the show, keep a watchful eye for the show each Thursday night at 7:00 p.m., as one will be published each week, either by me or Nathan Giese.
Leave any comments—and thanks for reading!
Keep Reading