Cleveland Browns: 6 Predictions for the Second Half of the Season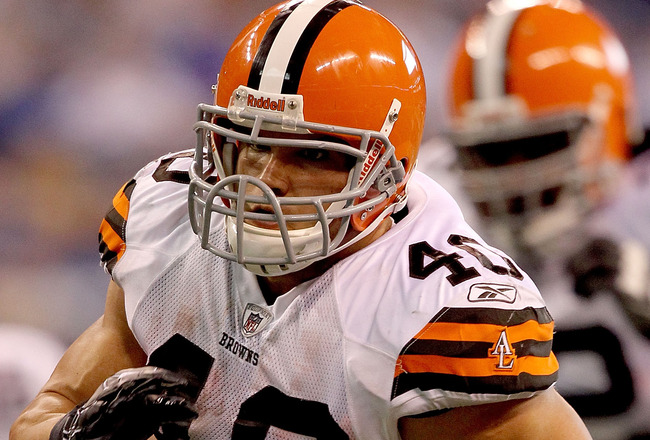 Matthew Stockman/Getty Images
Seven games down, nine to go.
At the midpoint of the 2011 season, the Browns are 3-4 and alone in the AFC North cellar behind perpetual powerhouses Baltimore and Pittsburgh and the surprisingly good Cincinnati Bengals.
So far most of us have been disappointed or frustrated by what we've seen on the field from the Browns this year. But it's tough to say whether they're truly falling short of expectations, or if we're just witnessing growing pains that are all part of The Plan.
As for the 3-4 record at the season's halfway point, I think it's weaker than what we hoped, but probably as good as any of us really expected.
The Browns are coming off a very frustrating loss to the 49ers, so this is a tough time to evaluate the team objectively when everyone, from the team to the fans, seems to be exasperated with them.
At the moment, it's tough to separate out whether we really feel like Holmgren's master plan isn't working as it should, or if we're simply getting fed up about having to wait through yet another disappointing year before we see results, even if we were warned that might happen.
For now, most of us have a lot more faith in the defense's ability to fulfill Holmgren's promise of 2012 than the offense, but there's really no way to say for sure yet. We'll have a much better idea of whether the Browns are close to being on track for their long term goals when this season ends.
So what will be in store for Browns fans in the second half of the 2011 season? Nothing is certain in football (especially football in Cleveland), but here are six big predictions for the Browns in their final nine games of the year.
1. Peyton Hillis Will Come Back to Life on the Field, but Off-Field Drama Won't Die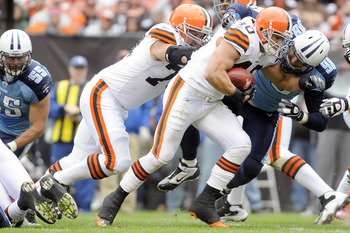 Jason Miller/Getty Images
For the last time, there is no such thing as a Madden Curse. There is no little wizard hiding inside the video game case casting spells on the guy on the cover (although that does sound kind of intriguing, come to think of it).
But in all seriousness, the only responsible party for "cursing" Hillis is the Browns.
You can make the argument that Hillis could in part be a victim of his own hype, but mostly he's a victim of the fact that the Browns a) let Lawrence Vickers depart in free agency and b) were forced to overuse him all last season and at the beginning of this one due to lack of depth at RB.
Personally, I could care less what video game cover Hillis graces or who he married midseason. I only care about the fact that the Browns running game is in shambles because the Browns' ace in the hole went down in a heap, and they were bluffing the rest of their hand.
Hillis' injury is obviously an ongoing concern, especially now that Hardesty has predictably injured himself again. They went out and signed Thomas Clayton this week, which tells us that they still don't think Hillis can be the go-to guy 100 percent of the time just yet.
But all is not lost. Provided Hillis can get healthy, and I think that he will, you can bet he'll return with a vengeance and seek to prove his many detractors wrong. I fully expect to see Hillis come on in the second half when his hamstring is healed and give the Browns rushing game that big boost they so desperately need.
It's pretty clear at this point that he won't come close to matching his totals from last season, but Hillis is a fighter, and I expect he'll find redemption in the final nine games of the 2011 season, even if the off-field drama surrounding him continues to persist.
2. Greg Little Will Break Out as a Possible No. 1 WR for the Browns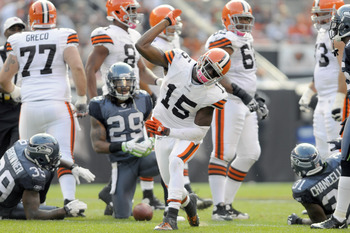 Jason Miller/Getty Images
Nobody expected the Browns passing game to be fixed overnight, due to the lack of a clear-cut No. 1 receiver going into 2011, but most of us have to admit we thought things would be going better than they are right now.
A lot of the failures in the passing game are the result of bad play calling, but just as many are the result of the fact that it takes a long time to get a West Coast offense synced up correctly, especially with a young QB and young WRs.
At the close of 2011, the Browns will undoubtedly still have some issues at WR. They'll still lack the kind of depth of talent required to make their passing game a true threat. But you can bet that they'll be better off than they appear right now, and rookie Greg Little will be a big part of that.
With the exception of last week, where the entire team pretty much went off the rails, Little has been steadily improving each week this season, especially since he was named a starter.
And he's only going to get better from here. Little is proving worthy of his second-round draft slot, and has displayed proof of all the skills he was supposed to have back at draft time: good separation, good yardage after catch, and excellent aggression.
I don't expect Little to put up any monster numbers this season, but I do expect he'll continue to improve, and that improvement will be capped by a breakout game some time within the next couple of weeks. It won't turn the passing game around overnight, but it should give Browns fans some hope for the future and prove that Little will be a valuable part of this offense when it does finally come together, ideally in the early part of 2012.
3. The O-line Will Be as Bad at the End of the Season as It Was at the Beginning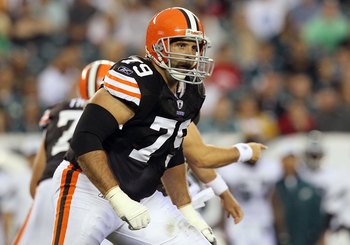 Jim McIsaac/Getty Images
Unfortunately, there is one part of the 2011 Browns team that I do not expect will make much progress from now until the end of the season: the offensive line.
The Browns made a mistake in trying to patch together a serviceable right side, and we've seen all too clearly what happens when you try to fix a 300-pound hole at right tackle with a band aid.
I don't relish attacking a team that warned that it wouldn't be ready by this point for, well, not being ready, but the fact is that the Browns' line is woefully behind in its progress, and it isn't getting better.
And it's not just the right tackle spot. With the exception of Joe Thomas and Alex Mack, the whole line is severely underperforming. Some of that will get better, but some of it simply can't with the personnel currently in place.
That's not going to change in the next nine games, frustrating as it may be. The Browns need to make personnel changes on the line (as well as add some solid depth to it) before they can protect McCoy and give the rest of the offense some breathing room, and that won't happen until the offseason.
Whether through the draft or free agency, the Browns need to aggressively pursue help for their line this offseason. Until they do so, it is unrealistic for us to think that McCoy and his young corps of receivers can be productive.
4. Colt McCoy Will Improve His Numbers by Going to His TEs More Often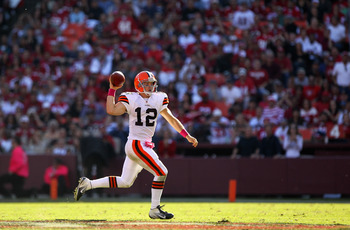 Ezra Shaw/Getty Images
QB Colt McCoy has become a polarizing figure among Browns fans; some will defend him to the death, others would like to run him out of town on a rail.
That McCoy's performance has been a disappointment so far in 2011 is a sad but true fact. But just how much of it is his fault, and just how much of it can we expect to change?
Personally, I remain a believer in McCoy. Could he turn out to be a flop? Sure, but we have no way of knowing that at this point. Behind the line he's got and with the playcalling he's been subjected to, there are very few quarterbacks (and I'd venture pretty much no rookie quarterbacks) who could emerge from this looking even halfway decent.
McCoy, as many of us warned might happen before the season began, is far more a victim of the team around him than he is of his own shortcomings. Truthfully, we don't even know how much impact his own shortcomings will have yet, because they're buried under the more severe ones belonging to his offensive line and his head coach's decision making.
The good news, at least for now, is that McCoy is a winner, and winners seem to find ways to set things right, even if they can't completely repair the damage by themselves.
Regardless of whether he can make it translate into wins just yet, McCoy can fix some of his own problems and improve his stats by focusing on what works. That means going primarily to his TEs rather than his WRs, a strategy which has worked nearly 100 percent of the time since he landed in Cleveland, whether it was intentional or not.
Obviously using only one small group of your targets isn't a long term solution; nobody thinks the Browns will go to the Super Bowl in the future by throwing only to tight ends. But for now, McCoy can spare himself a lot of criticism (and maybe even eke out a few wins along the way) by going to the guys he knows he can rely on.
5. The Browns Will Pull off a Big Upset in the Second Half of 2011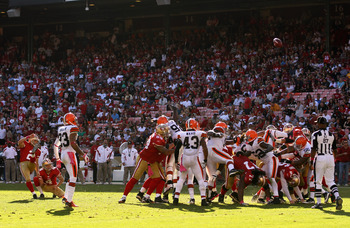 Ezra Shaw/Getty Images
Last season, the Browns pulled off two huge upsets against teams who never saw them coming: the Patriots and the Saints.
This year they've yet to pull off a similar coup, but I'd wager a bet that it will come eventually.
The Browns' strength of schedule is much tougher in the second half of the season than it was in the first, which is bad news for their overall record but good news in terms of their chance to wrangle a big upset.
Obviously, we'd all prefer to be the team preventing being upset than the one threatening to upset someone else, but that doesn't mean we can't all derive great pleasure (and some much-needed motivation) from spoiling someone else's weekend.
This season, I expect the team who the Browns will surprise will be Baltimore.
Granted, I don't expect the Ravens to fall victim to the Browns for the same reasons the Patriots and Saints did last year; Baltimore is in our division and they won't be underprepared for us or make the mistake of not taking us seriously.
However, they've already been upset twice this season by teams far weaker than they are, and arguably teams weaker than the Browns. As much as it appeared different at the start of the season, the Ravens are far from invincible, and the Browns, like any division opponent, will know where the weak points are better than anyone else.
Upsets are about as easy to predict as the Raiders' draft choices, so obviously there are no guarantees. The Browns could stage three upsets before the end of the season. They could miss out on nailing a single one. Or they could simply pull off their surprise win against a different opponent.
But so long as we're in the mode of making predictions, I'm choosing Baltimore as mine. It won't be easy and it's far from guaranteed, but I believe the Browns have at least one surprise victory in them some time in the next nine games, and Baltimore looks like as good a target as any for it. We're coming for you, Mr. Modell. Consider yourself warned.
6. The Browns Could Finish 7-9, but Will Still Be Last in the AFC North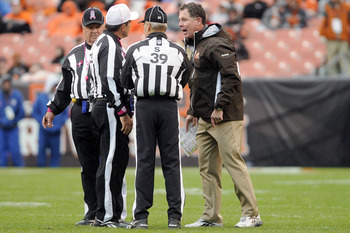 Jason Miller/Getty Images
Predicting the Browns' final record for 2011 feels about as easy as predicting an upset right now, but we can certainly try to venture an educated guess.
The Browns are 3-4 right now with nine games to go. Given their upcoming schedule and what they've done so far, the smart money is probably on 6-10.
The Browns went 5-11 last season, and I don't see any way they don't top that. However, I don't see them topping it by much.
If the Browns were to beat Jacksonville, St. Louis, and Arizona and nobody else, that 6-10 mark would prove true. If they get the predicted upset against Baltimore (or anyone else), they could finish as high as 7-9.
Maybe they even drop one of the games they should win and get that upset, which would put them right back at 6-10.
I would consider a 7-9 season a success for the Browns, given where they are in their development and what they've done in the first half. Unfortunately, as competitive as the AFC North is this season, whether they go 5-11 or 8-8 or anywhere in between, they'll likely still land in last place in the division.
That's certainly a frustrating finish for a team that is still looking to rise from the ashes of Art Modell's heist of the team all those years ago, but it was pretty much to be expected.
Granted most of us thought Cincinnati would be far worse than they are and possibly finish behind us in the standings, but that really doesn't matter much in the grand scheme of things. Mostly what it comes down to is that at 6-10 or 7-9, the Browns would be about where we thought they would be at the close of 2011.
As for 2012? Here's hoping.
Keep Reading

Cleveland Browns: Like this team?