Big Ten Predictions: Can Penn State Take the Leaders Division?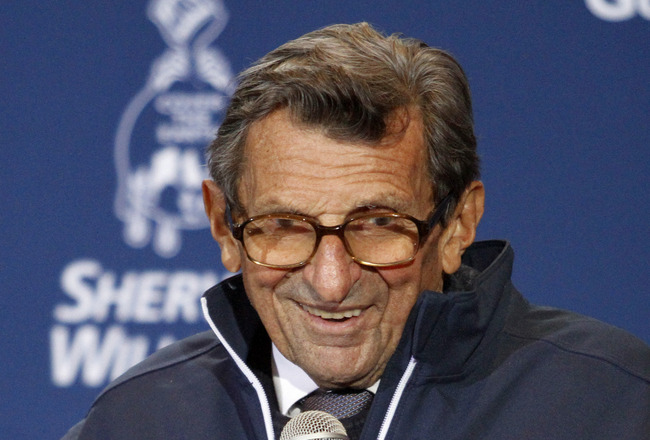 Justin K. Aller/Getty Images
Joe Paterno (AKA "JoePa") proves you are never too old to coach a college football team.
Last year his Penn State team finished 7-6 (4-4 in the Big Ten), and there were detractors saying it was time for the 84-year-old coach to say adieu to Happy Valley. This year the Nittany Lions sit atop the Leaders Division with a pretty good chance of playing for the Big Ten title in Indianapolis.
However, there are still four weekends of games left on the conference schedule and at least three other teams that have something to say about who wins the Leaders Division title.
No. 1: Penn State Is at the Top of the Division and Plans to Stay There
Justin K. Aller/Getty Images
Running back Silas Redd (No. 25 in the picture) and his Penn State teammates have a number of reasons to jump for joy.
They haven't lost a game since they were rolled by the "Tide" (Alabama) the second weekend of the season. The Nittany Lions are 8-1, undefeated in the Big Ten and No. 16 in the BCS rankings. This weekend they have a bye in their schedule.
Now here comes the pain. They have the toughest schedule of any of the Leaders Division contenders:
Nov. 5: BYE week
Nov. 12: Nebraska
Nov. 19: @ Ohio State
Nov. 26: @ Wisconsin
Best-Case Scenario
The Nittany Lions manage to beat all three teams, though Nebraska is No. 10 in the BCS and Wisconsin is No. 20. Ohio State is also undefeated in the division, so they have a legitimate shot at being the top team in the division.
Worst-Case Scenario
Penn State loses all three games. They finish 8-4, but get invited to a second-tier bowl game.
Likely Scenario
They win one of the three games—the real quandary is, who will they beat?
If they lose to the Buckeyes and the Badgers, the title hopes are burnt toast.
If they lose to the Cornhuskers and the Badgers, we could end up with a three-way tie atop, and the Big Ten would have to invoke the tie-breaker rules.
If they lose to the Cornhuskers and Buckeyes, the Nittany Lions are going to need outside help to finish at the top of the division.
Right now, if you press me, I am leaning toward a Nittany Lion win at home against Nebraska.
No. 2: Dot the "i" Because Ohio State Is a Legitimate Contender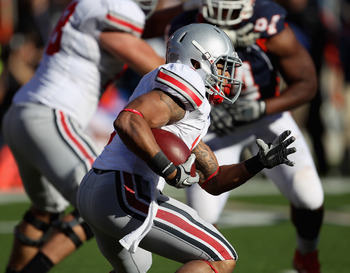 Jonathan Daniel/Getty Images
It has been said that the right personnel makes a big difference in football, and the Buckeye fans say, "Amen."
Ohio State was 3-3 before running back Daniel Herron (pictured) returned to the lineup in Week 8. They have since beaten Illinois and Wisconsin the last two weeks, and Herron has run for 274 yards and one touchdown.
Head coach Luke Fickell deserves a lot of credit for holding his team together through some tough on-the-field and off-the-field losses. He has stuck with freshman quarterback Braxton Miller, who ran for two touchdowns and 99 yards against Wisconsin.
The Buckeye defense is steady and deep. They can easily go into a "dime" defensive package and still create havoc for opponents. Ohio State is also blessed with the least difficult schedule of the contenders:
Nov. 5: Indiana
Nov. 12: Purdue
Nov. 19: Penn State
Nov. 26: @ Michigan
Best-Case Scenario
The Buckeyes win their last four games and claim the Leaders Division title. The toughest test is facing Penn State at home, and that could be the next-best game to the title contest in Indianapolis.
Worst-Case Scenario
Ohio State loses to Penn State. You expect them to beat division rivals Indiana and Purdue, but a loss to the Nittany Lions would be lethal.
Likely Scenario
The Buckeyes win all of their division games and lose to Michigan.
(Hey, I live 30 minutes from The Big House in Ann Arbor.)
It would put an interesting twist on the season if losing to the Wolverines enables Michigan to claim the Legends Division title.
No. 3: Oh (not "On"), Wisconsin, You Need Some Outside Help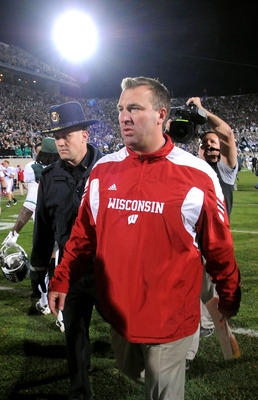 Mark Cunningham/Getty Images
As Wisconsin head coach Bret Bielema (pictured) walked across the Spartan Stadium field after a last-second loss to Michigan State Oct. 22, could he have anticipated his team would lose another close game to Ohio State last Saturday?
The season looked so promising for Wisconsin. They were an impressive 6-0 and a Top 10 BCS team.
Road games betrayed the Badgers. Losses to the Spartans and the Buckeyes have put Wisconsin on the edge of elimination for the division title. Penn State and Ohio State are unbeaten against division opponents, and the Badgers' schedule is somewhere between the two States in difficulty:
Nov. 5: Purdue
Nov. 12: @ Minnesota
Nov. 19: @ Illinois
Nov. 26: Penn State

Best-Case Scenario
The Badgers win their last four games and hope Penn State beats Ohio State. Tie-breaking rules may come into play depending on how well or poorly the two States finish the regular season.
Worst-Case Scenario
Wisconsin loses to either Purdue (unlikely) or Illinois (spoiler alert). A second loss in their own division eliminates the Badgers, so they must beat the Boilermakers, Fighting Illini and Nittany Lions.
Likely Scenario
They win all four games, but lose the division title because Ohio State beat the Badgers last Saturday. It seems unfortunate that Wisconsin could finish 10-2 and not play in the Big Ten title game.
No. 4: Illinois Won't Win the Title, but Could Determine Who the Winner Is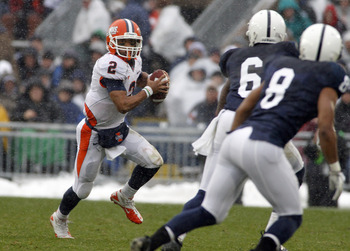 Justin K. Aller/Getty Images
Illinois quarterback Nathan Scheelhaase (pictured) has seen his share of football battles this year.
Scheelhaase rallied his teammates to beat Northwestern late in their game and tried his best to hand Penn State their first Big Ten loss of the season.
The problem is the Fighting Illini have been battling inconsistency all year. They can look very good or very bad, and the bad part has led to three losses in their division.
Maybe their one piece of solace can come by playing spoiler for a contender in each division:
Nov. 5: BYE week
Nov. 12: Michigan
Nov. 19: Wisconsin
Nov. 26: @ Minnesota

Best-Case Scenario
The Illini win their last three games, finish 9-3 and are rewarded with an invitation to an attractive bowl game.
Worst-Case Scenario
They lose all three games to finish 6-6 and possibly get an invitation to play in one of the lower-tier bowl games.
Likely Scenario
They beat Minnesota, lose to Michigan and Wisconsin, finish 7-5 and go to one of the lower-tier bowl games.
Keep Reading

Penn State Football: Like this team?