10 Houston Texans Facing Most Pressure in Second Half of Season
November 1, 2011
Bob Levey/Getty Images
It's make or break time for the Houston Texans as we enter into the second half of the 2011 NFL campaign. With the team sitting at 5-3 and on top of the AFC South this late in the season for the first time in the history of the franchise, they'll be facing something they never have before; expectations.
With the toughest part of the schedule behind them, Houston is the favorite to win their first division crown and head to the NFL postseason for the first time in 10 opportunities. But with expectations comes pressure. Not only on the team, but on individuals. Here are 10 of said individuals that I think will be facing the most pressure in the second half of the season.
Jacoby Jones: This one is a given, based off of his fan criticism this season. Fact of the matter is that with Andre Johnson out, Jacoby Jones had every opportunity to prove he deserved the stupid money the team gave him in the offseason. He has yet to do so and with Andre on the mend, he may have missed his window. If he wants to be here next season, he needs to make an impression.
Brooks Reed: In an ideal world, Reed would have had no pressure on himself this season, Just learn the scheme, pay attention and learn from Mario Williams. Unfortunately, with Mario being lost for the season, Brooks has to grow up fast and not be a liability.
Kareem Jackson: Regardless of how many times Gary Kubiak stands at that podium and says Jackson is a starter, no one is buying it. The team is too proud to admit they blew it with this pick and Kareem is doing little on the field to make his coach look good. He's about to lose his job permanently to Jason Allen.
Earl Mitchell: You haven't heard much about him this season because Shaun Cody has turned into a decent player in Wade Phillips' scheme. But when Cody had to leave a game earlier this year Mitchell was a sieve in the defensive front. He better improve or he might be replaced in the next draft.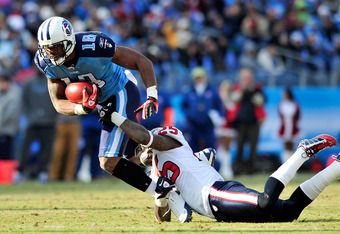 Grant Halverson/Getty Images
Lawrence Vickers: Most fans, including myself, thought that it would be an easy transition going from Vonta Leach to Vickers since they played such a similar style of fullback. However, the emergence of James Casey has made him an overpaid special teams player. With Casey out due to injury, Lawrence hasn't done much. With his salary, he could be back in the unemployment line if he doesn't improve in the second half.
Brandon Harris: I'm still not sure if Harris has yet to impress his coaches or if they're just bringing him along slowly, but he has yet to see any real time on the field this season. As a second-round pick, and Kareem Jackson playing poorly, many thought he'd see some time in the nickel this year, at least. But even with injuries, he's yet to see the field. If it isn't a case of them bringing him along slowly, he needs to step up in practice to get out of the dog house.
Bryan Braman: No matter how good of a story that many fans and media members say he is, that isn't enough to keep you on an NFL roster. The fact that Mario went down and Jesse Nading, who was on the practice squad prior to that, is getting snaps over him speaks volumes. He's been decent on special teams, but that might not be enough to keep him around if he doesn't improve.
Shiloh Keo: The only chance this guy has is to be a special teams demon. He's not an NFL-caliber safety and he never will be. The fact that he was taken in the fifth round of the draft is likely the only reason he's even here. But if he as much as misses an easy tackle on a kick return, he could be out of the league for good.
Derrick Mason: Sure, the Texans only gave up a conditional seventh-round pick for him, but to justify the money he is due in 2012 Mason needs to solidify himself as the permanent slot receiver without a doubt. After three weeks with the team, a veteran like Derrick should be familiar enough with the playbook to not hurt the offense. He needs to make himself noticeable in practice and earn some playing time.
Gary Kubiak: I bet you knew this one was coming, huh? The fact remains that now, more than ever, it's make or break time for Gary Kubiak. If the Texans struggle to a 9-7 record and get shelled in the first round of the playoffs, I'm not sure that his job is safe. And it shouldn't be. This schedule is softer than Charmin in the second half and you have James Casey and Andre Johnson coming back. The Kubiak regime is out of excuses with the defense ranked third overall in the NFL. The time for promises are gone...it's time for results.