Indiana vs. Ohio State: TV Schedule, Live Streaming, Radio, Game Time and More
November 1, 2011
Kirk Irwin/Getty Images
The Indiana Hoosiers will travel to Ohio to take on the Ohio State Buckeyes in a game between two teams whose football standing in the Big Ten couldn't be any different. 
The Buckeyes are a perennial power, while Indiana is a doormat. 
Ohio State is heavily favored and on a two-game winning streak. Their last game was a win against Wisconsin in one of last week's best games.
Where: Ohio Stadium. Columbus, Ohio.
When: Saturday, November 5 at 12 p.m. EDT
Watch: Big Ten Network
Listen: WHCC 105.1 FM in Bloomington. WBNS-AM 1460, WBNS-FM 97.1 in Columbus. Streamed at Game Tracker.
Betting Line
Ohio State (-28) according to Bodog. You always have to be aware of favorites like that, especially when they have been inconsistent. But I am going with the Buckeyes to cover here. Indiana is just not a very good team, and Ohio State is playing good football.
Key Storyline
Will Ohio State continue to play well with the return of their suspended players? The Buckeyes have played very well since they have been back. Indiana doesn't seem like the team to break that.
Who Might Not Play for Indiana
Indiana RB Darius Willis (ankle), T Josh Hager (knee), WR Duwyce Wilson (knee), and K Nick Freeland (knee) are out for the year.
Indiana CB Peter St. Fort (suspension), and QB Dusty Kiel (ankle) are out.
Indiana S Jarrell Drane (ankle), S Donnell Jones (ankle), LB Jeff Thomas (shoulder), and C Will Matte are questionable. 
Who Might Not Play for Ohio State
Ohio State DL Nathan Williams (knee), WR Verlon Reed (knee), and LB Jordan Whiting (knee) are out for the season. 
Ohio State WR DeVier Posey (suspension) is out until November 19.
Ohio State RB Adam Homan (knee) is out indefinitely. 
BCS/ Top 25 Implications
Very little. Neither team is a real factor in the Big Ten race. Ohio State has an outside shot at getting ranked at some point this season, but beating Indiana won't put them over the edge.
What They're Saying
Ohio State WR Devin Smith caught the winning touchdown against Wisconsin felt that that grab was a sign that the unproven Buckeyes' receivers are better than people thought. He had this to say to Tim May of the Columbus Dispatch.
"Everyone, the media and all, they don't believe in us...But in that room, the receiver room, we all believe in each other. (Receivers) coach (Stan) Drayton has this chain with everyone's numbers on it, and we all believe that we are locked in, that we're linked up."

Indiana Player to Watch
RB Stephen Houston will need to be great. Indiana's only chance of keeping this game close is to keep Ohio State's offense off of the field. That won't happen without a great game from Houston.
Ohio State Player to Watch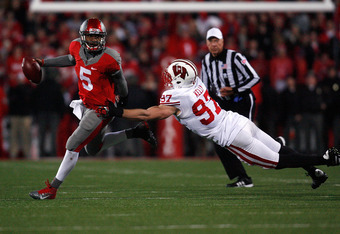 Kirk Irwin/Getty Images
QB Braxton Miller. If he is even decent, Ohio State will win easily. Their only chance at losing is if they turn the ball over too many times.
Key Matchup
Houston vs. the Ohio State defense. The Buckeyes are really showing improvement. A bad performance wouldn't likely cost them anything in this game, but it wouldn't be a good sign for a tough finishing stretch.
On the Hotseat
Ohio State coach Luke Fickell has been inconsistent in his first year as the Buckeyes' head man. His job is probably not on the line, but he does need a strong finish to the season to take stay off of the hot seat next season.
Prediction
Ohio State is far from a perfect team, but Indiana is not the team to expose their flaws. They win this one easily. 
Ohio State 41, Indiana 6.