New York Rangers 101: Grading Each Player from Game 10 vs. San Jose
November 1, 2011
Chris Trotman/Getty Images
After every game of the 2011-2012 season, each Rangers player will be assigned a letter grade based on his individual performance, impact on the game, and outlook going forward.
In Game 10 of the regular season, the New York Rangers defeated the San Jose Sharks 5-2, upping their record to 4-3-3.
Let's take a look at the grades:
Grade: A
Ryan Callahan
Captain America scored twice and added an assist against San Jose in what I consider to be his best game of this young season. He may not have the natural talent of a player like Marian Gaborik or Joe Thornton, but this kid will work for you night in and night out.
His second goal was a testament to his work ethic, as he dove forward from behind the goal line swinging his stick around and burying the puck in the back of the net. Callahan ended up flat on the ice, but the smile on his face said it all as he seemed as shocked as everyone else in the Garden that the puck went in the net.
Brandon Dubinsky
You really get the feeling that Dubinsky is ready to go on a scoring bender – his play has been getting better and better of late to the point last night where he was an absolute monster on the ice. He is playing on a line with Richards and Callahan that has obvious chemistry, and right now the pucks are simply finding Callahan more often than Dubinsky. Despite a big goose egg in the goals column, Dubinsky still has 5 points in 10 games and last night made a fantastic play on a two-on-one opportunity to set up Stepan for the Rangers second goal – some really inspired play from Dubi of late.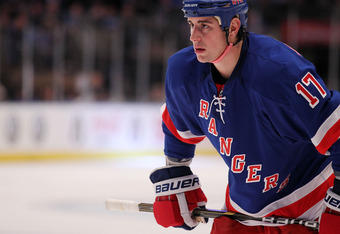 Nick Laham/Getty Images
Ryan McDonagh
In 2007, Michael Rozsival scored 13 goals becoming the last Rangers defenseman to post double-digit goals in a season. It's sure looking like Ryan McDonagh is going to change that by the time game 82 rolls around. This kid just has it – the way he can read a play and pinch at exactly the right time is pure instinct and not something that can be taught. I would still like to see some improvement on the power-play, as I still think he falls behind Richards, Girardi, and Del Zotto on the QB depth chart, but with his quick release shot I could see him moving up that list pretty quickly.  
Dan Girardi
It's no secret by now that I think the world of this guy. With the struggles of Henrik Lundqvist in the past few games I would undoubtedly call Girardi the MVP of this team so far. Yes, the blame for the second San Jose goal fell mostly on his shoulders (whether you want to look at the bad clearing attempt or weak play on Joe Pavelski in front of the net), but I truly don't think the Rangers win this game without his 25 minute effort tonight.
The one shift that Eminger and Woywitka were stuck out on the ice against San Jose's top line just goes to show you how tough it is to play against a tandem like Thornton and Marleau.  Girardi, along with McDonagh, did a fantastic job against these guys, blocking three shots and registering another multi-point night.
Wojtek Wolski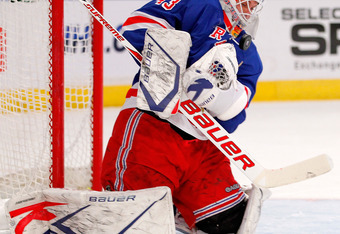 Paul Bereswill/Getty Images
If not for the fact that Wolski failed to record a point I would have strongly considered naming him as the number one star of the game. He was a beast all over the ice last night, recording seven shots on goal in just over 15 minutes of ice time. There are only a handful of players in this league that can boast Wolski's skill-set on the offensive end. When he combines his natural talent with an all-out hard-working effort, he can be very difficult to stop.
Brad Richards
For the second game in a row Richards looked like the player we paid an arm and a leg to sign. Every pass he makes is on the tape and his creativity matches any player that the Rangers have had over the past decade.
All summer we've been dreaming of the Richards to Gaborik connection, but I think Callahan and Dubinsky will do just fine with our high priced hero. The first person to comment with a creative name for that line wins a season long subscription to Rangers 101!
Marian Gaborik
No points, no problem. On a night when others stole the scoring spotlight, Gaborik was as quick and dangerous as we have seen all season as he took another step forward in proving that last season was a fluke.
I think that Gaborik has been particularly accountable in his own end. It's pretty clear that while he is not naturally a defensive-minded player, he has been coached to the point that he has committed to his responsibilities in the defensive zone. His reactions may be a second or two delayed, but when he has to come back for a puck or go into a corner to make a defensive play, he does it, and goes all-out – not something that shows up on the scoreboard but something that will help this team win.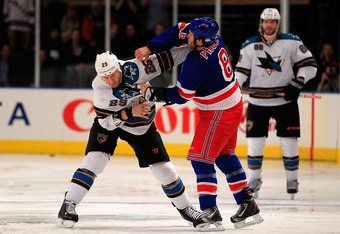 Chris Trotman/Getty Images
Michael Del Zotto
Very quietly, Del Zotto may have been one of the best Rangers players on the ice last night. He seems to be coming into his own as a point-man on the power-play, demonstrating excellent chemistry and puck movement with fellow point man Brad Richards. It's nice to see that even though the Rangers went out and purchased a power-play QB, they still have a guy in Del Zotto who is developing into one as well.
Del Zotto and defensive partner Michael Sauer were nearly flawless as a tandem against one of the most high-powered offensive attacks in the NHL. If Del Zotto can be at least average defensively, his contributions on the offensive end (plus-two, sick stick move around a San Jose defenseman almost leading to a goal) will keep him cemented on this roster for years to come.
Michael Sauer
You want to talk about a defensive anchor, an absolute stopper that will not give an inch in the defensive zone – you're talking about Michael Sauer. He is not a dynamic offensive player, which complements Del Zotto nicely as a defensive partner, but he is a beast in his own zone. He's not yet up over 20 minutes, but he'll get there. Last year Sauer led the Rangers in plus/minus, and may very well do it again.
Grade: B
Erik Christensen
When put with the right players... Given the right amount of ice time… After a few hard practices… Eh, I give up – I have no explanation for how Christensen did what he did last night. He made not one, but two absolutely perfect passes to set up Callahan and Anisimov late in the second period for his first two points on the season. While I wasn't overly satisfied with his play throughout the remainder of the game, you have to give the guy credit for taking advantage of some well deserved (?) power-play time.
Artem Anisimov
In his first two seasons in the NHL, Anisimov has proven to be capable of breaking out a highlight reel play at any moment. Tonight he did just that, roofing a backhand shot over Niemi's left shoulder off a beautiful feed from Christensen. Despite the goal, however, I still think Anisimov is struggling with his confidence. He seems to be pushing the puck rather than stick-handling, and has not yet regained his usual poise in the offensive zone. Unfortunately, I see more fourth-line duty for Anisimov over the next few games.
Derek Stepan
Good to see you on the scoreboard Mr. Stepan. Give some credit to Stepan for keeping his stick down on the ice for his first goal of the season, but most of the credit goes to Dubinsky who made a sensational play on the two-on-one fast break.
The Wolski-Stepan-Gaborik line looked pretty good last night and thus far has proven to be a second line capable of providing secondary scoring. Having said that, I thought that Gaborik and Wolski were on top of their game last night and, as such, I expected to see Stepan create a few more scoring opportunities outside of his goal early in the first period. He had one other chance that I can recall, but, as has become the custom, missed the net by a wide margin.
Martin Biron
Biron earned his second win of the season last night to maintain his undefeated record on the young season. I can't stress enough how important it is for this team to win with Lundqvist on the bench. The more rest he has, the fresher he will be at the end of the season and we all know that they are going nowhere in the playoffs, if they even make it, without Hank at the top of his game.
Grade: C
Andre Deveaux
Years from now our children will ask us, who was the unfortunate player who lost a roster spot to allow Sean Avery to make his triumphant return to New York? Without a second's hesitation, we will tell them that it was none other than Andre Deveaux. Chances are that Deveaux's 30-second power-play shift and laser shot into Niemi's chest will not be enough to keep him in the lineup on Thursday, so it was nice while it lasted. Nice job by the Bahamian with a plus-one – Deveaux made more of an impact in one game than Newbury did in nine.
Brandon Prust
Prust opened up the game with a bang, dropping the gloves with the bigger Ryan Clowe and showing the Garden faithful that the Rangers had come to play. I love his mentality but watching Prust get swung around like a rag-doll game after game is getting exhausting – he's not losing these fights, but he's certainly not winning them either. Prust's obligatory fights are a complete waste of time in my opinion – I think the Rangers as a whole need to start picking their spots and throwing fists when warranted by emotion (think Dubinsky against Mike Richards/Alex Ovechkin).
Brian Boyle
Boyle wasn't terrible in this game, but I'm still not seeing anything from him, or Fedotenko and Prust quite frankly, that has me convinced that he can produce enough to center the Rangers third line. Perhaps these three are better suited for fourth-line duty – throw the body around, grind to keep the puck deep, and tire out the opposing defenseman. Avery-Anisimov-Christensen would be a fine third line, right? Gulp.
Grade: D
Jeff Woywitka
In a recap from a game earlier this season I had commented that while I was satisfied with Woywitka's steady defensive play, I was concerned that he might be exposed against some of the more high-powered teams in the league. Well, San Jose is certainly high-powered and Woywitka was accordingly exposed.
The never-ending shift against the Thornton line resulting in the second goal against was an absolute disaster. Even outside of that, Woywitka seemed to be on his heels all night, playing constantly in his own zone. Yes, he threw in a nice secondary assist, but that had very little impact on the eventual goal that was scored. I'm not optimistic about that kind of impact that Woywitka will have going forward. 
Steve Eminger
When this team is fully healthy, Eminger is a 7th defenseman. He has answered the call and played some solid hockey in Staal's absence, but expecting him to play 15-plus minutes a game of flaweless defense is wishful thinking.
Ruslan Fedotenko
Fedotenko falls to the bottom of the list after taking an offensive zone penalty, failing to get the puck leading to the second San Jose goal, and really not generating much offensively throughout the course of the game. Not his worst game but someone has to finish last – onward and upward Ruslan.