Boston Bruins: The Hangover, Stanley Cup Edition
November 1, 2011
Elsa/Getty Images
The 2011-12 Boston Bruins' season starts with the players flat on their backs on the TD Garden ice, players and equipment strewn all over the playing surface. Slowly they wake in a daze, unsure of what happened this past summer.
But they know they had fun, as they look around at each other and chuckle. They won the Stanley Cup, as evidenced by the chalice dented on the rim of the bowl. Nobody remembers exactly what happened during their Cup celebrations, but they know they had a blast.
Wait a minute. Has anyone seen Mark Recchi? Recchi? Recchi, where are you?
Oh yeah, Recchi retired after the season. The players laugh at each other. Relieved, they slowly try to pull themselves together, stumbling every step of the way. A new season is under way.
Reality doesn't seem too far from the theatrical parallel above. Ten games into the season, the Bruins are at the bottom of the Eastern Conference. The good news is there's nowhere to go but up. The bad news is they've shown little sign of actually getting up.
Remove the B from the spoked logo, and all the lines converge in the center. That's the target opponents see as a win over the Bruins is a notch in their belt and a boost of confidence. Boston knows every team wants to make a point by defeating the reigning Stanley Cup Champions. But clearly the B's weren't ready for the challenge of being hunted.
The contrast between this Bruins team and the one that battled through 25 playoff games to win it all is dramatic. Gone is the discipline they played with to win three seven-game series. The accuracy to bury the puck in the net disappeared.
Boston has been emotionally explosive, as if pressure built up from holding in their anger as opponents drew penalties by flopping finally ruptured their conscience.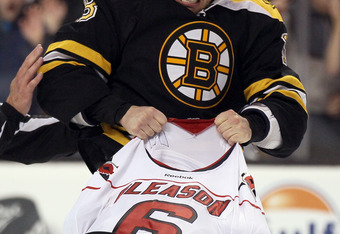 Elsa/Getty Images
The third issue is of particular concern. Boston has been quick to react to goading. Not backing down from anybody and delivering "don't mess with me" messages plays well to Bruins fans, but penalties are costly. For a team that struggles to score, they can't play aggressively when constantly short-handed, particularly during crucial times.
Boston scored first in just one of the last seven games. Playing from behind so often should make keeping their composure imperative.
It has already cost the Bruins a few games. Carolina was nursing a one-goal lead when Tim Gleason drew Nathan Horton's ire in the third period. The Hurricanes put the game away with the ensuing power play. And any game against hated Montreal raises Boston's dander, as Montreal knows how to push Boston's buttons to the Canadiens' advantage.
Maybe the fixes would be easy if it were only emotional, but Boston has been its own worst enemy. Mental lapses on defense and turnovers have been huge problems so far.
There's no excuse for this start. This is virtually the same team as it was in June. Tim Thomas has been solid, but he can only do so much.
Tyler Seguin's great start is going to waste. The 2010 second overall pick had an inconsistent rookie regular season. When given a chance in the Eastern Conference Finals, he exploded with three goals and three assists in Games 1 and 2 against the Tampa Bay Lightning.
The playoff appetizer has Seguin playing hungry and with consistency. He leads the Bruins in all offensive categories (4-6-10).
But he can't do it alone. Boston is averaging 2.10 goals per game. The Bruins are having a difficult time finishing quality scoring chances, whether shots ring off the posts or passes drift past the goalie because no one is in position to capitalize.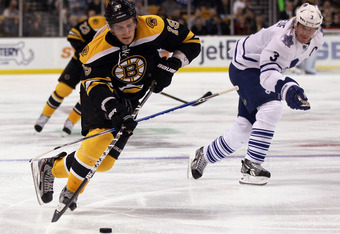 Elsa/Getty Images
Head coach Claude Julien is trying to get Boston out of their doldrums. He dramatically shuffled his lineups for the game against the Canadiens on Saturday in hopes of creating a spark. But again, the B's played listlessly for almost two periods while falling behind by three goals in a game where they scored just twice.
It's odd to say time is running out for the Bruins just 10 games in, but climbing out of a hole like this is very hard to do in the NHL. Tonight starts a critical stretch for Boston, as six of the next seven games are at home.
Either they shake off this bad start and get their game in gear or they'll find themselves in too deep to get out.
Randolph Charlotin writes a sports blog at www.randolphc.com. Send any questions or comments to talktome@randolphc.com.