USC vs. Colorado: TV Schedule, Live Stream, Radio, Game Time and More
November 1, 2011
Stephen Dunn/Getty Images
Last week, the USC Trojans were on the brink of the biggest win that program has had since winning the Rose Bowl in 2008, but it was not meant to be. Now, they have to get back to business when they take on the Colorado Buffaloes in a Pac-12 showdown.
The Trojans are not eligible for a bowl game this season, so anything that they do in the regular season has to serve as their postseason. Quarterback Matt Barkley has had a terrific season thus far, and head coach Lane Kiffin is doing a great job building this program after two down years.
Colorado transitioned to the Pac-12 hoping that it would make life easier on the program, but the team is just 1-8 so far this season and five of the last six losses have come by at least 20 points. The offense, led by quarterback Tyler Hansen, is a disaster, and the defense is even worse.  They can turn all that around with a home win against USC.
Where: Folsom Field in Boulder, Colorado
When: Friday, Nov. 4 at 9:00 p.m. EDT
Watch: ESPN; ESPN 3-D
Listen: ESPN Radio 710 (USC); KOA 850 AM (Colorado)
Betting Line: USC (-22)
USC Injury Report
Out: RB Dillon Baxter (Academics), CB Anthony Brown (Ankle), QB Jesse Scroggins (Thumb), LB Marquis Simmons (Neck), DE Armond Armstead (Chest), WR Markeith Ambles (Personal Reasons), C Abe Markowitz (Foot), FB Charles Burks (Knee)
Colorado Injury Report
Probable: RB Rodney Stewart (Knee), WR Paul Richardson (Knee), OL Shawn Daniels (Calf), WR Jason Espinoza (Concussion), WR Kyle Cefalo (Knee), RB Brian Lockridge (Ankle)
Out: DB Will Harlos (Concussion), LB Douglas Rippy (Knee), DB Vince Ewing (Knee), OL Jack Harris (Leg), DB Jered Bell (Knee)
Key Storyline: How Will USC Play Following Triple-Overtime Loss To Stanford?
USC had the Cardinal beat. Andrew Luck threw a pick-six with three minutes to go and the game was over. Unfortunately, the defense couldn't hold it, and there was some controversy about whether the Trojans should have had a timeout before the end of regulation.
Now, just one week later, the Trojans have to be focused on the task at hand. They have played well since a hiccup in Week 4 against Arizona State, with a 3-1 record and at least 30 points scored in those four games.
They have the right team to bounce back against, because Colorado has lost six straight games and are averaging just 19 points per game this season.
BCS/Top 25 Implications
Unfortunately for USC, there are no BCS dreams because of the sanctions that were levied on the program from the Pete Carroll era. They are, however, still ranked 21st in the AP Poll. They are not likely to move much higher with a win in this game, unless the teams directly ahead of them stumble.
Colorado is one of the most pathetic programs in a major conference right now, and they are already out of bowl contention.
What They Are Saying
USC head coach Lane Kiffin told the Los Angeles Times that he is concerned with trying to get his team to focus on a short week after such an emotionally draining game against Stanford. 
"We're still going to find ways to get our time in to make sure our guys are really prepared for a very difficult adversity-type game. Emotionally, just making sure we're up for the game and playing really well," he said.
USC Player To Watch: Robert Woods, WR
Quarterback Matt Barkley is getting all the attention because he has the potential to be a top 10 pick in the NFL draft if he comes out. But Robert Woods has been the star of the show on the Trojans offense.
Woods has 81 catches for 991 yards and nine touchdowns already this season. Against a porous Colorado defense, he should easily go for 10 catches and 130-140 yards with a couple more touchdown catches.
He might not be the most explosive receiver in the country, but Woods certainly has the skills and ability to change the way defenses play the Trojans offense.
Colorado Player To Watch: Tyler Hansen, QB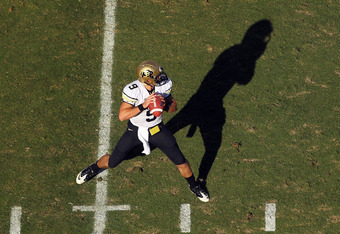 Ezra Shaw/Getty Images
Colorado's offense is virtually unwatchable, with the only ray of sunshine being the solid play of Tyler Hansen. He has thrown for 2,029 yards and 14 touchdowns so far this season, though he has struggled against better Pac-12 competition.
His numbers against Stanford and Oregon are not pretty: 22-for-44 with 264 yards, one touchdown and two interceptions.
The Buffaloes are going to have to score a lot of points in this game, and that starts with the quarterback. If Hansen is able to penetrate the USC defense, the team can at least stay in the game through halftime.
Key Matchup: Colorado Offense vs. USC Defense
I could go with one player on Colorado's offense, but the fact of the matter is, they have been so bad this season that it will take a collective effort in order for them to beat USC.
Colorado is averaging less than 19 points per game, which is nearly half of what USC averages (32.4). They will have to play the best game of their season in order to keep up with Matt Barkley, Robert Woods and Co.
Considering how badly they have looked virtually all season long, it does not appear that there is a lot of hope this week. But, as the saying goes, that's why they play the game.
Prediction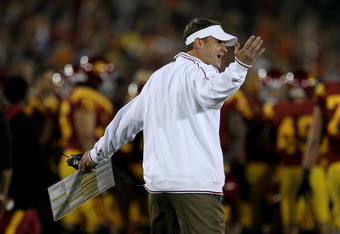 Stephen Dunn/Getty Images
USC is too strong on offense and Colorado has nothing on either side of the ball.
USC 45, Colorado 13