Minnesota vs. Michigan State: TV Schedule, Live Streaming, Game Time and More
November 1, 2011
Mark Cunningham/Getty Images
The Minnesota Golden Gophers are riding high after ending their four-game losing streak with a win over Iowa, and now they'll do their best to take down a bewildered Michigan State team. 
The Spartans were feeling great after a last-second Hail Mary victory over Wisconsin a couple of weeks ago, but then they where stomped on the road by the Nebraska Cornhuskers. 
There's no good way to lose, but when you fall 24-3, that sure is far from what Michigan State had hoped for. The Spartans will re-group thought and be ready to battle the Golden Gophers. 
Michigan State ended a three-game losing streak to Minnesota last season, and the Spartans shouldn't have much trouble starting their own win streak over the Golden Gophers this Saturday. 
With that said, let's take a look at some specifics of this Big Ten showdown. 
When: Saturday, Nov. 5 at 12:00 p.m. ET 
Where: Spartan Stadium, East Lansing, Mich.
Watch: Big Ten Network 
Listen: WBBL 107.3 FM in Michigan, WCCO 830 AM in Minnesota 
Betting Line: Michigan State (-27.5) 
Minnesota Injury Report 
WR Marcus Jones (knee), OL Ryan Orton (back), RB Devon Wright (hamstring), DL Leston Simpson (head), Harold Legania (foot), OL Jimmy Gjere (concussion) and CB Troy Stoudermire (wrist) are all questionable. 
Michigan State Injury Report 
LB Chris Norman (shoulder) and RB Larry Caper (concussion) are expected to be back this weekend, but C Travis Jackson's (leg) status is still unknown. All three suffered injuries in the loss to Nebraska this past weekend.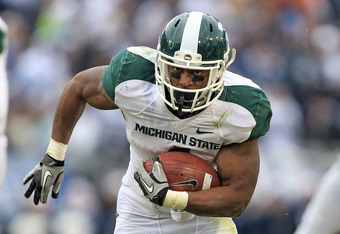 Hunter Martin/Getty Images
BCS/Top 25 Implications 
The Golden Gophers are an afterthought in the Top 25 polls this season, but Michigan State needs a big win on Saturday to help its standing. 
After suffering their second loss of the season, the Spartans can't afford to lose again this season. They still have a shot at winning the Legends division of the Big Ten, but they'll need some help along the way. A loss on Saturday would certainly ruin the Spartan's season.  
What They're Saying 
Minnesota head coach Jerry Kill was asked by the Star Tribune on how he felt about the possibility of losing scholarships because of academics. A week ago he wasn't feeling great about it, but things have apparently changed. 
"It's going to be a semester-to-semester-to-semester deal. You're not going to just crawl out of it. But right now, we're hanging in there tough," Kill said. "All I know is that, where we were at and where we're at now, we've had major improvement. ... We've worked hard to fix it, all the way from the summer until now, [and] things are going pretty darned good. But we've still got part of the semester to go." 
People often forget that the players on their favorite team are student-athletes, and notice that student comes first. 
Minnesota is a struggling program that needs every scholarship it has. Should they be forced to lose some, then rebuilding this the Golden Gophers into a strong Big Ten team will be very hard. They need to hit the books hard this semester to avoid losing recruits.
Michigan State quarterback Kirk Cousins told reporters after the game his reasoning behind the lack of offense against Nebraska last weekend. Per FOXSports:
"It was a combination of everything. There were plays where there was nothing there, no matter how long the protection lasted. There were plays where protection broke down where I had something. There were plays where it was a combination. It was a total mix."
The Spartans have to be better in Week 9 to show that everything a week ago was a fluke.
The Big Ten teams haven't fared very well on the road this year, but having a game like Minnesota the week after a tough loss certainly makes Michigan State feel at ease. 
In fact, the Spartans don't have a ranked opponent left on their schedule, as they will have to take on Iowa, Indiana and Northwestern after the Minnesota game. 
They should run the table and make things interesting in the Big Ten Legends Division. 
Minnesota Player to Watch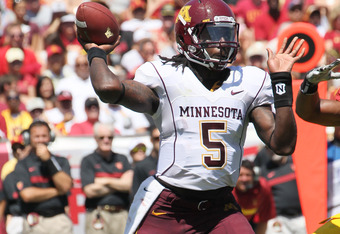 Stephen Dunn/Getty Images
Quarterback Marqueis Gray does it all for the Golden Gophers, and they will need him to be great throw the air and on the ground this Saturday. Gray has a rushing touchdown in his last three games, but the Spartans have experience against running QBs, and they know how to shut them down. 
Michigan State Player to Watch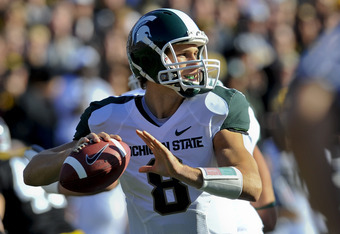 David Purdy/Getty Images
Kirk Cousins threw for 86 yards last week, which was downright pathetic. He knows he has to be better this week, and he will be. Cousins also threw his first interception in almost a month, but he'll turn thing around to scorch a Minnesota defense that is allowing an average of 229 yards per game. 
Key Matchup 
Michigan State's defense vs. Marqueis Gray is the key matchup because Gray is the Golden Gophers offense. He leads the Golden Gophers in passing and in rushing, and in order for Minnesota to have any success, Gray has to come through. Although, that will not be an easy task against the Spartans defense. 
Key Storyline 
Will the Golden Gophers upset the Spartans to win their second Big Ten game of the season? Or will Michigan State rebound strong after an embarrassing performance against Nebraska? 
Minnesota is in desperate need of a victory to feel good about the 2011 season, but the Spartans know they must win out to reach the BCS this season. 
Prediction 
The Spartans will bounce back after last week with a very sound win over Minnesota. The Golden Gophers have been thrashed by every Big Ten opponent except Iowa, and the Spartans will prove that last week was a fluke for both them and the Golden Gophers. 
Michigan State 38, Minnesota 10