Cam Newton: A Fantasy Stud for Years to Come
November 1, 2011
Dilip Vishwanat/Getty Images
Cam Newton is what Tim Tebow fanatics wish Tim was on the field.
Whether you play for money or play for fun, you'll always find that those fantasy preseason rankings shift. Some because of injury, while others are due to a roll of the dice on the field. Fans are even changing the way they draft because of offensive schemes evolving.
Meanwhile, Newton has gone from a first-round risk to a solid performer. If the Carolina Panthers didn't draft Newton, their season could have turned out as exciting as the Indianapolis Colts'.
Newton has a set of skilled veterans that he has learned from in practice and the film room. Cam has the option to throw a deep route at any given moment to Steve Smith, check down to Greg Olsen and Jonathan Stewart or make big plays with his legs.
The sky is the limit for Cam because of his limited experience. Newton is your prototypical video game quarterback who has all the tools.
The question is: Once there is a years worth of film on him will those numbers decrease?
The best part about having great legs is knowing when to use them. Newton always talks about being a pocket passer, which gives fans confidence in his offensive philosophy down the road. At the beginning of his career, Michael Vick openly said he would just use his raw instincts, and that film study wasn't at the top of his to-do list.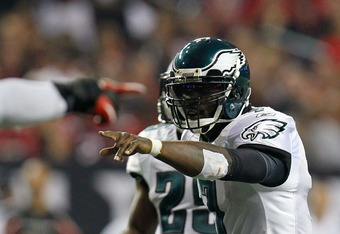 Kevin C. Cox/Getty Images
That has not been the case with this young talent. Newton had to come in late as a rookie in the midst of a lockout, under the pressure of all the controversy surrounding him in college. He didn't hesitate to put up gaudy stats, either and even admitted that the playbook was quite overwhelming at first. He put up two 400-yard passing games before coming back down to Earth against the Jacksonville Jaguars.
Newton leads the NFL in total fantasy points among quarterbacks. He has only put up 11 passing touchdowns, while also getting seven touchdowns on the ground. Fantasy owners are looking toward versatile players at every position, especially now because of the movement to a wide open passing game.
Players like Newton can totally change the way a team is drafted. In the past, running backs were the workhorses of a team and usually picked up before the quarterback. That trend has definitely changed. Now, we even see wide receivers putting up production like an every down back.
This opens up bigger matchup problems head-to-head between teams because one guy has the explosive quarterback who dives into a pylon, while the other will slide like a Peyton Manning.
Another thing that fantasy players are doing more of is drafting a quarterback and a wide receiver from the same team. So, more or less, you're doubling your points if you have Matthew Stafford and Calvin Johnson. Last year, the standout combo was Matt Ryan and Roddy White. Fantasy scores have been very quarterback and wide receiver heavy compared to year's past.
Especially in PPR leagues, the receiver has been the golden gun for players who have no threats at the running back position. If Steve Smith can stay healthy and fast, look for that combination to light up scoreboards this year.
Soon enough, Cam Newton will go from a wildcard to an ace in the hole.