Manny Pacquiao Naïve in His Lofty Expectations for Future
November 1, 2011
Michael Loccisano/Getty Images
Filipino boxer Manny Pacquiao expressed a belief that he can balance a career in boxing while also serving as governor in the Philippines, which makes me think he doesn't fully understand politics.
Yes, Pacquiao is an icon in the world of boxing. He's also a well-established congressman in the Sarangani province, which is in the Phillipines.
Pacquiao, who is 33 years old, seemed a little young to me when he commented on his future plans.
"I believe I can handle that, and [at the same time] I can still focus on boxing," Pacquiao said.
My problem with Pac-Man's proposal is not the boxer's desire or will. He's proven more times than many people ever will that he can do something that no one believes he can. His career record of 53-3-2 record and rags-to-riches story suggests how passionate he is about what he does.
However, I'm not sure if he's fully aware of the wear and tear his body has been under for the last 16 years. It was 1995 when Pacquiao took to the ring for his first professional fight at age 16.
It may not feel that long to Pacquiao, but the effects of taking shots in the ring for over a decade is going to have irreversible effects on his brain body as a whole
I wish the best for Pacquiao because he seems to have no intent to hurt his opponent in a serious manner. Howie G. Severino was quoted in an article about Pacquiao's defeat of Miguel Cotto in 2009 as saying the Filipino star appeared to slow his onslaught of his weakened opponent.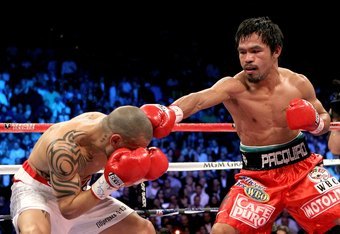 Al Bello/Getty Images
"Seeing death in the ring may help explain why Pacquiao seemed to back off near the end of the Cotto fight from inflicting even more pain on his wounded adversary."
Severino also said that Pacquiao broke into the business after one of his close friends died in the ring.
Basically, Pacquiao is not someone that's trying to kill his opponent, he's just trying to win the fight.
But for Pacquiao to think he can continue to focus on boxing, while also taking a bigger step in politics baffles me. One of the two careers simply has to dip if he expects the other to excel.
Arnold Schwarzenegger was still a prominent name in bodybuilding throughout his career as governor of California, but it paled in comparison to his experience in the business before he made the switch to politics. Jesse Ventura also saw his wrestling career fade before his political career took off.
If Pacquiao is content with seeing his boxing career slip, he could succeed as a governor. However, his quote in an article by Newsweek makes me think his expectations are abnormally high.
"It's like being the parent of the whole Filipino people. I fulfill all my promises, unlike most politicians in this country."
I love what Pacquiao is trying to do, but he seems to be setting the bar awfully high.
Welcome to politics.