Georgia Bulldogs Football: Richt's Suspensions, Injuries Plague Dawgs
November 1, 2011
Sam Greenwood/Getty Images
Georgia Bulldog fans have hardly had time to raise their victory flags. The RV-cleaning from Saturday's party is still in progress. And on a day when the letter G can be seen in some form (T-shirt, hat, jacket) on every street corner in the state, the postgame celebration has come to a halt.
This afternoon, shadows of suspensions and injuries are starting to grow like a giant snowball barrelling down the mountain of a Colorado ski-resort. 
Today, the University of Georgia Communications office blasted a memo declaring that three UGA running backs have been suspended for the Dawgs' matchup with New Mexico State.
One can only delve into the abyss of reasons why some of Georgia's key players will sit this weekend. Was it a bar-room brawl, a curfew violation, a case of the smart-mouth, or perhaps as suggested by one blogger, (gasp!) failure of a drug test?
Coach Richt is one who keeps the meat of personnel issues within the family, so we may never know for sure. But case in point: If these three did indeed fail a drug test, is a one-game suspension enough punishment to ensure they don't do it again? Are Richt's disciplinary skills, or lack thereof, the reasons for good boys doing bad things? 
More importantly, could this and other post-Florida woes (like injuries) be enough to give a team like New Mexico State the edge over the Bulldogs in front of a home crowd?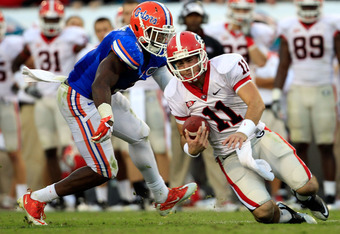 Sam Greenwood/Getty Images
According to the UGA memo, junior Carlton Thomas, freshman Isaiah Crowell and redshirt sophomore Ken Malcome will serve their one-game suspensions on Saturday.
Richt issued this statement: "We have certain standards in all that we do and their actions do not reflect the Georgia way. They will serve their suspensions, learn a lesson and I'm sure be better men for it." 
In the case of  Crowell—who carried the ball 18 times for 81 yards against Florida—a benching could equal an extreme lashing for the team. Malcome, who has played only once (against Coastal Carolina) for no gain, is one of those players who has threatened to leave the team for lack of playing time, so his loss might not affect Saturday's matchup.
However, Carlton Thomas' time-out leaves the line thin, as Thomas is second on the depth chart behind Crowell. Enter Brandon Harton, a redshirt freshman who has played once, against Coastal Carolina for a gain of 33 yards in 11 carries.  
The Bulldogs' game-saving standout, junior tailback, Richard Samuel, is out for the remainder of the season with an ankle injury. Surgery was performed to repair ligament damage. If you'll recall, Samuel made the nine-yard run that sealed the Dawgs' 24-20 victory over Florida last weekend in Jacksonville.
With leading receiver Malcolm Mitchell iffy, the next opponents could be a roller coaster ride from hell for the Bulldogs whose road to redemption has been uphill all the way. With this weekend's game against New Mexico State followed by Auburn and Kentucky in Athens, home-field advantage is on their side.  
If the Dawgs survive and stay out of further bad behavior and injury trouble, they could see an Eastern Division title if the cards are played their way. But don't put it past in-state rival Georgia Tech to keep the celebration out of Athens, bringing it to Atlanta instead with the snowball going ballistic.