NFL Midseason Awards: Aaron Rodgers Unanimous MVP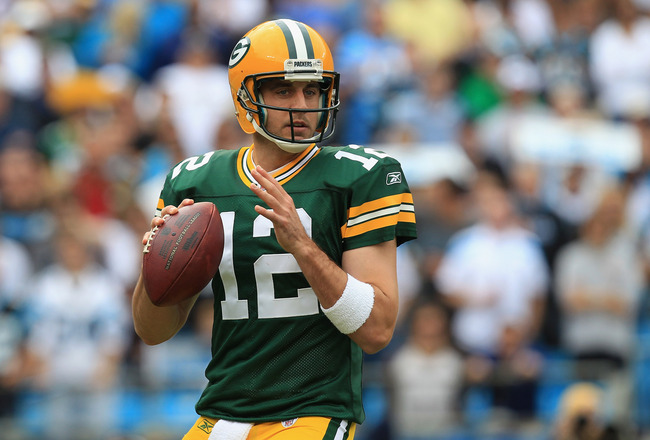 Aaron Rodgers is proving to be the best QB in the NFL
Streeter Lecka/Getty Images
Only eight weeks into the NFL season, we have already seen many surprises and disappointments.
The Green Bay Packers continue to show why they are the best and are favorites to repeat as Super Bowl champions. Aaron Rodgers is now being considered to be the NFL's best quarterback and a legitimate MVP candidate.
Teams like the San Francisco 49ers, the Cincinnati Bengals and the Buffalo Bills have surprised everyone with their play this season and are now tough playoff candidates.
With many surprises, there have also been many disappointments as well.
After getting the money he wanted, Chris Johnson has been absolutely atrocious. Other players such as Donovan McNabb, Philip Rivers and Chad Ochocinco have been big disappointments this season as well.
The Philadelphia Eagles were favorites to win the Super Bowl entering this season with massive offseason acquisitions such as Nnamdi Asomugha, Vince Young and Cullen Jenkins among them. They were tabbed as the "Dream Team," yet they have struggled this season.
Worst of all, the Indianapolis Colts are showing exactly why they are a one-man team with the absence of Peyton Manning. This team has failed to show any character or determination with the loss of their quarterback. Instead of thinking about the playoffs, the Colts are now thinking of "Suck for Luck."
With half of the NFL season in the books, it's time to hand out the NFL 2011 midseason awards.
Offensive Rookie of the Year: Cam Newton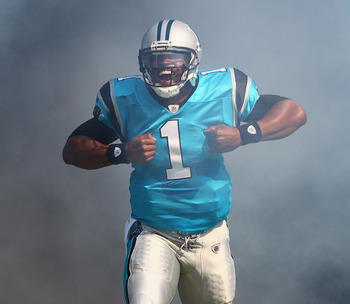 Dilip Vishwanat/Getty Images
Team: Carolina Panthers
When he was drafted No. 1 overall to the Carolina Panthers in April, many people believed that Cam was going to be a good player in the league, but not a great player. It didn't take long for the quarterback from Auburn to prove all the doubters wrong.
Cam Newton began his professional career with a blazing start. In Week 1 against the Arizona Cardinals, Cam Newton became the first rookie quarterback to throw for over 400 yards in his first career start.
He would then surprise us again with another stellar effort against the Super Bowl champion Green Bay Packers. Newton threw for even more yards than his previous start and almost came out of that game with a win. He surprised many in that game, including Aaron Rodgers. When asked about Cam's performance, Rodgers said:
I think someone said in the locker room that I'm kind of glad we played him early in the season because when he figures it out fully, he's going to be even tougher to stop.
Cam Newton has far exceeded the expectations that many have given him. What surprises me is how amazing he is with his passing accuracy. Many people knew Cam was an amazing athlete, but many doubted his passing ability.
Cam Newton is already starting to become one of the best QBs in the NFL. Cam Newton is an easy choice for the offensive rookie of the year.
Defensive Rookie of the Year: Von Miller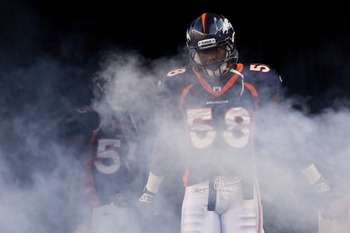 Justin Edmonds/Getty Images
Team: Denver Broncos
Von Miller has been the only bright side to the Denver Broncos defense. Miller, who was considered to be the best defensive player in the draft, has had no problem adjusting to the NFL and is clearly best defensive rookie in the NFL.
In seven games, Von Miller has already accumulated six sacks and forced two fumbles. As this season continues, Von Miller will continue to get better and better.
It is easy for me to say that in a couple of seasons, Von Miller will be a star in the NFL. He is easily the favorite to win the NFL defensive rookie of the year.
Most Surprising Player: Victor Cruz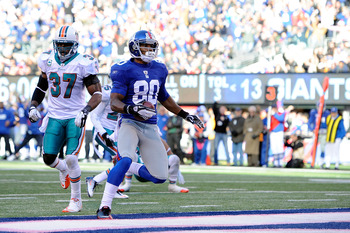 Patrick McDermott/Getty Images
Team: New York Giants
Not many people, including myself, knew the name Victor Cruz in the beginning of the season. Many people believed that a big hole was left in the Giants' receiving core when Steve Smith signed with the Philadelphia Eagles.
Then in comes Victor Cruz. Cruz began the season as the team's No. 4 wide receiver, before injuries to both Mario Manningham and Domenik Hixon led to him receiving a larger role. He would take full advantage of that opportunity in the Giants' win over the Eagles. Cruz finished that game with three catches for 110 yards and two touchdowns.
With that performance, Victor Cruz burst onto the scene and became a key player for the New York Giants offense. So far this season, Cruz has caught 28 passes for 497 receiving yards and four touchdowns.
The emergence of Victor Cruz this season easily makes him my choice for this season's most surprising player.
Others considered for the award: Eric Decker, DeMarco Murray, Andy Dalton, Beanie Wells
Most Disappointing Player: Chris Johnson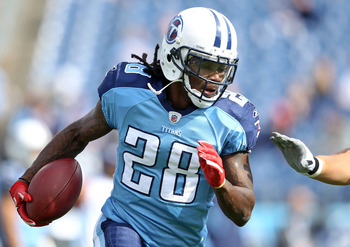 Andy Lyons/Getty Images
Team: Tennessee Titans
For the past three seasons, Chris Johnson was considered to be one of the best running backs in the league. Some even considered him to be the best in the league.
With the type of numbers he put up in his first three seasons for Tennessee, Johnson believed that he deserved to be paid big money. During the summer training camp prior to this season, Johnson did not show up to camp, pending contract negotiations. Johnson felt he was due a considerably larger sum of money, and he eventually got what he wanted.
However, ever since he got that big paycheck, Chris Johnson has been somewhat horrible. Through seven games, Johnson has 107 carries for only a mere 302 rushing yards and a single touchdown.
He is averaging less than 3 yards per carry! That is not the type of stats that an elite RB produces.
For the amount of money that he is getting paid to play, Chris Johnson is easily the most disappointing player in the NFL right now.
Others for consideration: Donovan McNabb, Chad Ochocinco, Philip Rivers, Mark Sanchez
Worst Offseason Move: Donovan McNabb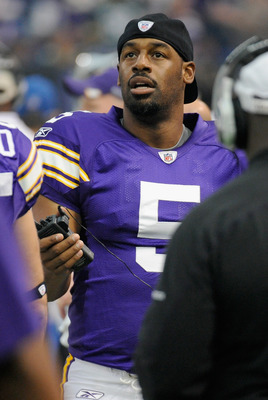 Hannah Foslien/Getty Images
Team: Minnesota Vikings
When he was traded to the Minnesota Vikings from the Washington Redskins, many people believed Donovan McNabb was a great pickup for the Vikings. Man, those people were so off.
Donovan McNabb's performances this season have been dismal. Even with Adrian Peterson in the backfield, Donovan could not keep the Vikings on the field. Minnesota had many big leads going into halftime this season, only to let those leads vanish, leading to many disappointing losses. With McNabb as the starter, the Vikings had the worst third-down conversion percentage in the NFL.
After only six games, McNabb was benched by Leslie Frazier, and Christian Ponder became the Vikings' new starting quarterback. In two games, Ponder has already showed more production than McNabb had with the offense.
There is a reason why coaches like Andy Reid and Mike Shanahan let McNabb go; it's because he is no longer the quarterback he used to be.
Other Considerations: Chad Ochocinco, Roy Williams, Albert Haynesworth
Coach That Should Be Fired: Tony Sparano
Patrick McDermott/Getty Images
Team: Miami Dolphins
Can someone tell me how Tony Sparano is still the head coach of the Miami Dolphins?
This man should have been fired before the season began. The Dolphins don't want him, nor does Tony Sparano want to coach the Dolphins.
The Dolphins interviewed Jim Harbaugh for the head coaching role while Sparano was still the head coach. If that isn't a big sign of your employer having no faith in you, I don't know what is. Sparano's house is even for sale.
The Dolphins haven't won a game this season, and it has been ages since they have won at home.
It's only a matter of time till Sparano gets kicked out of Miami.
Others Considered for the Award: Jim Caldwell, Steve Spagnuolo
Coach of the Year: Jim Harbaugh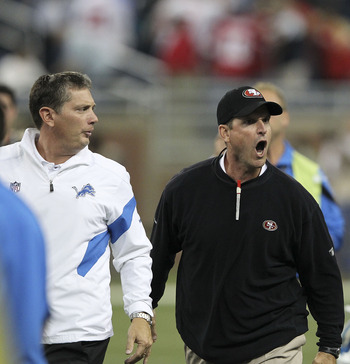 Leon Halip/Getty Images
Team: San Francisco 49ers
After winning the Rose Bowl with Stanford, Jim Harbaugh signed a five-year deal to be the head coach of the 49ers.
Entering his first year of coaching, Jim Harbaugh was not given that good of a team. They were expected to struggle this season, especially because he wasn't able to get a hold of his players during the lockout.
Though this was expected to be a rebuilding season, with a new scheme and many new players as well as shortened summer practices due to the lockout, the 49ers have surprised many with their play.
Through Week 8, Jim Harbaugh's 49ers are 6-1, with that one loss coming in overtime to Dallas.
Jim Harbaugh has changed the outlook of San Francisco football, and many people hope he can bring back the glory days to this successful franchise.
Others considered: Jim Schwartz, Marvin Lewis, Chan Gailey
Defensive Player of the Year: Jared Allen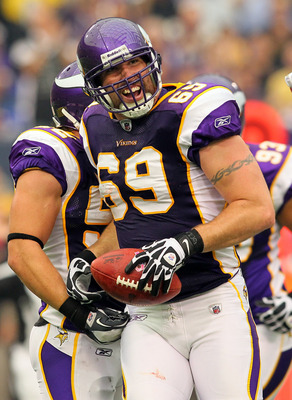 Adam Bettcher/Getty Images
Team: Minnesota Vikings
The Minnesota Vikings lost Ray Edwards to free agency and Pat Williams to retirement. To make matters worse, Kevin Williams was suspended for two games. Jared Allen was the only remaining player from that defensive line, but that did not bother him.
With the loss of Ray Edwards, opposing teams are now allowed to focus on shutting down Jared Allen, but no team has been successful this year. With a lackluster season from the Vikings so far, Jared Allen has been one of the bright points.
In eight games this season, Allen leads the league with 12.5 sacks. He also has one interception, three forced fumbles and three fumble recoveries.
Teams better beware because the Mullet Militia is unstoppable at the moment and is easily the winner for the best defensive player of the first half of the season.
Others considered: DeMarcus Ware, Ray Lewis, Patrick Willis, Charles Woodson
MVP: Aaron Rodgers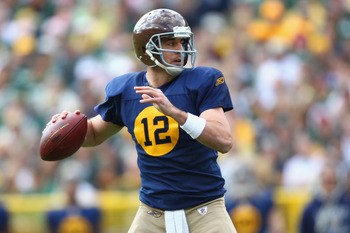 Dilip Vishwanat/Getty Images
Team: Green Bay Packers
Without a doubt, Aaron Rodgers is the clear favorite for MVP this season.
No one has even come close to Aaron Rodgers' production this season. Rodgers currently has 20 passing TDs, two rushing TDs, just three INTs and no fumbles through seven games. He's also third in the NFL in passing yards with 2,372 yards and has the best QB rating in the league.
Simply put, Rodgers is the best so far this season, and there's no reason to believe he'll slow down. He is the new favorite in town and is already making people forget about that other quarterback that played for Green Bay.
Was his name Brett? Oh well, it's all about Aaron Rodgers in Wisconsin nowadays.
Super Bowl Favorites: Green Bay Packers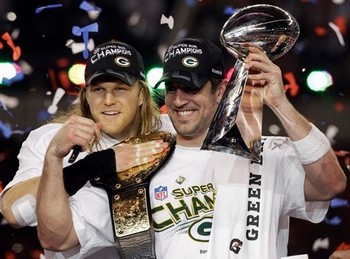 Will Rodgers hold on to the belt?
There is no evidence so far this season to state that the Green Bay Packers are not favorites to win the Super Bowl this year. In fact, all evidence points to Aaron Rodgers keeping his championship belt for another season.
The Packers are undefeated at 7-0 this season and have showed no weaknesses in their game. They have the best pass attack in the NFL, they have a great defensive scheme run by Dom Capers, a good coach and the best player in the game in Aaron Rodgers.
Only a few teams have a chance at derailing the Packers' chances at repeating as champions. Those teams include the Philadelphia Eagles, Pittsburgh Steelers, Baltimore Ravens and New England Patriots. However, not one of these teams has looked as impressive as Green Bay this season.
All signs point to Green Bay making a trip to Indianapolis next February.
Keep Reading