Michigan vs. Iowa: TV Schedule, Live Streaming, Radio, Game Time and More
November 1, 2011
Gregory Shamus/Getty Images
The Michigan Wolverines look to end a two-game losing streak against the Iowa Hawkeyes this Saturday, and it while one would think they'll win this game with easy, there is no guarantee. 
This is just the third road game for the Wolverines this season, and the Hawkeyes have certainly had luck on their side the last two years. 
Still, though, the Wolverines come in as the higher-ranked team with great confidence, but expect Iowa to give them a tough test until the very end. 
This season hasn't quite been what the Hawkeyes would have liked, but they have a chance to spoil the Wolverines' year with a win this weekend.
With that said, let's look at some specifics of this Big Ten showdown.
When: Saturday, Nov. 5 at 12:00 p.m. ET 
Where: Kinnick Stadium, Iowa City, IA
Watch: ESPN/ESPN3.com 
Listen: WTKA 1050 AM in Ann Arbor, KXIC 800 AM in Iowa City 
Spread 
The Wolverines are favored at -4, which definitely makes this an interesting line. Michigan should cover, but given the Wolverines' past with the Hawkeyes, and their limited play on the road this season is what makes this so difficult. Still, I'd take Michigan to cover the spread because of Denard Robinson and their improving defense. 
Michigan Injury Report 
Safety Jordan Kovacs (knee) is day-to-day, as well as linebacker Brandon Herron (leg). Both missed last week against Purdue and the coaches believe they'll return this Saturday, but they will be monitored all week.  
Iowa Injury Report 
Wide receiver Keenan Davis (ankle), linebacker Anthony Hitchens (knee), defensive lineman Thomas Nardo (knee), offensive lineman Nolan MacMillan (hernia) and running back Mika'il McCall (ankle) are all questionable for Saturday's matchup against Michigan.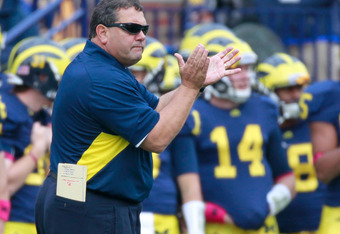 Gregory Shamus/Getty Images
BCS/Top 25 Implications 
The Hawkeyes are no threat to the Top 25 this season, but a win over Michigan would certainly give them great confidence with some very hard games left on the schedule. 
The Wolverines can't afford another loss, especially another Big Ten loss. At 7-1 and No. 15 in the BCS, Michigan has a great shot at reaching a BCS bowl this season. The Wolverines need to win out to stay alive though since Michigan State, their only loss, is playing very well. 
What They're Saying 
Michigan head coach Brady Hoke told the Detroit Free Press that winning on the road is crucial to success in college football. 
It's an important part of it," Hoke said. "Going into hostile environments and seeing what kind of poise and composure that your team plays with. You know that in this league your team is going to go in and get punched in the mouth, and you better be able to punch back and keep playing with great endurance." 
The Wolverines only true road test came against Michigan State, which resulted in a loss. They're very thankful the beginning of their season was all at home, and it's a huge reason why they're ranked where they're at, but they have to be able to win on the road.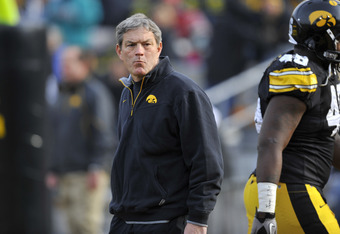 David Purdy/Getty Images
Just because Iowa is 5-3 on the year and 2-2 in conference play, it doesn't mean the Wolverines will run all over them.
The Hawkeyes are coming off a tough loss and they're very hungry for a win, and since they're playing at home it gives them extra confidence against the Wolverines, which is why Michigan has to be prepared to play well under pressure with all that loud crowd noise. 
Iowa head coach Kirk Ferentz told FOXSports that the loss to Minnesota was because his team didn't execute. 
We wasted a very good rushing effort by Marcus. He ran hard. It gets down to finishing drives and if you don't score seven, you have to convert the field goals. You have to score points when the opportunities present themselves.
The Hawkeyes would have become bowl eligible with the win over Minnesota, and with Michigan, Michigan State, Purdue and Nebraska remaining on the schedule they may not make a bowl game, which is why they need to take care of business on Saturday. 
Iowa has the talent to pull the upset, and the home-field advantage definitely helps. However, they have to find a way to convert in the red zone, and that means touchdowns—not leaving it up to the kicker.
Michigan Player To Watch 
Denard Robinson is the star for the Wolverines, and last year's game against Iowa he was injured during this game. He still managed to rush for over 100 yards though. There's no doubt that he wants revenge on this team, and he'll be a stat machine on the ground and through the air this weekend. 
Iowa Player To Watch 
Marcus Coker is one heck of a running back, and it will be interesting to see how he follows last week's performance. The Michigan defense will be tougher, but for a guy who just ran over 250 yards and scored twice, it sure is going to be hard to slow him down or take your eyes off him.
If the Hawkeyes can get Coker on a roll, they'll keep the Michigan offense off the field, which gives them a great shot at winning.  
Key Matchup 
Iowa's defense against Denard Robinson is the key matchup in Saturday Big Ten battle. If they can limit his production then they have a great chance of winning this game. The Wolverines go as Robinson goes, and if he is struggling then Iowa will be keep the game close. 
Key Storyline
As mentioned before, the Wolverines have a two-game losing streaking against Iowa, but now they have a new guy in charger. Brady Hoke has Michigan headed in the right direction, and he plans to start his own streak against Iowa. 
Michigan was in a huge slump with Rich Rodriguez at the helm, and Iowa took advantage of that. On Saturday, Hoke aims to put Michigan back ahead of the Hawkeyes.
Prediction 
Once again, Denard Robinson puts the Wolverines on his back and gets the job done. It's not going to be a pretty win for Michigan, but they'll squeeze on by and continue to climb the rankings. 
Michigan 34, Iowa 27