No. 13 Kansas Jayhawks vs. Pitt State Gorillas: Can KU Handle Being so Thin?
November 1, 2011
Jamie Squire/Getty Images
For nearly all Kansas fans, basketball season couldn't come any sooner.
In the midst of a less-than-stellar Kansas Jayhawks football season (2-6, 0-5), a solid start to the 2011-2012 basketball season is needed in order to bring some positive energy back to Lawrence.
Unfortunately, this season is showing signs of struggle in the early parts of No. 13 Kansas' non-conference schedule.  As many Kansas fans have already heard, three freshman (Braeden Anderson, Ben McLemore and Jamari Traylor) were declared ineligible for the 2011-2012 season by the NCAA just a few weeks ago.  
Many Kansas fans believed that McLemore, a St. Louis native and highly sought-after recruit, would have found himself in the starting rotation for the Jayhawks early in the season.
As Kansas gears up tonight for its season-opening exhibition matchup against the Pittsburg State Gorillas, a few familiar faces will be sitting on the sidelines as well.  As reported yesterday by KUSports.com, senior guard Tyshawn Taylor and junior guard Elijah Johnson have been suspended for KU's two exhibition games for violating team rules. 
Oy vey.  
Thomas Robinson, who will emerge as one of the NCAA's most dominating big men this season, hyper-extended his left knee in practice just a few days ago.  Reports have emerged that despite his injury, T-Rob could possibly get the start tonight.  That said, don't be surprised if Bill Self limits his minutes drastically.
But hey, it's only an exhibition game.  Kansas fans don't really have to worry about losing, right?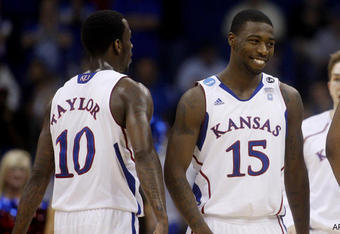 Wrong.
Although Pitt State isn't returning from a winning season (13-13), the Gorillas do return four starters and nine lettermen from 2010-2011.
Two players to watch for will be junior guard Eric Ray and junior forward Andra Bailey.  Ray led the Gorillas in scoring last season—12.2 ppg—while shooting .475 from beyond the arc.  Bailey led his team in rebounds averaging 8.2 per game.
Despite popular belief, exhibition games can go sour for major programs from time to time.  Just ask Syracuse (lost to Le Moyne in 2009) and Arizona (lost to Seattle Pacific last Thursday) about taking exhibition opponents lightly.  Both teams—Le Moyne and Seattle Pacific—are Division II programs like Pitt State. 
According to KUSports.com, the starting five for Kansas is looking to be Conner Teahan, Naadir Tharpe, Travis Releford, Jeff Withey and Thomas Robinson.  If Robinson can't play tonight, look for Justin Wesley to take his place in the starting rotation as the other big man.
With Johnson and Taylor sitting on the bench, Kansas is going to be extremely thin when it comes to rotations.  Last season, Bill Self could easily rotate four or five players at a time and still compete with any team in the Big 12.  
Tonight, KU's reserves will be freshman guard Christian Garrett, freshman forward Merv Lindsay, sophomore guard Niko Roberts, junior transfer Kevin Young and senior guard Jordan Juenemann.  
For Kansas, a few of these names are unfamiliar and unproven Jayhawks who will have to step up earlier in their careers than expected.
Rest assured, Bill Self has a plan and should smoothly execute it despite his lack of depth and talent on the floor.  It's no question that Kansas wants and needs its star point guards back in the lineup and for T-Rob to get his knee back to 100 percent, but tonight the Jayhawks will have to scrap like rabid hyenas.
In a mere two weeks, the banged-up and naughty Kansas Jayhawks will have to travel to New York City to take on John Calipari's No. 2 Kentucky Wildcats.  But for now, lets take it one game at a time.  
From what I hear, Kentucky had a better recruiting class than Pitt State last year.
Kansas will take on Pittsburg State tonight in Lawrence, Kan., as tip off is set for 7 p.m.