Chicago Blackhawks: Why Viktor Stalberg's Dad Needs to Attend More Games
November 1, 2011
Jonathan Daniel/Getty Images
The Chicago Blackhawks are paying Rostislav Olesz more than $3 million to watch games from the team box. They are handing over $525,000 so that John Scott can patrol the ice for two minutes and change.
How about digging a little deeper to make sure Viktor Stalberg's father becomes a regular fixture at 'Hawks games?
Stalberg had a lone assist in his first six games since returning from the injured list this season. With Dad watching at the United Center the last two games, he's potted three goals, including game-winners in Chicago victories over Columbus and Nashville.
The 'Hawks are taking there newest good luck charm on the road to Florida along with the rest of the fathers. Let's make sure Mr. Stalberg has a good view of the action.
Stalberg has taken advantage of the suspension of Daniel Carcillo to log some top-six minutes. It worked out in both games.
Saturday night, Stalberg's two third-period goals broke open a 2-2 game with the Blue Jackets. Monday night in overtime, the Swedish Flash's speed was on full display when Jonathan Toews steered a loose puck his way. Stalberg took care of the rest.
Racing down the right side, Stalberg brought the puck out of the 'Hawks zone, across neutral ice, and into the right faceoff circle while the Predators gave chase. Upon reaching the dot, Stalberg pulled a move out of Top Gun and put on the brakes.
Like the enemy MiGs chasing Tom Cruise, the Predator pursuit went right on by.
The maneuver allowed him the room to get off the wrist shot that beat Pekka Rinne stickside and ended the night with a 5-4 overtime win for the 'Hawks.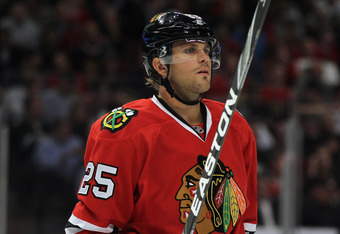 Jonathan Daniel/Getty Images
Stalberg, much like last season, is in search of a line to call his own. He hasn't been consistent enough to stick in a top-six role.
If he could find the net with some regularity, he might be the tonic Toews needs to get his line going. Stalberg certainly has the speed to hang with the captain.
Notwithstanding the knee he dinged up in the preseason, Stalberg came into camp in very good shape by all reports. Perhaps he has settled in after missing the first three games in October. His time at the top may be short-lived, depending on how Joel Quenneville uses Carcillo on his return Thursday.
Either way, it probably wouldn't hurt the 'Hawks to get Stalberg's father to a few more games.